Post by shaxper on Jul 5, 2019 10:20:59 GMT -5
The votes are in and tallied! Thanks to everyone who participated and helped the CCF to bring you
THE TOP 10 CLASSIC COMIC RUMBLES!10. Spider-Man vs. Firelord
from Amazing Spider-Man #270 (1985)
@taxidriver1980 says:
"Okay, you have a friendly neighbourhood web-slinger and a former herald of Galactus. What's going to happen? A mismatch, surely?
Yes. But Spidey never gave up. He hammered away at Firelord despite being way out of his league. And he hammered away and hammered away...
What really made the fight work is Spidey's sense of responsibility. In the first part of the story, which began in The Amazing Spider-Man #269, Spidey takes a breather and says, "Let some other jerk risk his life against Firelord." But then he sees a picture of Uncle Ben in his wallet. This spurs him on. He realises Firelord could go nuts and hurt an innocent person.
Realising his responsibility, and being fully away that this could be the fight of his life, Spidey never wavers. And he throws everything he can at Firelord while doing his utmost to protect civilians. That is why I've chosen it as my top choice."
9. Spider-Man vs. Green Goblin, second-to-last round
from Amazing Spider-Man #122 (July 1973)
shaxper
says:
"Everyone remembers the death of Gwen Stacey. Some of us also remember the issue that followed in which a berzerk, grieving Spider-Man went after Green Goblin with no holds barred. The final battle between the two relieves Spidey of any potential guilt, having him snap out of his rage a moment before it is too late and the Goblin inadvertently do himself in instead. Punches pulled in order to keep the comic kid-safe, I suppose. But what I remember best is the struggle that began the issue, well before Peter had regained any control of himself, in which one really had to wonder just how far he was going to take things. It's a savage struggle, The Goblin every bit as cunning as a murderous Spider-Man is shocking. It's a true classic comic slugfest in the best of ways, with the drama and the action furiously working to outdo each other."
8. Flash Gordon vs. Ming The Merciless
from Flash Gordon (Sunday newspaper feature, 1938)
thwhtguardian
says:
"It's good versus evil, nine rounds no submissions for the fate of the universe. More than all of that though, it's the single image that I'd pick if asked to illustrate what a comic is to someone who had never heard of the medium(like an alien). It's just so damn dramatic, a perfect frozen moment of action."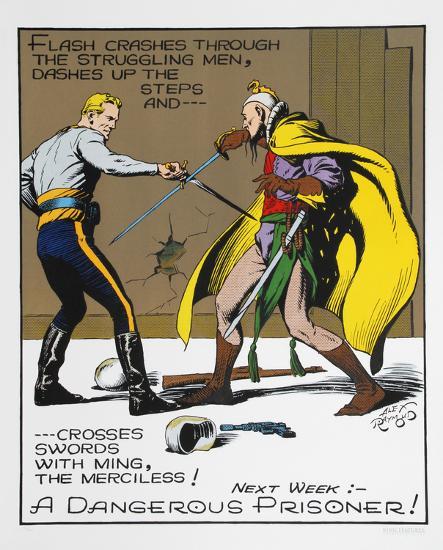 7. Morpheus vs. Choronzon
from Sandman #4 (April 1989)
shaxper
says:
"Neil Gaiman's Sandman engages a satanic demon in a battle of ideas, delivered in the style of a poetry slam, and wins with the unconquerable idea of hope."
6. Kitty Pryde vs. N'Garai
from X-Men #143 (March 1981)
rberman
says:
"David vs Goliath anyone? Take one teen heroine modeled after Sigourney Weaver, add one grotesque, Gigeresque extradimensional beastie, and voila! Instant danger. Chris Claremont and John Byrne channeled Ridley Scott's film "Alien" with this solo outing for X-man trainee Kitty Pryde as a giant monster chases her around the empty mansion. It can wound even her intangible form, but she outsmarts it, first luring it into the Danger Room's gauntlet of traps and finally incinerating it with the afterburner of the Blackbird jet, which is more or less how the Alien movie ended as well."
5. Batman vs. Guy Gardner
from Justice League #5 (September 1987)
mrp
says:
"No words needed to describe this one, but it does remind me of the line from the Breakfast Club, "two hits, me hitting you, you hitting the floor"
4. Mister Fantastic vs. Doctor Doom
from Fantastic Four #200 (August 1978)
brutalis
says:
"An Anniversary issue guaranteed to knock your socks (and armor) off! With the good Doctor Doomed to lose at the Fantastic Elasticized hands of Reed Richards. The scientifically inclined Richards finally puts down his test tubes and science experiments to show Doom just why he is called MISTER FANTASTIC by delivering not another boring lecture on the social life of the common slug, but in in delivering a "can" of whup ass to the Machiavellian Monarch. Without the aid of his teammates, Reed goes Mano-a-mano with his lifelong nemesis.
This issue was a double sized FANTASTIC ending of a long story where once again the FF had been broken up only to band together. And while the team saved the world from Doom's plan at the U.N. it was a one man rubber band man who finally stopped Latveria's power mad monarch. Which is as it should be since the rivalry between Reed and Doom has existed for so long through so many fights it was great to see them finally face off against each other and to see Reed win out over Doom using both his brain and stretching abilities. A really memorable and beautifully staged and drawn confrontation!!!"
3. Superduperman vs. Captain Marbles
from Mad #4 (April-May 1953)
Phil Maurice
says:
"Terrific send-up of Superman and Captain Marvel, with a nod toward the endless litigation between the publishers of the two titans. Wally Wood is in his prime, fully embracing the "chicken-fat" school of humor with Harvey Kurtzman's withering script deftly skewering the conventions of 1950s superhero comics. It's a watershed satirical moment for MAD and for comic fans in general."
2. Thor vs. Hercules
from Journey into Mystery #125 and Thor #126 (February-March 1966)
Icctrombone
says:
"This takes the top spot on my list of rumbles and no one draws a rumble better than the King. This fight over a woman starts at a malt shoppe and makes its way across the city and the path of destruction is spectacular. Thor has dared and risked all to be with Jane Foster as he's just come back from fighting his way out of Asgard against Odin's wishes only to see Hercules making time with his girl. Of course, Jane brushes him off to get even with him always leaving, and an enraged Thor is met with a sucker punch by Herc. Aint love grand?
What starts at a malt shoppe goes to the streets, underground subway and an abandoned construction site where Odin strips him of half of his godly strength thus robbing him of his victory. Aside from the thunderous blows exchanged, Thor talks smack with the rest of them.
The fight ends when Thor , greatly weakened by Odin robbing him of half his strength , crumbles under the weight of a tractor that he was attempting to clobber Herc with. Man, sometimes the best fights end with an event that makes it tragic, as well as awesome.
There's something beautiful about both Odin and Jane realizing they messed up and treated Thor badly. This is what made comics great, back in the day."
1. Electra vs. Bullseye
from Daredevil #181 (April 1982)
rberman
says:
"Writer/artist Frank Miller struck gold in the early 80s, moving Daredevil away from gimmicky super-foes and into a combination of wuxia and noir. Miller became a master of wordless, balletic fight sequences, and any one of them could have been featured here...his romantic interest, the assassin Elektra getting the wrong end of the stick—or rather, her own sai—from Bullseye, who proves as deadly with melee weapons as with the ranged attacks that give him his name.
Need more classic comic rumbles in your life? Check out
the full event
, including well over a hundred nominations for this list.