Post by Dr. Poison on Jul 4, 2015 10:40:55 GMT -5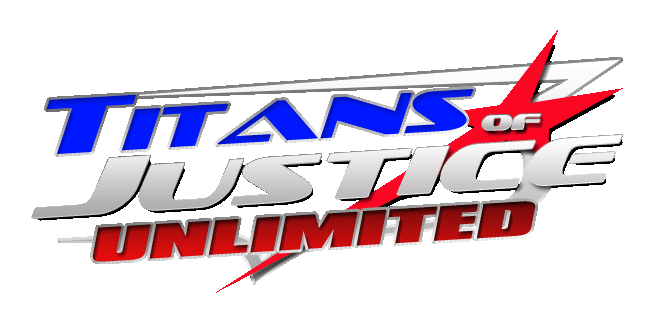 Titans of Justice #8 - "Star Crazy Part 2"
Plot, Editing, & Maxi-micros by: Power Guy
Script by: shaxper
"Of course I was surprised. Not so much that there's a new JSA, you know. Seems like someone tries to start one up every few years."
"Ugh. That last one was a disaster. We had one meeting."
The two figures leaned against the side of the car, looking out on the Uptown Manhattan block, reminiscing as if it were yesterday, and trying to feel calm when everything inside of them was pushing to feel otherwise.
"Heh. That was all anyone could take. I can't believe we were given agendas."
One was Dale Scott, as of yet unremarkable heir to the original Green Lantern legacy.
"Well, I mean, that food they served should have been a damn warning to us."
The other was Daniel Garrick, similarly active, but largely unheard of, heir to the Golden Age Flash legacy. The two had known each other almost from birth.
"What? The Shawarma? That's good stuff, Dan. A real delicacy of the Middle East."
"Yech. You wouldn't catch me eating that if it was the last stuff on Earth."
The Jade Sentinel cracked a smile. He needed this right now. THEY needed this, he was sure.
"Come on. It isn't that bad," replied Light Speed.
"Are you kidding? In a million alternate realities, you would never find me or my kin eating that crap," Insisted Dale.
A polite chuckle, and then a pause. A pause that lingered longer than it should have, demanding that a truth be faced.
"Are we ready to do this?" asked the green and red-clad hero.
"I don't get why we weren't invited, Dale. I mean, we've been a part of every one of these team-up attempts since The Young Society all the way back."
"Maybe that's the point, Dan. None of them ever lasted."
"I think it has more to do with the lady running this version of the team," pointed out Light Speed.
"It's probably just a misunderstanding. Dad said he was going to talk to one of them today; make their status official and all. But I think we should talk to them first; clear the air."
"Yeah, seems like a lot of folks were left out. NONE of the original JSA members were invited either?"
"Well, to be fair, most of them never come out for these things, but yeah. Not one," agreed the Jade Sentinel.
"I still think this falls on the Huntress," insisted the current Fastest Man Alive on Earth 2.
"Only one way to, pal. Let's go."
It wouldn't have been a long walk to the Brownstone, but Dale had parked his car around the block, and Daniel had walked back to meet him there. It gave them a chance to reminisce, to ready themselves, and maybe, in the time it took from the car to the front steps of the Brownstone, a few moments where the future seemed limitless and full of hope again, before they could be told why they hadn't been invited and why they weren't welcome.
Roughly twenty paces into the walk, they heard something. On the streets of New York, loud unexpected noises were nothing out of the ordinary and, indeed, rarely signaled trouble, but this sound was coming from within the Brownstone. She was an ancient building by now, sure, but she was well-reinforced with state-of-the-art security and privacy measures. To be hearing something from within – well, it must have been pretty loud.
"YEEAAAGGGHHH! You whores! You vile hussies! How dare you? HOW DARE YOU!!?!!"
Dale and Daniel took one look at each other.
"Costumes on?"
"Costumes on."
Dale's ring lit up, powered by sheer imagination and will, and coating him in the trappings of the Jade Sentinel. Then, realizing that his old friend's costume didn't manifest quite as easily, he used his ring to coat Daniel in the likeness of his own alter-ego, Light Speed. Having done this for his comrade so many times before, the details were utterly perfect, right down to the number of laces on his boots.
"Dude, did you give me six pack abs this time?" The Scarlet Speedster chortled in surprise.
"Always works for me," grinned the Green Guardian. "Faster than working out, at least."
Light Speed grabbed Jade Sentinel in his arms and sped them around the block, just as a window pane up above exploded outward, a howling, bloody figure flying out from it.
"Up!" cried Light Speed, and soon it was Jade Sentinel doing the carrying as his ring levitated both of them directly ahead of the escaping being.
A dawning awareness overtook Star Saphire's blurred and bloody vision.
"Oh, this is TOO perfect. You're kidding, right?"
Dale and Daniel passed a look between them once again, but, this time, neither had an answer.
"Oh, this is just delightful!" exclaimed the vengeful and desperate diva. "Now I don't have to go and look for you, Green Lantern. It's a pleasure to finally meet you, and it will be an even bigger pleasure to kill you once I have your precious seed!"
"My…my what?"
Already a change had come over Star Saphire. She looked calmer, stronger again, her eyes glowing in sapphire radiance as the stars twinkled overhead, almost in sync.
In a flash, her hand was on Jade Sentinel's throat, pushing him forward with all her might, faster, stronger, more brutal than she previously seemed capable.
"Your seed, lover"
Her face was upon his, her tongue bathing his left cheek with a sensation half erotic, half cruel and emasculating.
"You will give yourself to me, your ALL to me, so that I may finally do that which I was sent here to do so very lo…UUUGMPH!"
She had turned her back on Light Speed for too long, forgetting that he was being carried along with Jade Sentinel wherever he went. A light-speed punch to the gut should have been enough to stop any super powered nemesis.
But it wasn't.
Her costume began to glisten and glow brighter than before, powered, Light Speed assumed, by the stars overhead.
"We don't even know what this is about," spoke Dale, attempting to remain calm and authoritative. "Who are you?"
"Have you so quickly forgotten, you ignorant beasts? Green Lantern, you may be forgiven, as we've never been formally introduced, but Flash – well, clearly you've lost your senses in your old age. You may have retained the illusion of youth, but your gaudy costume looks even worse now than it did in the 1940s!"
"We'll take your incorrect assumptions as a compliment however, I'm not the Flash and he's not Green Lantern," revealed Light Speed. "We're their grandsons but are more than capable of locking you away for good."
"Oh, I miss the banter. I really do," crooned the living embodiment of cosmic magic and science, all intertwined, "but time is wasting, and I really don't care who you are. I see the Green Lantern's grandson wears a ring similar to his grandfather's. All I need is the combination of the energy from his ring along with his seed to accomplish my plan, and Flash – I have a grudge to settle with that costume, if not the face behind it.
"Adults – always judging us kids before they even get to know us," quipped Daniel but he wasn't smiling. They were out of their element, and he knew it.
Now that my power levels are restored, I hope you'll be kind enough to put up the fight of your lives so that I may thoroughly enjoy decimating your pathetic male bodies."
With that, burning starlight shot out from Star Sapphire's three gems, blazing the two heroes in front of her.
Luckily, the Jade Sentinel erected a green barrier just in time to shield he and Light Speed from the deadly blast.
"That's not going to work for long, boys" warned Star Saphire. "Now that I'm outside in the starlight, my gem's abilities are back up to one hundred percent." Her costume seemed to pulse in agreement. "You see, my gem was unique out of all of the star sapphires created by the Zamarons. It it is fueled by magic and science along with passion and starlight."
"And fortified with twelve essential vitamins and minerals, we know!" responded Jade Sentinel as he and Light Speed got into position for a maneuver they'd practiced a long time back, Jade Sentinel continuing to keep Light Speed afloat while also grabbing his arms with his own, pressing his feet against the Speedster's thighs.
"NOW!" he cried, as Light Speed pressed against the solid emerald force beneath his feet, swinging his body around and around in increasingly fast circles, and Jade Sentinel along with him. He then launched the Emerald Eradicator out at Star Saphire. Jade Sentinel dropped his shield, Light Speed dropping to the Earth, as his old friend hit their nemesis at nearly the speed of sound, charging into her with his full energy.
The two flew back, through the Brownstone and out the other side, then through several buildings behind it. Once momentum had slowed enough, a barely phased Star Saphire simply swung out behind the Jade Sentinel and, with a thrust, sent him further along on his path, through more buildings, she holding him by a clump of hair all the while, and making sure his head had extra thrust for each brick wall it encountered.
Several blocks away, Light Speed was now on the ground and out of the game, a sprained leg from the one story fall holding him back as he could hear the decimation of his now silent friend only a half second's jog away.
"Oh, don't feel so bad, Flash." That familiar, sneering voice was unexpectedly back. His wish had come true, in a sick, inverted sort of way, as he now saw the bloodied limp body she carried by the hair with her right hand. "I wouldn't leave you out of this. No, you and I have bad blood to resolve, and I figure forcing you to watch this would pretty much settle the score, don't you think?"
"MONSTER!" he screamed in utter agony, helpless to save his friend from a fate more horrific than anything they'd considered in all the years of playing this superhero game part time. She wasn't just going to kill him; she was going to strip him of his dignity and make his last moments alive his most agonizing.
"AAAAGGHHH!" In the basement of the Brownstone, Nephthys started awake, furious at having been denied victory. "Where is she?!"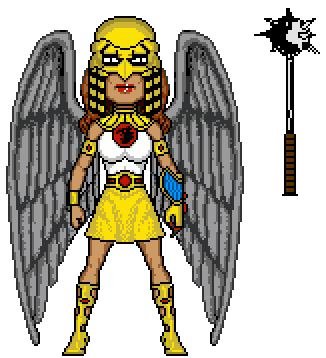 "Is everyone else okay?" added Fury.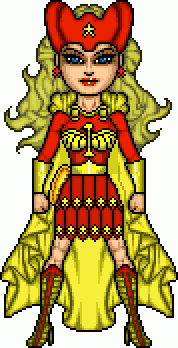 "Come on, everyone. We do not have time" explained Power Guy, who had just arrived on the scene.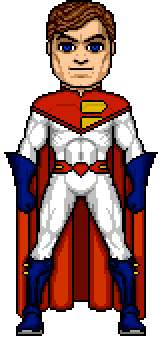 "It's all going down outside, I think" spoke Stardust.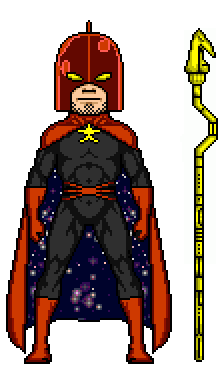 "Less talk, more doing" insisted Alchemy Lad, dead-set on a rematch and trying to impress Nephthys slightly.
And the five were off, across the room, down the hall, up the stairs, and out to the streets.
Fortunately, they didn't have to travel far. The street was completely filled with huddled on-lookers, constantly judging that tightrope balance between satiating their burning curiosity and maintaining a semblance of safe distance as Star Sapphire hovered overhead, a bloody Light Speed levitating before her, barely awake and clearly resigned to his fate.
"Do you see?" she asked the crowd below. "DO YOU SEE how paltry, pathetic, vulnerable these 'Super Men' truly are when one has the passion and drive? I bring you a new age: the dawn of a reality where we women are the ones who stand superior."
Star Saphire's eyes locked with those of Power Guy, and then with each of his teammates, all on the ground below.
"She got better," noted Nephthys.
"It's the starlight" added Stardust. "It powers her."
"You newcomers mean nothing to me" she scowled, immediately blasting the five with a kind of pink energy they hadn't encountered before. Fortunately, Alchemy Lad instantly transmuted it into a high pitched sonic squeal, though even this was enough to nearly shatter ear drums.
Power Guy collapsed to the ground, his already compromised mind (see TOJ #3) overcome with the pain to which his super hearing was already more sensitive.
"Hey," spoke Fury, "Next time, find a more helpful solution, okay?"
"YOU find a more suitable way to channel that much raw energy!" growled Alchemy Lad, still clutching his own ears.
Meanwhile, seeing that her enemies weren't going to die so easily, Star Saphire dropped a nearly limp Light Speed to the ground and calmly floated over to the present members of the Justice Society Infinity.
"I don't have the patience for this. You people bore me."
"We don't need to be enemies, Star Saphire," spoke Stardust with a kind of confidence that had never seemed natural to him until now. "I know you've been hurt. I know you've been used, but we're not the Zamarons, and we're not the original Justice Society either. "
He wondered if that last part would sound wrong to his colleagues, but he knew what he meant; knew it was what Star Saphire needed to understand.
"No," she agreed thoughtfully. "You're MEN."
A cacophony of Sapphire light bursts descended upon them. Alchemy Lad transmuted it into vapor this time, but there was so much energy being channeled into matter in such a limited space that an explosion ensued, bystanders blown left and right, and the Justice Society Infinity at its epicenter, bruised and battered on the ground.
"Okay," moaned Fury. "Sound was a better idea."
"He couldn't have done marshmallows?" spoke Nephthys while checking if she could still feel her legs. "Have we learned nothing from Ghostbusters?"
"I'm…I'm out of ideas" stammered Stardust. "What do we do?"
"We die with dignity!" cried Nephthys.
Not far off, Power Guy had begun to stir.
"r….red"
"What?" asked Fury, who was nearest. "What did you say?"
"red…starlight. Weakest form of solar radiation."
"But it's not…" began Nephthys.
"Alchemy Lad!" interrupted Fury. "Forget her. It's the radiation from the stars charging her power. Turn it red. All of it!"
Stardust turned to his ally. "Can you do that?"
"I don't know. Never tried. Nepthys, can you get me a little air?"
In a moment, the two were up and away, above the New York City skyline and, more importantly, away from the rest of the team, as Star Sapphire's attention was still drawn to them. Alchemy Lad looked back and watched her approach the team once more, shocking Power Guy back to limpness with a crackle of pink electricity.
He closed his eyes, then looked upward again.
"Okay, hold me here."
"Usually, a guy has to buy me dinner before we get to 'hold me here,' lover boy. There was obviously a spark between the two heroes but now wasn't the time to go into it.
He was tired, so tired, but he concentrated and imagined a massive sphere below them – a sphere at the center of which was Star Saphire. And, in a moment, that Sphere was realized in the form of a permeable red light. Above and around, the regular night sky remained.
"You're up" he said calmly. Nephthys gave him one look to make sure and, seeing the resolve on his face, dropped him, turning to enact payback on a villain who really and truly had it coming.
Alchemy Lad transmuted the air beneath him to alternating layers of water and foam, gradually breaking and easing his fall to the ground, as he watched Nephthys take off, streaking downward across the night sky, through the red sphere and directly at Star Sapphire.
Even at full energy, it's questionable whether her powers could have held back an Nth Metal Claw of Horus descending at 9.8 meters per second squared, directly on top of her. There was no battle; there were no clever retorts – just a sound like a streaking missile, the beginnings of a sound of surprise, and then the echo of something hard and fast shredding through a substance soft and wet.
It took a moment for the team to register what had just occurred – what Nephthys had done.
And before that dawning realization could take hold, there was a groan.
There, on the ground, at the center of Alchemy Lad's red sphere, lay Star Saphine, half drowned in a pool of blood and puss, a gaping hole run through her abdomen, and flicks of pink electric light shooting throughout her, keeping her going.
"Holy sh—" exhaled Stardust.
Fury simply cried, knowing that a fellow sister had become so lost from the Amazon ways she cherished.
Alchemy Lad walked closer. He'd seen so much combat damage in his own time; he would know how to help.
And then the sky grew white, a high-pitched sonic scream accompanying the growing pocket of blindness, seemingly coming from nowhere.
Fury wondered if she was losing her mind.
Stardust considered that this might be the death he and his team now deserved.
Alchemey Lad wondered why his arms and legs would no longer respond to his will.
And Nephthys felt oppressive remorse turn to rage once more.
Mere feet away, three shadowy figures were now present, converging on the fallen body of Star Saphire as her chest shuddered and continued to fight to breathe. A gleaming gold crest could be noted on all three of their collars, but all else was a blur.
A moment later, they were gone – simply there one moment and not the next.
And the white light was gone.
And so was the noise.
"Wh—WHAT??!!" demanded Nephthys.
"Teleportation?" questioned Stardust.
"More villains," considered Alchemy Lad.
"Justice," cried Fury, looking as far away from her sister as she could.
"Atlanteans," spoke Power Guy, still on the ground, but adding a sobering, calming tone to an otherwise erratic conversation. "That's their crest. Their king was a member of the All-Star Squadron."
"We'll seek him out," continued Nephthys. "We'll find out why he's done this."
"Lets get everyone safe first," reminded Power Guy.
Forgotten until that moment, the team recalled Light Speed being tormented by Star Saphire when they first encountered her outside. Quickly, they dispersed the remainder of the crowd, assisting the injured when possible, noting the dead when otherwise, and, fighting their way to the center of the chaos, they found Light Speed, sitting up on the street, tears and blood streaming equally from his face.
"You're too late. Far too late" he cried.
A few feet away, unnoticed until now, lie a battered figure, the Jade Sentinel, stripped naked and bruised everywhere, he chest heaving ever so slightly.
"Is…is he dead?" demanded Power Guy.
"No. No. Far worse than that. Far worse than that "answered Light Speed.
"Far worse than that."
To Be Continued!