Post by Deleted on Mar 26, 2015 6:16:08 GMT -5
The Titans of Justice Chapter 12 - "A Common Goal Part 1"
Written by: Power Guy
Co-conspirator: Scotty2Hotty
Editor: Marcus Mebes
***Special thanks for Phil Jimenez for insight on Zara, High Priestess of The Crimson Flame!!!
The Home of Michael Rich, Gateway City, USA
"Pitiful!" scolded Fausta as she looked at the team of four females that the Cheetah had assembled. The only ones she recognized were Dr. Poison and Zara "These are the allies you spoke of, animal man?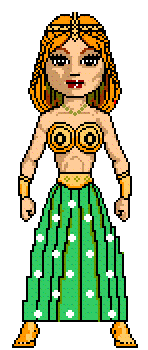 Michael stared Fausta directly in the eyes with a strong look of confidence on his face. "You haven't seen them in action yet. Surely, you recognize Zara. Thanks to the Crimson Flame, she looks as beautiful today as she did back in World War II. Also, Dr. Poison here is the granddaughter of the Dr. Poison you fought alongside against Hippolyta back before you were frozen in time."
"But who are these others?" demanded Fausta. "The one in the pink looks frail and anorexic. What could she possibly do to take down the Amazon's grandson and his allies?"
"Fausta, you of all people should know that looks can be deceiving," retorted Michael as he placed his arm around Paranoia. "This girl can bring out one's inner-most anxieties and reduce them to a whimpering coward. Do not be so quick to judge her."
"The Cheetah is right Fausta. Make another snide comment about me and I'll have you laying on the floor in the fetal position begging for your mother!" threatened Paranoia. "And Cheetah, don't forget, I get Donna Troy!"
"You dare challenge the German Uber Woman?" questioned Fausta. "I fear nothing! Do your best and when you are done, I will render you limb from limb!"
"Ladies… that's enough," ordered Michael as he morphed into his Cheetah form. "Let us remember that we've gathered together for a common reason. We all want to see Wonder Woman's head on a platter and the elimination of her family. Let me introduce you all so that we can get better acquainted. First, we have Fausta here. Once, she was the Baroness Paula Von Gunther, a relentless foe of Wonder Woman's. While Paula had a cunning mind and was full of vicious tactics, she lacked any type of super-powers. That was until the Dark Angel bestowed upon her the powers of the German gods. She is now the German equivalent of Wonder Woman. To Fausta's right, we have Lady Lunar. He mother was the original Lady Lunar. She has all of her mother's gravity manipulation and hypnotic powers. Next, we have Zara, High Priestess of The Crimson Flame. Thanks to her people's super-science, she now possesses the power of the Crimson Flame. Her fires can burn through the strongest of substances. Next to me is Paranoia. I've already explained what she can do. To her right, is Dr. Poison. She has remained young over the last few decades due to an anti-aging serum she developed. Her deadly array of gasses and potions can thin the numbers of the fiercest of armies."
The five ladies looked at each other with a certain amount of distrust in spite of their pledged allegiance to each other. They all tried to fake a smile to show openness to working with each other except for Fausta. She just looked upon the rest of them with disgust.
The Cheetah then revealed, "There is one more member that we need to make our team complete. Unfortunately, she is in custody of the government at this time so we will need to break her out of prison. I will need two volunteers that feel they are up to the task."
"No, only one you will need," declared Fausta in her thick German accent. "I will go and free this person from imprisonment!"
"Even though I'm sure you're up to the task Fausta, I'm going to ask that Lady Lunar accompanies you just to make sure you have someone to watch your back," advised the Cheetah.
Fausta stood firm with a look of arrogance on her face. "Fine, she can keep the grunts off of me while I take down the big dogs. Now tell me, who is this person you want us to recruit?"
***
Two days later at Belle Reve Prison, Louisiana.
Nightshade, the Guardian, and Giganta were sitting around a table playing poker in the Task Force X lounge. Giganta had just won her third game in a row.
"Ha! I win again," she announced.
"You certainly know how to clean the house Giganta," said Nightshade. "I'm so rusty since I got out of college."
"And I haven't had much time for cards in spite of all of the years that I've seen," stated the Guardian.
Shade The Changing Man walked in the room. "Poker again?"
"Yup and I just beat these pathetic wimps again," declared Giganta smugly.
"Giganta, I have to say. Since you've been with us, you've been a model prisoner. You've also done a great deal of good with Task Force X," complimented the Guardian.
"I'd like to walk out of her some day soon," revealed the model prisoner.
Shade sat down at the table. "You've got several more missions to go before the Wall will clear your record and let you go."
"How many is several?" asked Giganta.
"It's hard to say with Ms. Waller," advised the Guardian. "It's basically when she feels you've made up for your mistakes, then she lets you go."
"Mistakes?" echoed Giganta, a tinge of arrogance and disbelief in her voice. "So I could be here another ten years?"
Nightshade glared at Giganta. "Even though you've done a fantastic job during your time here and you cut a mean deck of cards, it doesn't erase the fact that you're a known felon with a record as big as they come. I'd say that you're lucky with any chance of parole."
"Hmph… this sucks," grumbled Giganta.
"What are you worms up to?" asked Lashina as she entered the room.
"We're playing poker," answered Nighshade. "Care to join us?"
"Not a chance," declined Lashina. "This game is no challenge compared to the ones I used to play on Apokolips. I even beat my Granny once!"
"You could play to simply interact with us," stated the Guardian.
"Listen whelp, I'm not here by choice like most of you are," barked Lashina. "Remember, Waller has that d_mned chip inside my brain that will blow up if I try to leave."
"And who's fault is that?" questioned Nightshade. "If you hadn't pulled that stunt at the Duchess years ago and took Shade, Waller, myself, and several others to Apokolips to get even with Bernadeth, maybe you wouldn't be here right now."
"I had a score to settle!" yelled Lashina. "I was the rightful leader of the Female Furies, not that witch Bernadeth!"
"And half of the Squad got killed in the process along with Ms. Waller's sister Flo," countered Nighshade. "You're sick and childish Lashina. It's time you start taking responsibility for your actions and act like an adult."
"%$*# you!" cursed Lashina as she walked out of the room back to her cell.
"Was she always this pleasant?" the Guardian asked in a sarcastic tone.
"You could say that," affirmed Shade. "Hey Giganta, where's the Reactron? You and he seem to be inseparable lately."
"He's off-site at a dentist appointment," answered Giganta, "and don't get any ideas, I just think he's a good fighter. No-one will ever come close to Grodd in my…"
Before Giganta could finish her sentence, a large explosion came from nearby.
The Guardian quickly ran over to the phone in the room and called security. "What's going on? Where did that explosion come from?"
The security technician answered, "It came from the west wall. Two super-powered women have broken in."
"Who are they?" asked the Guardian.
"One of them looks like that old Wonder Woman villain Lady Lunar but I'm not sure about the other one," assumed the security technician. "She is wearing swastikas on her arms so my guess is that she's some sort of a Nazi."
"Great, just what we need – Nazi filth," groaned the Guardian. "Everyone, let's get to the west wall, we've got a break in!"
The Guardian, Nightshade, Giganta, and Shade made their way out of the room and down the hall. On the way, they caught up with Lashina.
"Lashina – we have an emergency. Some super-villains are trying to break in. We need your assistance," requested the Guardian.
"Let's be clear that I'm only coming with to take out my bad mood on someone," grumbled Lashina.
The five members of Task Force X made their way to the west wing of the building and stumbled upon the building's attackers.
The Guardian stopped dead in his tracks once he noticed whom he was facing. While this new Lady Lunar was obviously a threat of her own, he felt a bit of a shiver go down his spine when he noticed who was with her. "Oh no! It can't be!"
"What's the big deal Guardian?" asked Nightshade. "It's five against two."
"Usually I would say those are great odds Nightshade but the blonde woman is Fausta, the German Wonder Woman," confirmed the Guardian. "I fought her along with the rest of the All-Star Squadron back in World War II. This is going to get real ugly real fast."
"Oh, she doesn't look so tough if you ask me," stated Lashina as she ensnarled Fausta's arms in her belt-whips.
A violent charge of electricity flowed through the whips into Fausta's body. It jolted her a bit. "Thank you fraulein, you have whet my appetite!" declared Fausta as she raised her arms in the air, pulling Lashina off the ground and flinging her into a nearby wall. Fausta then jumped over to Lashina's new position and kicked her halfway across the room.
Lashina's body slammed into a pile of boxes. Shocked by her foes' raw power, she asked, "Whatever you're on girl, can I have some of it?" Lashina then leaped at Fausta, diving straight into her torso. Lashina wrapped her arms around Fausta's waist and pushed her to the ground. The two began to wrestle.
While the two harpies struggled with each other, Lady Lunar proceeded to attack Nightshade and the Shade. Using her gravity-manipulating powers, she levitated the two heroes into the sky. "Enjoy the ride, heroes!" she snickered.
"Nice try, but I can fly," revealed the Shade. He flew out of Lady Lunar's reach.
"And I can teleport," stated Nighshade as she teleported back down to the ground behind her foe. She proceeded to cover her assailant in a cloud of darkness.
Lady Lunar quickly became confused and disoriented. "What's going on? Who turned off the lights???"
"You won't have to worry about the darkness much longer," bellowed the Shade as he cranked up his force field and sucker-punched Lady Lunar. She went flying through the cloud of darkness and landed on her backside.
"Not so arrogant now, are you?" questioned Nighshade.
Lady Lunar was quick to respond. "Arrogant?" she mocked. "Who needs arrogance when you're on top of your game?" She used her gravity powers in reverse on Nightshade and Shade to make them both so heavy that they collapsed to the ground and were unable to lift a finger.
Meanwhile, Fausta and Lashina's wrestling match had ended with Fausta as the victor. Lashina was broken and unconscious. Fausta lifted her over her head and gloated, "Filthy wench! You were strong but reckless. That was your undoing!"
The Guardian was not pleased to see Lashina lose to Fausta. He was counting on Lashina to be able to take Fausta due to her training on Apokolips under Granny Goodness. He turned to Giganta, "That's our cue! Let's take her down!" he ordered. The Guardian ran up to Fausta and smacked her in the back of the head with his shield.
"Ahh…" Fausta sighed due to the slight bit of pain she felt from being struck by the Guardian's invulnerable shield. "You will pay for that whelp!" she threatened but before Fausta could act, she found herself in Giganta's giant-sized grip.
"Not such a big girl after all, huh?" said the engorged Giganta with a smirk on her face. "With how tightly I'm squeezing you, you're bound to pass out sooner or later."
"I wouldn't do that if I were you," taunted Fausta.
"Why not?" asked Giganta.
"Because, we're here to free you!" revealed Fausta. "The animal man known as the Cheetah wants you as part of our new Villainy Incorporated. You would be wise to put me down."
Interested in the Fausta's comments, Giganta loosened her grip. "How could you possibly get me out of here? If I leave or disobey orders, this bracelet on my arm will explode."
"Giganta!" called out the Guardian. "Don't listen to her. She's lying!"
"Bah… that bracelet won't be much of a problem," Fausta stated as she climbed out of Giganta's hand and up her arm to the explosive bracelet.
"If you try and rip is off, it will blow," said Giganta with a look of concern on her face.
"Relax, madchen," commanded Fausta as she placed her hands on the bracelet and cried out. "Donar, strike!" With that, a bolt of mystical lightning came from the sky and struck the bracelet on Giganta's arm. A few sparks came shooting out followed by some smoke. The explosive bracelet was decommissioned and unclasped itself from Giganta's arm.
"All right!" Giganta said with a look of relief on her face.
"Giganta, don't do it. You've made quite a bit of progress in your short time with us," pleaded the Guardian.
Giganta looked down at the Guardian with a stern look upon her face. "Fool, I was biding my time. You and your Squad can eat dirt!" she said as she backhanded the Guardian into a steel girder, which in turn knocked him out.
Lady Lunar flew over and approached Fausta and Giganta. "Nice work ladies. Now let's get out of here before they send their entire security force after us."
"We have what we came for. Let's go," agreed Fausta.
Giganta was quick to chime in. "Nothing keeping me here…"
Lady Lunar then used her gravity powers to lift Fausta and Giganta into the air, taking them to Michael Rich's house.
To be continued…