Post by Deleted on Mar 26, 2015 6:05:42 GMT -5
The Titans of Justice Chapter 10 - "Extreme Measures" Part 3
Written by: Power Guy
Co-conspirator: Scotty2Hotty
Editor: Marcus Mebes
With special thanks to Darthennis, jake1823, & Darknight30!
***
Meanwhile in Chicago…
Vibe was standing atop the Sears Tower. He said to himself, "This is muy malo. The whole city is jammed up with traffic." He scanned as far as his eyes could see. The Kennedy, the Eisenhower, and all the other major highways were moving at a snail's pace. "Maybe I can slow the missile down with my vibes so that a few more people can get far enough away before it blows."
Vibe looked up and noticed a flying man in the sky above him heading east. The man had long brown hair and was wearing a black trench-coat. Then he saw the missile coming out of the east heading for the city. It appeared that the flying man was on a collision course with the missile. Vibe called out to the man "Yo dude! Hey! Down here!"
The flying man heard Vibe's screams and descended downward toward him. "I don't mean to be rude," spoke the stranger, "but I don't have time for chit-chat." He landed atop of the Tower standing across from Vibe.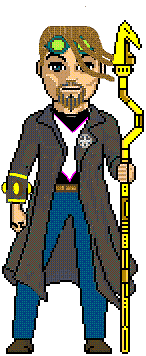 "Are you another super-hero?" asked Vibe.
"My name's Starman. I'm pretty new to all of this. I'm not sure I could be classified as a super-hero quite yet. If I live through all of this, I'm hoping that will change."
"What can you do, amigo?" inquired Vibe.
"Well, I have this Cosmic Rod that can fire lasers and allows me to fly. Then I have this gauntlet, which is one of a pair. It can manipulate gravity," explained Starman with definite uncertainty on his face. "Like I said before, I'm kind of new to this so I'm not the most familiar with these gadgets but I'm willing to see if I can help."
"Dude, maybe you could use that bracelet of yours to send the missile into space?" suggested Vibe.
"Hmm… that's an idea," averred Starman. "Let me give it a shot."
The missile was almost directly over the two heroes. Starman flew up to the missile, placing his hand on it. "I hope I'm doing this right." The gauntlet on his arm started to glow. Soon the missile was also starting to glow but instead of flying upward, the missile started plunging down towards the city!
"No man! Move it upward! Move it upward!!!" yelled Vibe in a state of near panic. The missile was falling and he was directly underneath it. Raising his hands above him, he shot out his vibrational waves in an attempt to stop the missile's fall. The waves were slowing the missile's descent but were not powerful enough to stop it. In fact, the missile began rattling dangerously.
"Oh spit!" said Starman. "The missile's going to blow as soon as it hits the ground and it's going to be all my fault!"
Vibe's waves were barely slowing the missile down. He was certain this was his final hour. "God, I'm sorry for all of the chicas I played. And mama and Papi, I'm sorry I crashed your new car last year. I guess this is it. The party's over. Uncle Paco, here I come!"
Vibe was sweating bullets when suddenly a red and blue blur streaked past him upwards towards the missile.
"Yes!!! It's Power Guy!!!" Vibe assumed as he watched the red and blue blur fly up to the missile, stopping it in mid-air.
Once the figure stopped, he saw it was not Power Guy but a woman with strawberry-blonde hair wearing a costume similar to Superman's. The woman dug her fingers into the metal casing of the missile and then tilted its nose upwards towards the sky. She flexed her muscles and threw the missile into outer-space where it could do no immediate harm.
Starman flew up to the woman and said "Thanks for fixing my goof. I was going to try to use my gravity gauntlet to do the same thing but I messed that up BIG TIME."
"Don't sweat it," assured the woman. "I was happy to help. I would have been here sooner but I had to sneak past my dad to get out of the 'house' as he doesn't like me suiting up and helping people."
"Hey yo!" shouted Vibe, "Come'ere!"
Starman and the strange woman flew down by Vibe.
"Hey chica, my name's Vibe. Nice to meet you." he spoke in a wheedling tone. "What can we call you… besides beautiful?"
"I'm Superwoman," the woman said. "I'm Superman's daughter."
"Nice to meet you," said Starman. "Where's your dad?"
"Oh, he's back at the Fortress of Solitude," answered Superwoman. "He doesn't get out much these days."
"Well, the Justice League promised to let the Titans of Justice handle things from now on," explained Vibe. "It looks like the two of us saved the country today, chica bonita."
Starman, swallowing back his embarrassment—he still rued not being able to stop the missile—and summoned what little voice he had left. "Well guys, sorry I wasn't much help. I'll be going now."
"Hold on amigo," requested Vibe. "While you didn't save the day like Super-chica and I did, you tried your best. I think my friends in the Titans of Justice could train you to get a handle on those gadgets of yours. And Super-chica, they could probably use someone with your abilities," he added, staring directly into Superwoman's eyes. "There's a teleporter tube not too far from here that we can use to teleport directly into the Hall of Justice. I can vouch for you two to become members of the team."
"That would be awesome!" said Superwoman with huge grin on her face. "I've always wanted to take over for my dad in this generation."
"Well, I could use some direction," admitted Starman. "Let's go."
"By the way muchacho," said Vibe as the three heroes boarded the teleporter tube. "Where's the other bracelet?" He glanced at the one Starman wore. "There WERE two, right?"
"Good question," stated Starman
***
Back in Khandaq…
The five Extremists had surrounded Sargona. Both Celsius and Power Guy were still unconscious. Sargona stood there, uncharacteristically silent and was prepping herself for the fight of her life.
"Well boys, what are we going to do with her?" asked Lord Havok.
Just then, a voice came from one of the hallways leading to the room, "You're going to stand down and beg for forgiveness!" It was Green Lantern. He had returned from his mission in space and tracked his teammates with his Titans of Justice signal-device. He flew towards the villains and put up a power-bubble surrounding Sargona and Celsius, protecting them from the oncoming Extremists.
"GL!!! Am I glad to see you!" breathed Sargona with a sigh of relief.
"Strato Hawk called and said that if I could come back to earth early, you guys could use my help," stated Green Lantern.
"You'll have to do more than make pretty shapes to stop us!" yelled Lord Havok as he blasted Green Lantern with an energy beam.
Luckily, Green Lantern had already erected a force-shield around himself awaiting the Extremists' attack. He counter-attacked with a giant green hammer projected from his ring. The hammer slammed into Lord Havok's torso and head, knocking him on his backside. Green Lantern then swung his hammer in a circle taking down the remaining four Extremists.
Dr. Diehard picked himself halfway up and focused his magnetic powers on Green Lantern's ring. He was attempting to pull it off of Green Lantern's finger. The ring wouldn't budge. The Doctor became frustrated and shouted, "Why won't it come off???"
Green Lantern was quick to answer, "You may be the master of magnetism but my will goes beyond your power. There is no separating me from my ring but here's a little piece to take with you!" A giant green fist flew out of Green Lantern's ring ramming Dr. Diehard in the face knocking him out cold.
Amp, Tracer, and Gorgon stared down their opponents. Amp attempted to turn the tables on Green Lantern, "It's still three against two, and Lantern, I wonder how well your ring will work when I short out the electrical impulses in your brain?"
"You're going to keep wondering, says the sissy in a skirt!" shouted a recently revived Celsius as he froze the unsuspecting Amp solid.
Power Guy had also woken up during the last few minutes. He picked himself up and flew over to his teammates.
The four Titans of Justice stood together, presenting a united front.
"What's it going to be?" asked Celsius. "Are you going to come quietly or are we going to have to do this the hard way?"
"Get them!" ordered Gorgon.
"You get them," countered Tracer. "I'm not getting my head bashed in by no giant hammer."
Gorgon quickly became angry. "Coward! I'll destroy them myself!" He charged towards the Titans. The plump man waddled his way forward, his tentacles primed for battle.
"Who wants the honors?" questioned Sargona.
"I owe him," answered Power Guy.
With lightning speed, Power Guy raced around Gorgon, tying him up with his own tentacles thereby immobilizing him. "I told you this would happen Gorgon," gloated Power Guy.
Gorgon huffed in disgust. "Curse you!"
Green Lantern created a cage to put the Extremists in for transport back to Metropolis where they would be taken to the Slab.
Celsius took out his Titans of Justice communicator and held it in front of his mouth, "Thunderstorm - come in," he requested.
"Celsius, it's Junjie Quick," advised Junjie Quick. "I'm back at the Hall. Thunderstorm is getting something to eat."
"If she touches my Lean Cusines, she's dead!" barked Sargona.
"What happened to the missiles?" asked Celsius.
"They've all been neutralized," confirmed Junjie. "We saved the day boss… plus I think we may have a few new members to add to the roster."
"New members?" inquired Celsius.
"Yes, Dr. Light's daughter, Lady Light is here with me," answered Junjie. "She helped me save Beijing. Icemanling is here and he brought along Dr. Sand, plus Vibe got some help in Chicago from a new Starman and a lady who calls herself Superwoman."
"Superwoman?" questioned Power Guy who was standing a few feet from Celsius. He then thought to himself, "I bet it's Kristen. Kal is going to kill her when he finds out."
"Is Nucleus still there?" asked Celsius.
"Yup," affirmed Junjie.
"Have him hang tight," requested Celsius. "We'll be there shortly to talk to him and the other newbies."
"But how are we going to get back?" asked Sargona. "None of us know how to pilot the Javelin."
"Just get on the jet, I'll take care of the rest," assured Green Lantern.
Celsius, Power Guy, and Sargona boarded the Javelin and sat down in much need of some rest. Green Lantern then used his ring to lift the Javelin into the air and headed towards Metropolis…..
***
Gateway City, U.S.A. --The home of Michael Rich
Michael had reverted to human form and was strutting around his home. Killing Barbara Minerva and injuring Wonder Man had given him so much confidence that he was grinning ear to ear. He said out loud, "I did it, I killed that foolish woman...how dare she even think for a minute that she's worthy of the power of the cheetah? It is all mine now! Mine… as it should have been. Now the house of Wonder Woman will fall and the Amazon harlot will pay for all her family has done to mine."
"That's right Michael," came his grandmother's voice. "I think it is fitting that my very own grandson will massacre Hippolyta's grandson. Oh how I wish she were alive to see this day! When the moment comes, you must strike without mercy and make him beg for mercy. When Wonder Woman sees what you have done, her house will fall just so!!! hahahaaaaaa!"
"But Grandmother, haven't you seen the news? That pompus fool has surrounded himself with allies--like the old Justice Society of America. I know I can handle him, but I don't think I am ready to take on an entire team. Many of them are new--unknown... Grandmother, I'm not ready..."
"You shall not do this alone my precious!" advised Priscilla. "You will gather allies to help you destroy Wonder Man and his friends. Don't you remember the stories I told you when you were just a little boy? I too needed help from others on occasion. You and your new friends will march to Paradise Island and burn it to the ground and kill all of those Amazon hussies! The shores of that wretched place will run red with their blood! There will be no one left to assume the mantle of that accursed family and I will owe it all to you, my sweet, sweet boy." Priscilla purred with satisfaction.
"But... but what about Donna Troy? She has acted as Wonder Woman in the past and is quite powerful. She is currently mentoring Wonder Man. What about her?" Michael demanded.
"Ah yes, the clone... don't worry about her. When she sees what you have done to her nephew she'll lose her focus. Her anger will make her play right into our hands. She's not like her sister… she's raw; not worthy of being Wonder Woman. You must trust me Michael. I promise you Miss Troy will be but a small hindrance to you... on that you can count. Now, pour us some tea. I cannot wait anymore to tell you about the new Villainy Inc!" Michael poured two cups of tea, knowing full well that the other would go untouched...