Post by Deleted on Mar 26, 2015 4:00:51 GMT -5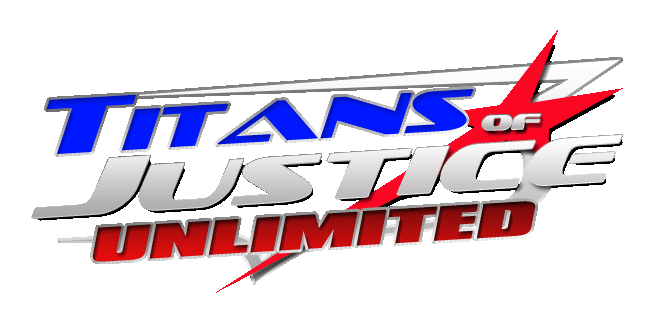 Titans of Justice Unlimited #32 – "The Führer Fighters Part 4"
Written by: Power Guy & Scotty2Hotty
Edited & Maxi-Micros by: Power Guy

ROLL CALL:
League of Titans
– Champion, Flash, Green Lantern, Huntress(member of Society of Titans as well), Kid Comet, Sargona,
Society of Titans
– Blue Dolphin, Constellation, Firebrand, Huntress(member of League of Titans as well),, Lightspeed, Power Guy
Titans of Freedom
– Black Condor, Hermes, Human Bomb, Living Doll, Magno, Miss America, Offspring, Phantom Lady, The Ray, Uncle Sam
Over the skies of Northern, WI, Earth X…
"I hope this all works out," Power Guy commented to Sargona, whom he was carrying in his arms. The couple was flying alongside the Ray and Champion who had Phantom Lady and the Phantom Stranger aboard her Invisible Jet .
"I think you divvied up the team as best as you possibly could have," Sargona said, supporting her boyfriend's decision.
"Thanks, Sar, but there's a whole world at stake here," noted the Kryptonian powerhouse.
"In our line of work, when isn't there?"
"I know but this earth has suffered more so than the others with the Axis running the show since World War II," pointed out the son of Power Girl and the original Star Spangled Kid. "I feel like we should have done more for this planet, sooner."
"You know Uncle Sam wouldn't have allowed that, so stop beating up on yourself," Sargona said, trying to melt away Power Guy's guilt.
"It's a good thing you and the Phantom Stranger showed up when you did."
"We were cataloguing the Stranger's mystical collection so the Phantom Stranger could make sure all of those items were placed somewhere safe when suddenly, he got a vision of what was going on here on Earth X.
The Ray then interrupted the couple's conversation when he shouted, "Power Guy! Champion! There's the fortress!" as he pointed downward.

Power Guy flew up to the Invisible Jet and quickly asked, "Got room for one more? I need both hands so I can knock on their door, properly." No sooner did Sargona board the Invisible Jet did Power Guy go streaking downward, punching a large hole in the Axis headquarters. The rest of his team soon followed him inside, ready for battle. Axis soldiers came at them from all directions, bullets and lasers crisscrossing through the air. Trying to save his team some time, Power Guy lifted up a huge chunk of the floor in front of him like it was a rug and sent nearly two dozen Axis assassins flying backwards.
Sargona via her Ruby of Life, took control of a nearby tank, turning it against the Axis forces by firing off several rounds which took out several cargo trucks that were carrying more soldiers to the battle.
As expected, some of the Axis super-agents arrived on the scene. Fausta, Wyvern, the Red Panzer, and the Silver Ghost to be exact. "Power Guy, Sargona, and Champion! What are you whelps doing on Earth X?" demanded Fausta, not happy to see any of them.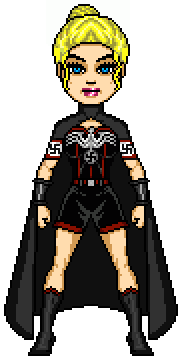 "I could ask you the same thing, Nazi!" countered Champion as she and Fausta began to face-off.

Power Guy picked his opponent without hesitation, "Wyvern, I owe you a rematch!" he said, flying into the dragon-man at superspeed, both of his fists colliding with Wyvern's chest.
As Sargona prepped to battle the Silver Ghost, Phantom Lady rushed past her and ordered, "Sargona – this low-life is mine!" She jumped into the air, her left foot slamming into the Silver Ghost's jaw. He never even saw her coming thanks to the Ray blinding him with a flash of light. "You sick b_stard! Do you know what you made us do? Do you know what you made Miss America do to Uncle Sam?" she screamed as she punched her long time enemy in the face repeatedly. Never had the Ray or any of her other teammates seen her so angry before and the Silver Ghost was feeling the full wrath of her fury!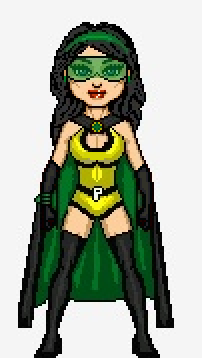 "Yes!" cried out the Silver Ghost, maliciously, "And I plan on doing something similar with you!" he said as he reached out for Phantom Lady, his vision having returned.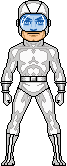 The woman otherwise known as Sandra Knight stepped back and yelled, "NO! NEVER AGAIN!" as she blasted both of his hands with a laser from her black-light bracelet.
The Silver Ghost howled in agony as both of his hands were severely burned to the point that he may never feel sensation in them again.
"She doesn't play around when she's ticked off," observed Sargona as she punched out the Red Panzer. She then looked around and noticed, "The Phantom Stranger's gone. I wonder where he went?"
***

The Home of Scott & Jerrica Trevor, Earth 1…
Scott Trevor plopped down on the leather couch in his living room, exhausted. He had been up all night with his son and had an early call for a modeling job. The shoot took all day and he was very happy to be home. His wife, Jerrica emerged from the kitchen with Scott's dinner in one hand and was carrying their son on her hip. Scott and Jerrica played with their son and was enjoying his laughter. Just then Jerrica noticed the air in their home become heavy. Suddenly, the Phantom Stranger appeared.
Jerrica gasped, "Phantom Stranger! Can't you knock or something!" Steven had started to cry, startled at the Phantom Stranger's appearance.
"My apologies. I have urgent need of you both. Earth X must not fall or it will signal the doom of the entire multiverse." He said solemnly.

"Hold it right there, we are both out of the super hero game." Jerrica snapped.
"Earth-X?" Scott said. "Isn't that where World War II never ended and the Axis won?"
"It is. Your sister and your friends need your help." The Stranger replied. The Phantom Stranger explained the urgency of the situation. Scott started to transform to Wonder Man, as Jerrica stopped him.
"Scott! You can't be serious! It sounds like World War III! We just got Steven back…."
"Jerrica, my grandmother told me about the Nazis and their evil. If what the Phantom Stranger says is true, our earth could be in danger. I have to go…I think my grandmother would want it. Besides, what if we have counterparts on Earth-X. They deserve to raise their son with all the freedom we enjoy."
Jerrica looked at her husband and understood. Despite her reservations, she agreed he should go. Wonder Man hugged her and kissed her very passionately. He picked up his son and kissed him.
"You be good for Mom while I'm gone, big man!"
Within seconds, The Phantom Stranger had teleported them both to Earth-X, leaving a sobbing Jerrica Trevor behind. She looked out the window into the warm night sky. "Scott Trevor, you better come back to us in one piece……."
Upon their arrival on Earth-X, Wonder Man was stunned to see what appeared to all hell breaking loose. He noticed the Phantom Stranger had not materialized with him and assumed he was taking care of something important. Wonder Man ran towards the battle before him and was stunned for a moment seeing Nazi tanks running over civilians and destroying buildings and homes without care.
"Great Hera….it's like I've stepped back in time…" he said aloud, trying to take in the mayhem all around him. The sky was blood red and covered in thick smoke. All around him were screams and people running pell-mell. He heard cries for help all around him and saw the injured. Some were running half burned with skin falling as they ran. Some were covered in blood head to toe.
Just then he saw a red, white, and blue blur go flying by him. "Mindy?" he gasped as he saw his sister crash through the lobby of a hotel, shattering glass. He rain to her side as she was already getting up, bloodied with sword drawn. She glimpsed her brother.
"Scott! What are you doing here?" she cried out. Wonder Man explained how he came to Earth-X.
"It looks like I arrived just in time, sis!"
"You did, it is time to put all our Amazon training to use! We fight to save a world!"
Wonder Man was used to his sister being overly dramatic, but he agreed with her words.
Suddenly he saw who his sister had been fighting: Fausta!
"Ah! I get to kill both of Hippolyta's grandchildren today! Your heads will look so lovely on the gates of this city! A warning to all who cross Fausta!!" the Nazi laughed, drawing her enchanted whip.
Before Wonder Man could move, the whip wrapped around his neck – allowing Donar's lightning to strike him, dropping him to the ground.
"On your knees, dog! I may keep you alive to serve me!" Fausta smiled.
"No thanks! I'm taken!" Wonder Man said, as he got the slack in the whip, sending Fausta crashing into a nearby set of garbage dumpsters.
Champion and Wonder Man both attacked without abandon. Fausta fought them both like a woman possessed. She punched Wonder Man directly in the face, sending him spiraling into the air. Champion drew her sword and brought it down toward Fausta. Fausta cupped the blade in her hands and shoved the handle into Champions abdomen, knocking the wind out of her.
Wonder Man flew headfirst into Fausta's back, knocking her down. He pummeled her with his fists but she matched him blow for blow.
Champion noticed one of the Nazi tanks about to start shelling an daycare center. She could see the children and staff inside huddled in fear. She flew directly at the tank, catching the shell in her bare hands and tossed it back at the tank, causing it to explode.
"What kind of monsters are you people! Killing innocents!!" she screamed.
"There are no innoncents, you fool! All who oppose us and stand in our way must die! For the glory of the Fuhrer! " Fausta screamed, as she slammed her knee into Wonder Man's forehead.
Champion collected a large piece of twisted metal and rushed towards Fausta. Her intent was to capture her by binding her with the metal.
Wonder Man quickly recovered. His thoughts were of stories his grandmother had told him about Fausta and all the atrocities she had committed. He slammed his fists into her face, sending teeth flying.
"SWINE!!!" she hissed.
Wonder Man punched her again, sending her soaring into the dark sky.
Champion rushed to the stunned Nazi and quickly twisted the metal around her. Both women reached the ground within seconds, Fausta stunned at her defeat.
"That was a nice punch there, bro!" Champion smiled.
"Just a trick Grandmother taught me." Wonder Man smiled.
"Bah! The cow Hippolyta...I am not worried...you have not defeated me and you both will be joining her in Hell soon!"
"Oh shut up Fausta! Now that we have you, we'll help our friends defeat the rest of your degenerate crew." Champioon shrugged.
Wonder Man stood by as Champion called Power Guy on her Titans communicator. It was difficult to get a signal with all the chaos around them.
"While they are distracted...." Fausta thought, pressing a button on the inside of her palm. "She whispered, "Dark Angel…………..initiate the plan."
Wonder Man heard her whisper. "What are you doing? Who are you talking to?" he demanded.
"I am summoning your death, idiot! If we cannot have this earth, no one will! What you Amerikans did to Japan will look like a stroll at Oktoberfest compared to what Dark Angel is about to unleash!"
Back within the Nazi compound, Dark Angel gazed through a crystal ball, watching the battle take place. "Fausta and the others had better turn the tables on those idiotic heroes but even if they don't this world will still belong to the Axis thanks to our troops overrunning America!"

"That is an incorrect observation," came the voice of the Phantom Stranger as he appeared out of nowhere.
"What are you doing here, Agent of Order?" demanded the nether-witch.
"You broke your promise to my protégé and I'm here to reprimand you for it," he said as he held the Spear of Destiny up high.
Dark Angel began to quiver a bit as she backed up slowly.
***

The Coast of Southern California…
The area was being hit hard by an armada of Japanese war vessels, lead by Sea Wolf of Axis Amerika, Tsunami, and Kung(who had transformed himself into a whale). Resisting them was an army of American fighter jets and tanks, half the size of the invaders. Luckily for the U.S.A., help arrived in the form of the Flash, Blue Dolphin, Constellation, Lightspeed, Black Condor, and the Human Bomb.
As Japanese soldiers exited their warships, the two Scarlet Speedsters snatched up their opponents' weapons, and hurled them into the depths of the water. This gave the American tanks a bit of a head start as far taking out their adversaries.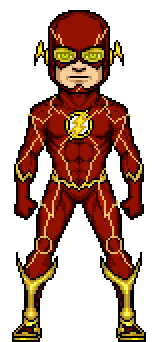 As another Japanese barge was about to dock on the shore, the Black Condor soared over the ship, dropping the Human Bomb upon it. Roy Lincoln's explosive touch blew the ship to bits before they even saw him coming.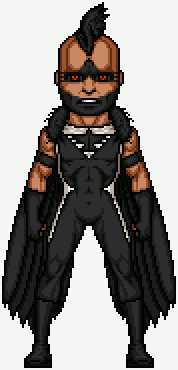 Kung witnessed the Human Bomb's attack along with the speedsters' interference of his homeland's troops and ordered Tsunami to flood the shoreline with a tidal wave.

"You can't be serious, Kung?" challenged Tsunami. "I agreed to help you in your fight in exchange for my husband's safety but if I flood this area, many civilians will become injured or die! The heart of San Diego is just a few miles from here!"

"Stop hesitating!" continued Sea Wolf. "Have you forgotten what the Americans did to your people during World War II? They put you in a case, humiliated you! You, yourself, spent time in an internment camp!" After silence between the two reluctant teammates, Sea Wolf howled, "Do it or your husband dies!"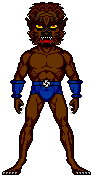 Tsunami knew she had no choice. A tidal wave soon began to erupt from the water growing larger and larger each second as it overshadowed the shoreline.
Back in the water, Constellation and Blue Dolphin were witnessing what Tsunami was doing from a far.
Blue Dolphin turned to the star-spangled team and ordered, "Hey blondie – go use that star-belt of your and see if you can evaporate some of the wave while I use my powers from down here to try and dissipate it."

Despite not liking the way she was being talked to, Constellation turned the other cheek and replied with, "Don't worry, we'll save them…." referring to Tsunami and Neptune Perkins. Without further hesitation, Constellation flew skyward and started blasting away at the enormous wave in front of her. Though she was pouring on pure stellar energy, the wave wasn't shrinking fast enough to ensure everyone's safety.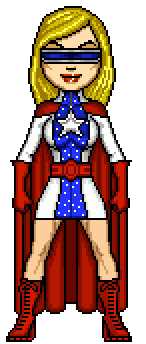 Down below, the snotty, arrogant Atlantean from Earth 2 was straining her powers to the limit trying to counteract those of her grandmother's while thinking, "I'm not sure why you're doing this but I'm sure that Nazi dog next to you has something to do with it," as she gave Sea Wolf a dirty look from afar. While she was not able to stop the wave, she was able to slow it down significantly.
Sea Wolf noticed the waves sluggish pace and darted around looking for the cause. He then noticed Blue Dolphin. He pulled a large dagger from his belt and threw it at her, aiming for her heart!
Tsunami quickly caught wind of the shooting dagger aimed for her granddaughter and stopped her formation of the tidal wave and instead, utilized her control over the water to send the dagger to the sea floor.
Sea Wolf turned to the green and white-clad Japanese woman and barked, "TRAITOR!!!" he quickly pulled a communicator from his belt and spoke into it, "Send me the Perkins whelp!" Almost instantly, Neptune Perkins appeared before him. Before the long-haired hero could figure out what was going on, Sea Wolf restrained him with one arm and prepped to use the claws on his other hand to slash Neptune Perkins' throat.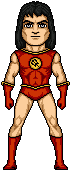 "NOOOO!!!!" screamed out both Tsunami and Blue Dolphin in unison as they prepared for the death of their loved one only to have their worst fears dispelled when Constellation snuck up on Sea Wolf from behind and blasted him in the back, sending him off to unconsciousness. The star-spangled teen then used her Cosmic Converter Belt to form an energy-sphere around him to keep him from causing further trouble once he awoke.
"What are you doing back down here?" asked an emotional Blue Dolphin.
"The wave died out so I thought I'd come back down here to see if you need help cleaning up."
While the two girls were chatting, Tsunami hugged her husband tightly, relieved that he was unharmed."
"You saved my grandfather's life. I guess I owe you one," Blue Dolphin said, being as nice as she possibly could.
"Tell you what, stop being such a snot all the time and we'll call it even," smirked Constellation as she flew upward to join the other heroes at the scene with the captive Sea Wolf in tow.
"Hmmph…"grumbled Blue Dolphin as she swam over to her grandparents to express her happiness over their safety.
As Constellation arrived on the surface, she noticed Lightspeed racing towards a giant crab(which was actually Kung). The grandson of Jay Garrick teased his adversary as he sped around him, trying to dizzy him, "Boy, it's a good thing you can transform into all of these animals with how ugly your human form is!"
"We will see who is ugly once I'm done mutilating you!" threated Kung as one of his giant crab-claws plunged towards the co-leader of the Society of Titans who had come to an abrupt halt. With lightning speed, Jayson Daniel Garrick whipped his winged helmet at Kung's claw, smacking it backwards while he zoomed underneath the crustacean form in front of him and created a sonic boom which hit Kung like a semi-truck, hurling him into the air, leaving him in a near-zombie like state once he slammed back into the ground. Lightspeed grabbed the Japanese assassin and dragged him over to Constellation and asked, "Got room for one more in there?" as he threw Kung into her energy-bubble.
***

The Coast of Manhattan…
Defending the East Coast from the Axis forces was another group of the Titans of Justice consisting of Green Lantern, Firebrand, Hermes, the Huntress, the Living Doll, Magno, and Offspring.
Dr. Poison had released one of her experimental gasses on the upper west side of the city. The green-ish chemical compound drifted through the air causing American soldiers and civilians alike to go blind. Nearly half a million people had lost their eyesight The Japanese saboteur and her teammates had all taken an antidote pill she had developed which kept them immune to the gas' effects. Dr. Poison had always been disinterested in the welfare of others to the point that the sight of suffering gave her great pleasure. She was the great-granddaughter of the original Dr. Poison from World War II and the daughter of the second villain of such name. She thrived to outdo her predecessors and according to her, today's devastation was only the beginning.
Firebrand was the first to figure out what the mentally-sick woman had done and scurried to come up with a plan to quell the situation. After relaying her thoughts to Hermes, she asked him, "Can you use your speed to create a cyclone of sorts and pull that gas up into the sky? I should be able to burn it up if you can get it up there."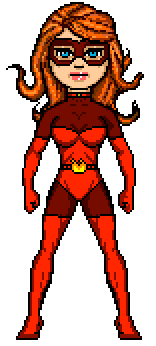 "On it!" agreed the son of Max Mercury as he sped into action and did as Firebrand had asked.

Firebrand took to the air and approached the green cloud and readied to inscinerate it but before she could act, Captain Nazi grabbed her in mid-air, "Ah, ah…fräulein, the gas hasn't made its way through the entire American army present."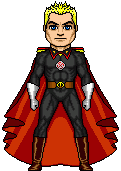 "Hands off Captain Nut-so!" snapped Firebrand as she flared up even hotter.
"Ha! I am as powerful as Captain Marvel! Your flames cannot hurt me!" scoffed the Nazi strongman.
"Maybe not, but I bet this can," came the voice of Green Lantern as an emerald anvil slammed into the Captain's head, forcing him to release Firebrand so she could take care of the gas.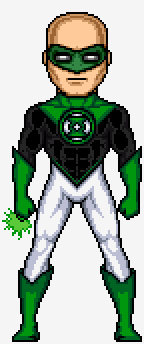 Angered and in pain, Captain Nazi looked deep into Green Lantern's eyes and growled, "You will pay for that, bald one!" as he flew into the son of Hal and Carol Jordan, fists flying.
Luckily, Green Lantern had managed to strengthen his force-field before the Captain could strike him, still, he was being knocked around like a rag doll. He then noticed that his teammates on the ground had backed the other Axis super-agents into a circle and surrounded them, thanks to the Huntress' tactical planning and utilization of her comrades' strengths and abilities. In hopes of killing two birds with one stone, Green Lantern encased Captain Nazi within a jade missile and sent him soaring towards his Axis allies. Green Lantern signaled the other Titans to get out of the way before the missile exploded, taking out all of the Axis villains. This freed up the heroes to assist the military in turning back the German warplanes invading the area.
***
Back in the Axis compound, Power Guy was still locked in battle with Wyvern. Besides being almost as strong as the Kryptonian, having received his abilities through mystical means gave him an advantage.
Wyvern tore a support pillar from the structure of the building and slammed it like a baseball bat into Power Guy, knocking him over. He jumped on top of the modern age Man of Steel and wrapped his clawed hands around his enemy's throat, trying to strangle him.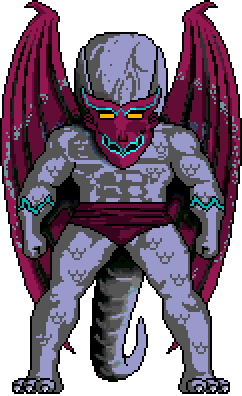 Though he was in pain, Power Guy knew that Earth X was nearly at a breaking point and was depending on the heroes to help calm the crisis at hand. That's all he needed to block out his pain and counterattack with his heat-vision, scorching Wyvern's forehead which caused the dragon-man to let go of him and clutch his scalded face. Power Guy took advantage of this opening and delivered not one, not two, but three powerful punches to Wyvern, finally taking him out.
The other Titans of Justice had neutralized all of the other Axis operatives present so Sargona decided to go searching for the Phantom Stranger. Using her Ruby of Life as a homing device, she was teleported to the chamber that he and Dark Angel were in. She was in immediate awe watching the two entities battle. The vast amount of power they were throwing around lit up the room like a fireworks display. She could barely make out what they were saying to each other so she stepped closer as she heard the Nazi witch say "You shouldn't have came here! With the Nazi presence being so strong on this earth, I am more powerful than ever!" as she blasted the Phantom Stranger with an eldritch bolt, knocking him off of his feet. She began moving towards him and made an offer, "Give me that damn spear and perhaps I'll end your existence quickly and painlessly."
Normally, the Phantom Stranger would be more than a match for Dark Angel but breaking the spell Dark Angel had erected around Earth X and transporting the Titans of Justice here from another dimension had weakened him plus something inside him was telling him to conserve his remaining strength for a more pressing ordeal that was still to come. He then threw up a mystic shield as he began to steady himself.
Dark Angel's upper lip began to curl as she became frustrated at her enemy's resistance. Casting another spell, she made octopus-like tentacles rise up from the floor below the Agent of Order and wrap around all of his limbs and neck, forcing him to drop the Spear of Destiny and dematerialize his shield.
Dark Angel made her way over to her adversary and grabbed the Spear of Destiny and raised it up, feeling triumphant as she cackled, "Hahahahaha!!!! You've lost! Your existence ends here now that I now have the spear!"
Much to Dark Angel's dismay, she felt something jerk on the spear from behind her. She whipped around as Sargona said, "And I have the spear as well and you see this pretty little ruby on my chest? It allows me to control whatever I touch."
Instantly, the spear ripped itself free from Dark Angel's grip, flew into the air, circled back around, and impaled her through her heart! She screamed in agony as she knew her end was near. "D_mn you!!!! ALL of you!!!!! This world belongs to Axis and if we cannot have it, no-one will!" With her last ounce of strength, she made a mystic-window so she and Fausta could see each other and said, "Fausta – the heroes have won. Initiate Plan B!" and slumped to the floor, dead as a doornail.
"What's Plan B?" Sargona asked as she looked directly into the Phantom Stranger's eyes, consumed with worry.
Back on the main floor of the Axis compound, Fausta had received her mistress' orders. She looked up at Wonder Man and Champion while announcing, "Infidels! You may have defeated us but now you and everyone on this d_mnable planet shall suffer the cost!" as she pressed the device within her right palm.
"What have you done, harpy?" demanded Champion. "I'll use the lasso on you if I have to…."
"Don't bother, Wonder-tot! I'll gladly tell you," admitted the German super-criminal. The Axis powers on this earth, being the dominant government, control all of this world's nuclear warheads. I've just unleashed ALL of them. Not even you and your friends can stop them all in time."
"You sick maniac!" hollered Wonder Man as he picked Fausta up by the throat, ready to punch her again but he stopped himself as he didn't want to let Fausta see she had gotten to him.
Meanwhile, Champion had contacted the other Titans and made them aware of the situation. "Scott…" Mindy said softly.
Wonder Man turned to his sister and noticed how scared she looked, "She's right. Power Guy, Green Lantern, and the others are in pursuit of the missiles but even they don't think they can stop them all." Wonder Man threw Fausta half-way across the room and then pulled his sister close to him. They both remained quiet as they prepared for their end. The son of Wonder Woman felt guilty for leaving his wife and child earlier today, knowing he would break him promise to return home safely to them. He began to cry as he feared his wife raising their child alone.
As fast and powerful as the collective of Titans of Justice were, in the end, they were unable to stop all of the warheads from going off. Earth X was decimated thanks to the greed and evil of a malicious group of men forged nearly a decade ago under the leadership of Adolph Hitler.