Post by Deleted on Mar 24, 2015 20:11:45 GMT -5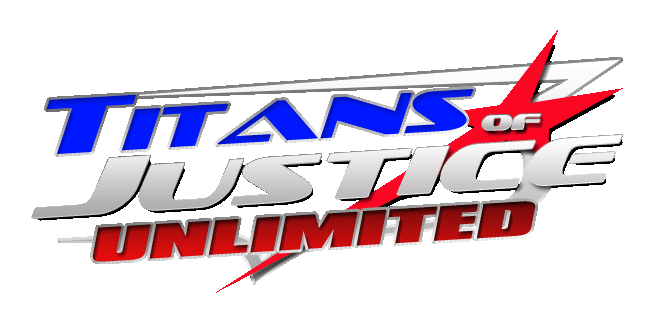 Titans of Justice Unlimited #33 – "Are You Adaptable?"
Written, Edited, & Maxi-Micros by: Power Guy


The Titans of Justice Satellite…

"We're back in the satellite!" gasped Sargona. She then noticed that every single member of the Titans of Justice was present with the Phantom Stranger standing in the midst of them all.
"Uhh…..what am I doing here?" asked a perplexed Gold Bug. "I was in the middle of pouncing on the new Mad Men when suddenly the skies on Earth 4 turned red and now….I'm on the satellite."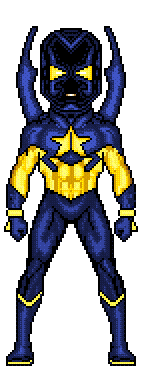 "I saw those red skies on Earth S too while Spy Smasher, Whiz, and I were fighting the latest incarnation of Sabbac," added Corporal Marvel. "She seemed surprised by them too but she could have been faking it and be behind this all. She is a powerful demoness."
The Phantom Stranger then floated into the air so all present could see him better and announced, "This is not Sabbac's doing. Thanks to the machinations of several Axis super-beings, the world known as Earth X was destroyed in a nuclear holocaust. As many have speculated, the various earths in the Multiverse are connected in a way that if one is destroyed, a domino effect starts occurring. I was able to call in a favor to stop the destruction but not before Earths 4 and S were destroyed as well, leaving only Earths 1, 2, and 3 untouched."

"Earth 4 was destroyed? Then how can my team and I be here?" asked Lt. Atom.
The Phantom Stranger continued on with his explanation of the events, "In addition to saving the three earths, my acquaintance was able to merge the people and histories of Earths 4 and S with Earth 1 and the same with Earth X and Earth 2. The normal citizens of Earth 1 and 2 will believe the rest of you have always been a part of their earths while the superhuman communities of both earths are the only ones who know the truth. There have been a few other alterations such as with Starman. He was now born and raised in Earth 1's universe instead of Earth 2."
"What? Why was my history changed?" demanded an angry Starman.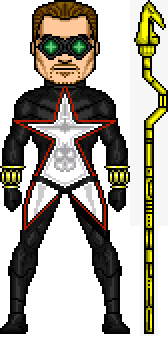 "It was always supposed to be this way, Scott Stone. A mistake was made when the five main earths were restored a while back."
"Look on the bright side, Spaceman," Gold Bug said as he put his arm around his best friend, "We're stuck on the same earth again."
"I get top bunk!" called out Starman as he and the legacy of both the Blue Beetle erupted into a bickering session as to who got which privileges in regards to their living quarters in the Hall of Justice.
Phantom Lady then spoke up and asked about the elephant in the room, "So with all of these changes, why isn't Uncle Sam here with us? After everything he's done and sacrificed over the years, don't you think he deserves a chance to live?"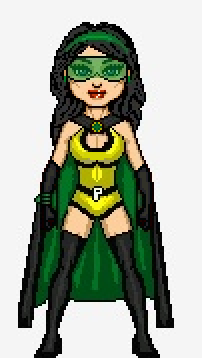 "Though I am the one who initiated the survival of Earths 1 through 3, I was not able to dictate exactly how everything played out," admitted the reserve member of the Justice League of America. "But know this, Uncle Sam will never truly be gone as long as America survives. He will return when he's needed."
Phantom Lady turned to Miss America who had been all but completely silent since she disintegrated Uncle Sam's body under the Silver Ghost's control, and said, "I told you, Joan. Sam will be back. There's nothing to feel guilty about."
"I…I wasn't sure this time," Miss America said, piping up with a sigh of relief. "I know he's reconstituted himself before but after I dematerialized his atoms, I thought I may have finished him off for good."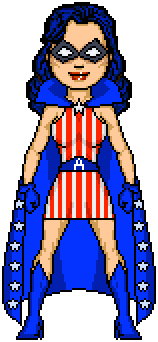 The Ray then joined in the conversation, "So all that talk you've been doing the last coupe of days about hanging up your cape is over with, right Miss A?"

"I sure hope so," Liberty Belle said as she approached the trio of heroes from Earth X. "With your adversaries from Earth X now residing on Earth 2, the Society is going to need all the help we can get in keeping a lid on things. All of you have an open invitation to join our ranks if you'd like?"

The Phantom Stranger interrupted the crowd of heroes one final time, "I need to be going but know that you all did the best you could with Earth X. There is nothing to feel guilty or ashamed about. I must be going now."
"After everything that's happened, you're just going to up and leave on us?" questioned Sargona. "And why the heck did Earth 3 get preserved with all of the evil present on that earth?"
"You of all people should know that there must be balance in the universe. Now, I have other matters to attend to," replied the Agent of Order, "But I will be available when my presence is required just like I was when the Justice League needed me." With that, the Phantom Stranger vanished in a puff of smoke.
"That man gives me the creeps," Green Lantern said, breathing easier now that the Phantom Stranger was gone. "Power Guy, where does this leave our team in light of everything that's happened?"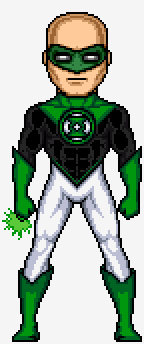 The Kryptonian powerhouse knew this question was coming but he didn't have an exact answer just yet but he did have a plan, "I'd like to meet with Lightspeed, Liberty Belle, Ibis, Lt. Atom, and Miss America in a few minutes so we can decide the future of the Titans of Justice and all of it's sub teams. We'll try to have an answer for everyone within a few hours."
After some time, the awaiting members of the Titans of Justice began talking amongst themselves with speculation.
"Well, we know someone who's got a definite seat at the table," Sonic Boom whispered to her brother, Dark Arrow, while glaring at Sargona. "She must have known this was coming which explains why she's been hanging all over Vince lately."

"I heard they're going to have only seven members like the original J.L.A.," Blue Dolphin said, secretly trying to get everyone else riled up.

"I bet they'll go with founding members only and kick the rest of us to the curb," the Living Doll added, worried she was going to lose her teammates along with her world in the same day.

"Well, if they give do us the boot, I'll be founding a new Justice League International and you're welcome to sign up," offered Gold Bug.
Phantom Lady began laughing hysterically and then remarked, "Listen baby-blue, you're better off in the submissive role."
Gold Bug turned to Starman in annoyance and grumbled, "She's never going to let it go, is she?"
"Chill out buddy. She's just having fun with you," Starman said as he handed Supergirl a glass of pineapple juice he had gotten for her from the kitchen. "So what was it you wanted to tell me, babe?"
"I asked Vince not to include me on the new roster," revealed the daughter of Clark and Lois Kent.
"What? Why?" Starman asked, curiously.
Smiling ear to ear, Supergirl announced, I got accepted to Metropolis University!"
"That's awesome! We're going to celebrate tonight!" declared Starman as he hugged the modern-age girl of steel.
Just then, the various banter in the room came to a complete halt as Power Guy and the others returned.
"Thank you all for waiting so patiently," began the Kryptonian powerhouse. "Given the alterations made to reality, we must forge a new team to meet the challenges that await us. We've settled on a fourteen member team for the Titans of Justice made up of people with various skills, powers, knowledge, and perspectives in order to give us the greatest chance of success. Anyone who is not listed on the full-time roster will be considered a reserve member and called in from time to time when the situation requires it. Lightspeed and Liberty Belle have also mentioned that the Society of Titans, now to be know as the Justice Society Infinity, will be more active on Earth 2 and all members will be on the active roster at all times, though not everyone will be called in for every mission. The Titans of Justice will be comprised of heroes from both earths with more focus on Earth 1. The roster will include:
Apotheosis
Champion
Corporal Marvel
Flash
Gold Bug
Green Lantern
Huntress
Isis
Magno
Power Guy
Rotating Member From Reserves
Sargona
Sonic Boom
Starman
"NO WAY!" gasped Apotheosis. "I can't believe I made it!" Still being the "new guy", he thought he'd surely get the axe
Alternate Green Lantern Jo Jo Gardner began complaining to anyone who was listening, "I can't believe they picked baldy over me!"
Suddenly, Black Adam slammed his fist down on the meeting table, cleaving it in half as he shouted, "This is an insult! You chose Corporal Marvel and my wife but not myself??? You all are a bunch of fools!" as he pointed at Power Guy and the others.
"Teth, calm yourself!" urged Isis. "With me being gone helping the Titans, Khandaq will surely need you. This is a blessing."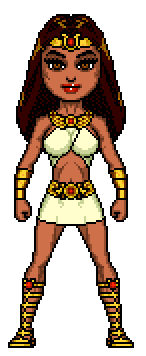 "Isis is thinking exactly as we did," explained Power Guy. "We didn't think you both would want to be full-time members given you have a country to watch over."
"Y….you are right," admitted Black Adam. "Forgive me for my display of anger. I will replace the table within twenty-four hours."
Starman and Gold Bug gave each other a high-five as they shouted in unison, "We made it!!!"
"Well, this is going to be the most boring roster ever," Sargona whispered to Black Vulcan.
"How so? Vince is on the team with you," reminded the daughter of Black Lightning.
"I know but besides him, it's my ex(Green Lantern), Sonic Bimbo, Champion – the Amazon with the stick up her backside, and Magno. I heard he rarely talks and NEVER smiles."
"Maybe you can be the one to get him to become more social," suggested the lightning-powered heroine.
"Somehow I don't think he'll be adding me to his friends' list on Facebook anytime in the near future," replied the daughter of Sargon the Sorcerer and Zatanna. "Wonder Man has always said Isis was really cool so maybe she'll be my anchor to sanity. I guess in the very least, I should get a few laughs out of Blue Bevis and Star-Butthead."
A few feet away, a much different kind of conversation was going on. "I'm sorry you didn't make the cut, Sherry," Corporal Marvel said as he looked at his girlfriend and frowned.
"It's fine – really. Liberty Belle has been keeping me busy with Society missions on Earth 2 and she seems pretty happy with my results so I don't see that changing."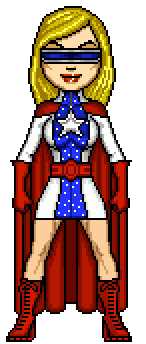 Just then, the son of Billy and Courtney Batson received a telepathic message from the Wizard Shazam. "Freddie Batson – Your presence is requested at the Rock of Eternity. With that, the current champion of Shazam along with Constellation disappeared into a cloud of smoke only to reappear in front of the Wizard.
"You don't waste any time, do you, Wizard?" pointed out Corporal Marvel. "What if I had been in the shower or something?"
"Such trivial matters are not my concern," countered Shazam, dryly. "I brought you here today because on this new world, the Seven Deadly Sins of Man have a much bigger following and evil is more active than ever before. In light of this, you will need more power."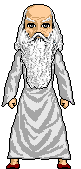 "More power?" repeated the black and silver clad member of the Marvel Family.
"Yes, with your father, Mary Marvel, Captain Marvel Jr., and their son Whiz all still housing their enchanted abilities, my power is stretched too thin to enable you to properly combat the greater threat that lies upon this world so I have some gifts for you from the Roman deities. First, the Hammer of Vulcan. Not only is it indestructible but it was used to forge Zeus' thunderbolts. Residual energy from those thunderbolts resides in the hammer and can be unleashed at your command. Secondly, I present you with the Golden Fleece of Heracles also known as The Hide of the Nemean Lion, which will increase your speed, invulnerability, and strength to that of which any of my champions would wield if they were the only user. You will now be as strong and as fast as Black Adam. The Fleece also grants you the power of invisibility."
"Th….thank you, Wizard," replied Corporal Marvel replied, humbly.
"Speak my name Freddy Batson so that these gifts may adorn you properly along with some other new garments I have created for you."
Without hesitation, the young man shouted "SHAZAM!!!!"
The lightning came down in a fury and once the smoke cleared, Constellation smiled and said, "Wow, Freddy! You look really cool!!!"
Looking down upon himself at his new attire, the son of Captain Marvel and Stargirl said, "Yeah, I do. Wait until the other Titans get a load of me!"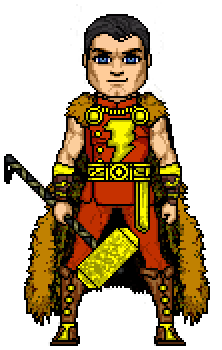 ***

Somewhere else…
The Phantom Stranger appeared in a place irrelevant to time and distance. Before him was Fausta, imprisoned in stasis, only able to move her mouth and eyes.
"You're back! I demand that you tell me where we are and that you release me immediately!" barked the Nazi strong-woman.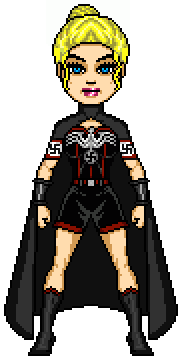 "You are in no position to make demands just like all of the other sinners here," advised the Lord of Order.
"I'd rather you killed me than made me listen to any more of her screaming!" came a male voice.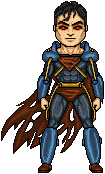 "I am the Phantom Stranger. You would do well to remember my entire name," directed the jailer. "The man across from you is known as Superboy Prime. Like you, he is responsible for the death of millions just as everyone else imprisoned here is." The reserve member of the original Justice League of America surveyed the room, noting some of his captives including Despero, Yuga Khan, the Cyborg Superman, Mongul, Starbreaker, Doomsday, among others. "Over the years, I have collected you all without warning. Many believe that most of you are dead or have gone into retirement. Neither fate awaits you as you all shall remain imprisoned here for the duration of eternity, helpless and immobile, without chance of release. Your misery shall be infinite, similar to the amount of lives you each took."
THE END