Post by Deleted on Mar 24, 2015 16:06:31 GMT -5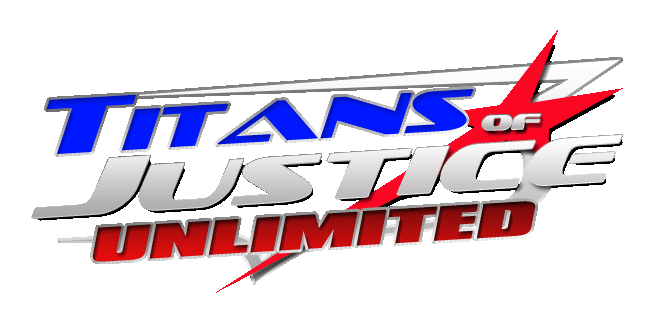 Titans of Justice Unlimited #34 – "A Legion Divided "
Written, Edited & Maxi-Micros by: Power Guy


S.T.A.R. Labs – Star City Branch…
Minutes earlier, the Cheetah's fraction of the Legion of Doom consisting of Giantessa, Sir Simian Sinister, the second Riddler, Scream Queen, Solomon Grundy, and the Toyman had broken into the advance research facility in hopes of stealing a breakthrough engine component that was highly energy efficient.
Sir Simian Sinister and Solomon Grundy were making short work of the guards while the rest of the group was busy trying to secure the item they craved.
"According to my source, the engine component we need is in this room!" The Cheetah said, pointing at the door in front of them.
"That thing looks like it's made of titanium steel but I'll bet it's no match for my toy army!" squealed the Toyman as six toy tanks rolled up from behind him and blasted away at the door, reducing it to rubble.
"Great plan, Cheetah! And it was as easy as taking candy from a baby!" cheered Scream Queen as the dust settled to reveal an alarming sight: The Titans of Justice.

The group of heroes consisting of Sonic Boom: The Black Canary, Dark Arrow, Magno, Apotheosis, the Huntress, and Corporal Marvel stood firm as their mission leader Green Lantern announced, "The only thing easy about this day is going to be hauling you all off to prison!" as he created a green power-bubble around the five villains before him. "Thanks to a tip, we knew you'd be striking here today and it's taken us much too long to catch up with you all after what you did to Knightvision and Batgirl!"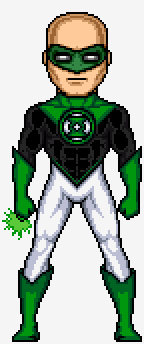 "He's got us!" screeched the Riddler, beginning to panic as usual.
"Not so fast, Green Lantern!" countered Sir Simian Sinister as he raced over to help his teammates. Using his mental abilities, he launched a psionic attack upon the son of Hal and Carol Jordan, causing him a migraine headache, shattering his concentration and thus dissipating his energy-construct.
"We've got a few more tricks up our sleeves, Sinister," announced Sonic Boom as she leapt into the air, preparing to judo kick the son of Gorilla Grodd and Giganta but before she could make contact, the Cheetah, with her lightning speed, intercepted her in mid-flight, resulting in a literal "cat-fight" for the blonde bombshell once the two hit the ground.
"You're going to be nothing but a pile of bloody, shredded meat in a few minutes, Black Canary!" hissed the Cheetah.
"You may be faster than I am, Cheetah but you can't match me in combat skills!" retorted Sonic Boom as she flipped the Cheetah over her back and sent her crashing into the petrified Riddler.
As the Cheetah was picking herself up to counter-attack, the Toyman came face to face with another one of the Titans. "I've never seen you before. You must be new but regardless, my tanks will obliterate you!!! What's your name supposed to be? Iron-man?"
As the deadly toys unleashed their full arsenal upon their target, he raised his right hand forward and gestured slightly, sending the missiles back into their launchers and destroying the tanks as he replied, "I am Magno and you are defeated," in a cold, firm tone.

A few yards away, Sir Simian Sinister was inching closer to Green Lantern who had dropped to his knees in pain. Suddenly, a green arrow whisked in front of the emerald crusader striking the criminal from Gorilla City smack-dab in the forehead, neutralizing his attack on Coast City's premier hero. Dark Arrow smiled at his best friend and said, "There you go Gee EL. My thanks to you for pulling me in on this mission."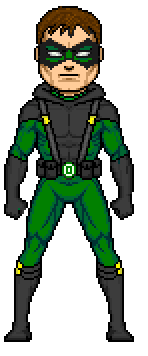 Green Lantern stood up quickly and announced, "I'm getting sick you messing with my mind, Sinister!" as his ring began to glow.
While rubbing his head, the son of Grodd and Giganta spat, "That's fine because I'm getting ready to rip out your throat!"
But before Sir Simian Sinister could make good on his threat, a giant jade baseball knocked him over.
"Sinister!" cried out Gigantessa as she shot up to fifty feet tall to help her brother.

"Ah ah, legs…..you're going to have to deal with me first!" declared Apotheosis.
"Out of my way, little man!" grumbled Giantessa as she raised her leg in hopes of stomping the purple-clad hero when he took her by surprise and grew to match her size. The two giants grabbed each other's hands in trying to overtake the other. "What's with the new costume, chief?"
"I'm not Buffalo Brave but I'll be sure to tell him you said hello after we hand you over to authorities," revealed Apotheosis who soon started to stagger a bit. He privately thought to himself, "Getting dizzy from growing again……still not used to changes in mass and size…."
Giantessa took advantage of the son of Paragon's set-back and toppled him over. She then ripped a pillar from the building's structure and raised it over her head as to start beating Apotheosis with it.
Corporal Marvel(who had been busy fighting Solomon Grundy) noticed his teammate was in trouble and scurried to help him. Looking up at the Marshland Monster briefly, he said, "We'll catch up later, sewer-breath," as he pulled his golden fleece around him, thus turning himself invisible. He then took to the air and slammed his golden hammer into the pillar that Giantessa was holding and shattered it with one powerful blow.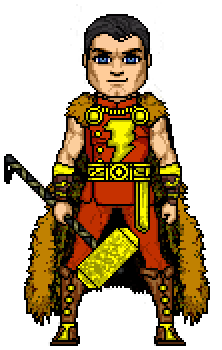 Outraged, the red-headed giant screamed, "You little brat! I'm gonna squish you like a roach!" She then proceeded to swing her teddy-bear shaped purse at him but thanks to the speed of Mercury, he was able to dodge it with relative ease but he failed to realize that his greatest threat was the one he chose to put on hold. Solomon Grundy has noticed Corporal Marvel was fighting with Giantessa and vowed payback for the young hero challenging him earlier. He hoisted a large copy machine into the air and seconds later, it crashed into the son of Billy Batson, knocking him out of the sky. As the boy laid motionless on the ground, the creature from Slaughter Swamp began lumbering towards him while mumbling, "Now Grundy take Marvel-boy's hammer and crush his skull with it."
At the same time across the room, Scream Queen had gotten her hands on the component that she and her teammates needed with the Huntress in hot pursuit.
"Drop the device, Scream Queen or I drop you with an arrow through one of your ankles!" ordered the protector of Gotham City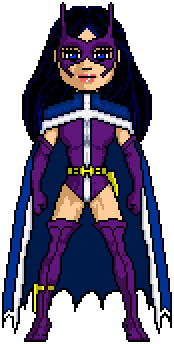 The daughter of the Scarecrow knew her arch-nemesis wasn't playing around and came to a complete halt. She whipped around and began talking to her adversary in hopes of buying enough time to formulate a plan, "You win, Huntress. I'm through running."
"What do you need that device for?" demanded the daughter of the Batman and Catwoman.
"Why, we're building our very own Hall of Doom," revealed the mistress of fear. "Luthor and his losers can have the old model. Ours will be brand new and deadlier than ever!"
"Too bad you'll be locked up before you can start building it," the Huntress said as she pulled a pair of handcuffs from her utility-bag. She began stepping forward until suddenly, flying out of the ventilation system came nearly a dozen smile-shaped devices. "Oh no!" she gasped. She quickly scanned the room for, "Lantern! You and the others need gas-masks NOW!" as she pulled her private mask from her bag and began placing it on her face.
Scream Queen was also familiar with the smile-shaped devices and who had created them, "Oh no! I knew he'd come after us but I didn't think it would be this soon!" she whispered to herself as a greenish gas began dispensing from the smile-shaped devices.
Luckily, Green Lantern was able to create gas masks for the Titans of Justice present but the Legion of Doom was not so lucky, succumbing to the gas, which caused them all to collapse to the floor in hysterical laughter while sporting, large grins upon their faces. Once the gas began to dissipate, a figure made his way up towards the Huntress who she soon recognized to be, "Punchline! What are you doing here?"
While the Huntress had her crossbow pointed at the son of the Joker and Harley Quinn, he in turn had her sighted in his forty-give magnum. "I'm here for the same reason you are, my pet. The Legion of Doom did a naughty, naughty thing taking Knightvision away from us both. I simply want to see them face justice for their crime. Now why don't you and your band of merry little elves scramble and you and I can tangle another day?"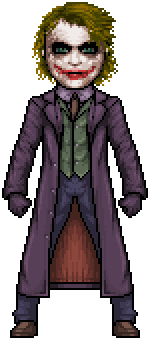 "That's not going to happen," Sonic Boom said rushing towards the conversing duo. "You'll have to take down each and every one of us before you lay a finger on the Legion."
"Have it your way, Black Blondie, but you should know…..I brought some friends too…" teased the clown criminal as several other villains burst into the room including Kitty Kat, Phantom Zone convict Zy-Kree, Prince Vertigo, Bonfire, Devil Ray, and Dr. Natas.
"What's this? You've formed your own Legion of Doom?" surmised the Huntress.
"Always so clever, aren't you my dear?" Punchline said as his associates joined him. "Actually, we like to call ourselves the Society of Insanity and the folks here are just the tip of the iceberg."
"Huntress, we didn't plan on facing a Kryptonian today, perhaps we should call in Power Guy or…" Dark Arrow began to whisper until Corporal Marvel pushed his way past the emerald archer and shouted, "No time for that plus thanks to the new gifts that the Wizard granted me, I'm more than enough to handle that Phantom Zone refugee!" He then flew towards Zy-Kree with the speed of Mercury and then summoned the great power housed within his new hammer, "VULCAN!" As the hammer slammed into the Kryptonian criminal, residual energy of the Thunderbolts of Zeus flowed into his body, giving him the literal shock of his life!
Following Corporal Marvel's initiative, the Titans all chose a sparring partner. The Huntress advance towards Punchline as gunfire shot in her direction. If it weren't for her being so well-trained in evasive maneuvers, she would have easily taken several bullets this day. Half a second later, a well-aimed Batarang relieved the sadistic clown of his weapon leaving an opening for the Huntress(who was now swinging on a Bat-grabble) to kick him in the jaw, sending him flying backwards, tripping over the still laughing Solomon Grundy.
"This is the weirdest laughter I've ever heard," Punchline said, trying to stall the Huntress while he gathered his wits about him. "Then again, zombies aren't really supposed to laugh, are they?"
The Huntress leaned into punch her nemesis but he dodged her blow at the last second and in turn, slapped her in the leg, piercing her skin with his electric joy-buzzer, shocking her wildly.
Meanwhile, Sonic Boom had decided to take on her old adversary Bonfire. The blazing villainess was emitting flames like crazy, trying to burn Star City's premier heroine alive due to her relentless hatred for her. "This time you're going to fry, Canary!"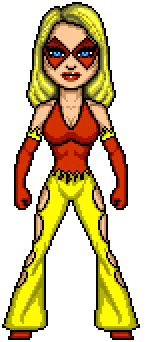 Several flips later, Sonic Boom landed right behind Bonfire and gave her a karate chop to the side of her chest, stunning her.
"ARGHHH!! You b!](#!" Bonfire screamed as she clutched her ribs but then to Sonic Boom's surprise, she shot a stream of flames from her mouth, setting the modern-age Black Canary's jacket ablaze. "Ha! Bet you didn't know I could do that!"
As the woman also known as Di Di Queen frantically struggled to remove her jacket she thought to herself, "She's right. I had no idea she could breath fire as well as create it from her hands!" Finally, she got her jacket off but soon found her troubles were far from over. Bonfire had surrounded her with a ring of flames!
Sonic Boom's brother, Dark Arrow, had wanted to rush to her rescue but he had his own problems in form of Prince Vertigo.
"Your flawless aim isn't so flawless under the influence of my royal abilities, is it?" taunted the Vlatavian monarch as his powers made the made the archer dizzy and nauseous causing his jade-colored arrows to miss the villain by a foot or more.
"Why are you helping Punchline?" demanded Dark Arrow, becoming frustrated that he could not hit his target. "I thought you vowed to go straight after we got you clean of those drugs that those traitors to your country were giving you?"
"The Legion of Doom stole a valuable piece of jewelry from my country and I want it back!"
"Then stop wasting my time and let me apprehend them!" countered the son of Green Arrow and Black Canary.
"NO! They took my father's ring and I trust no-one but myself to get it back!" screamed the Vlatavian monarch as he amplified his effects on Dark Arrow causing him to drop to his knees and vomit profusely.
Corporal Marvel was surveying the scene trying to decide which of his friends could use his help the most. He decided that Sonic Boom was in the most imminent danger and stepped forward to aid her until someone grabbed his shoulder and pulled him in a one hundred and eighty degree angle.
It was Zy-Kree and he was furious! "I am not so easily dispatched, boy!" he shouted as he punched the current champion of Shazam, sending him crashing through the wall behind him. Zy-Kree flew over to the teen hero and fired off his heat-vision at him. The speed of Mercury aided Corporal Marvel again as it allowed him to deflect Zy-Kree's attack with the Hammer of Vulcan. Still, the Kryptonian didn't let up, engaging in a fist fight with the Marvel Family member.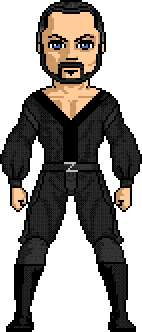 A ways away, Apotheosis was locked in battle with Dr. Natas and his deadly Noxium Crystal.
"You used to be a member of the original Legion of Doom. What's your stake in all of this?" asked the son of Paragon.
"Those fools used me! They had me create my precious crystal and then gave me the boot!" revealed the mad scientist. "Now, with most of the originals M.I.A., I have to settle for exacting my revenge on their children! At first, I was disappointed but then I realized how much more I will hurt them by hurting their offspring!"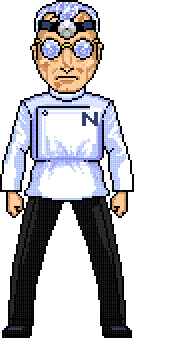 "You sat in prison for decades and all you can think about now that you're out is revenge? Pathetic!" Apotheosis said as he dodged a blast from the deadly crystal and landed a punch to the doctor's jaw.
"You'll pay for that, whelp!" growled Dr. Natas as he kept blasting away. Soon, he forced Apotheosis into a corner. "Ha! Nowhere for you to run, now! My crystal was powerful enough to almost kill the entire Justice League! A mere human like you has no chance against it. Let's see, which of it's deadly beams should I use on you?"
"I'm toast unless I think of something fast!" Apotheosis thought to himself. He soon thought of a solution. "I think I know how to save my hide while killing two birds with one stone."
"I think I'll use my heat-ray so melt your costume to your skin and burn you alive!" declared Dr. Natas as he fired off the deadly ray. It quickly struck his target but shockingly, wasn't doing a thing. "What?!?!? My ray isn't affecting you!"
"That's right you creepy old freak!" smiled Apotheosis. "I just borrowed Zy-Kree's powers for a few and it looks like my buddy Corporal Marvel is now mopping the floor with him. As for you, here's a taste of your own medicine…" he said as heat-vision scorched the doctor's hand, forcing him to drop his crystal. He then used his super-breath to blow out Bonfire's flames, giving Sonic Boom the opening she needed to turn the tables on her foe.
Meanwhile, another of his friends was in serious trouble. Kitty Kat had gained an advantage over Green Lantern with her golden claws. She had crawled up into the rafter and hid until the perfect moment and then dropped down on the green guardian, raking him with her gleaming nails. Apotheosis raced over to her with his super-speed and threw her into Prince Vertigo, thus neutralizing his effect on Dark Arrow. He then tended to Green Lantern's multiple wounds by cauterizing them with his heat-vision while out of the corner of his eye, he noticed Magno had made short work of Devil Ray by immobilizing him through the metal in his suit.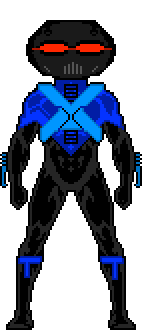 The Huntress then rushed by in hot pursuit of Punchline who had electrocuted the new Riddler into unconsciousness and was carrying him. "Drop him Punchline or my next arrow will pierce you in a very uncomfortable spot!"
"Try it and I'll use him as a human shield," pointed out the insane clown. "But just in case you're still willing to chance it…." he said as he threw some jacks on the ground, causing the Huntress to trip and fall.
The other villains caught up with Punchline and were in the process of making their escape when the Huntress called out, "Apotheosis! Stop them!"
The son of Paragon flew after the villains out the door they had just exited in hopes of catching them. They were about to get into Punchline's clown-car when the purple-clad hero landed in front of them. "Shows over, guys!"
Punchline stared directly into Apotheosis' eyes and retorted with, "Wrong, bucko! You're going to stand aside and let us go!"
"Now, why on earth would I do that," replied Apotheosis as he clenched his fists.
"Because……I know what happened with Poison Ivy."
"Everyone does…..it was all over the news. She pressed her luck and lost."
"Oh, I know what you told the Huntress and the media, my dear boy, but I also know what REALLY happened. Now….kindly stand aside."
Forty-five seconds later, Corporal Marvel(carrying the injured Green Lantern) and the other Titans exited the building with the Huntress being the first to ask, "What happened?"
"Punchline had Kryptonite…..used it to weaken me……said he had it in case Zy-Kree got out of line, answered the not so honest hero as he pretended to be wobbly and disoriented.
"I've got even more bad news guys," piped up Sonic Boom who had stepped back inside S.T.A.R. Labs while the others were talking. "The Cheetah and the others must have been playing possum for a while. They've escaped along with the device they were after!'
The Huntress was quite angry with the turn of events. Not only was she unable to catch Knightvision's killers today but a second group of villains got away on her watch as well. She felt as though her former partner's death was still taking a toll on her both emotionally and physically. She shot her Bat-grappled at a nearby rooftop and disappeared into the night without saying a word to any of those present.
THE END!