Post by Deleted on Mar 24, 2015 15:44:58 GMT -5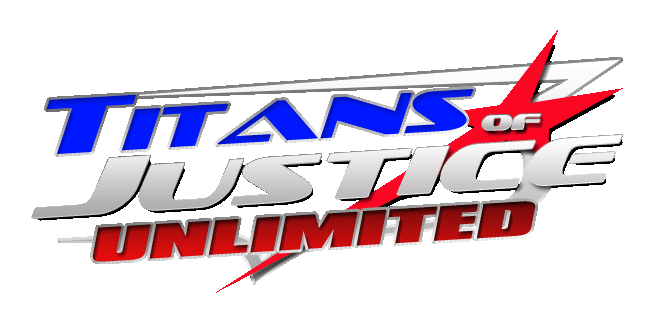 Titans of Justice Unlimited #37 – "Crisis: Omen of the Phoenix Part 3"
Written by: Scotty2Hotty
Edited & Maxi-Micros by: Power Guy


California, Earth 1…
Downtown Beverly Hills was not used to such destructive activity. What should have been a normal day of shopping and celebrities had turned into a day of terror, first with the strange bird of fire appearing and now with the Titans of Justice fighting an unknown band of costumed characters. Pedestrians ran for cover as the two teams fought.
"So, 'Wonder Man' let's just see who is more worthy to call himself that!" Scott Williams shouted as he transformed into his ionic energy form. He rammed head-first into Wonder Man's chest, sending him flying through the air.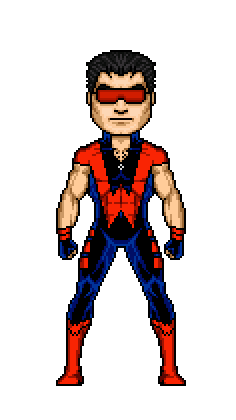 Donna Troy was quick to react with her magic lasso. "It passed right through him!" she exclaimed.

"Sorry gorgeous, your fancy rope can't work on what it can't touch!" the other Wonder Man smiled.
Jem had snuck up behind him and had manipulated the sound waves into a concussive blast. "Let's see how you like my music and light show, you Wonder Man rip-off!" Jem shouted as she pointed her fists at Wonder Man. Within seconds, she had disrupted his ionic form.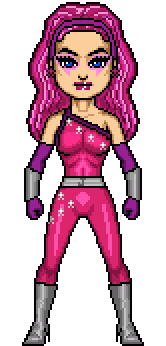 "She's like Dazzler!" Marvel Man shouted, pointing at the pop-star.
"I don't know who this Dazzler is, but I am one of kind--and truly outrageous!!" Jem replied as she sent her next blast at Marvel Man, sending him into Power Guy's arms.
"Thanks Jem! Up, up, and away with you!" Power Guy shouted as he dragged the startled Marvel Man towards the sky.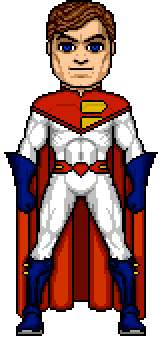 "Up, up, and away? Are you for real?" Marvel Man said.
"No one complained when the very best of us said it years ago!" Power Guy replied, referencing Superman.
By now, Scott Trevor had recovered and landed a punch to Wonder Man's face, knocking his glasses off.
"Your eyes!" the son of Wonder Man gasped, seeing his opponent's energy-filled eyes.
"All the better to see you with!" Scott Williams smirked as he released a beam from his eyes.
Wonder Man met the blast with his gauntlets, effectively avoiding it.
Down the street, Freedom Falcon had captured Green Lantern with a yellow cage of fire. "Stand down! I don't want to hurt you! My torches of liberty should keep you out of our hair!" the pretty Avenger said.
"I would get stuck fighting someone that would have to use the color yellow." Green Lantern thought.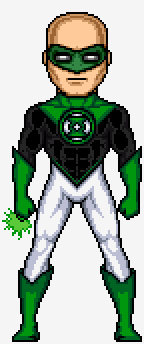 Just then, the Flash whizzed by arms rotating. "There you go, friend! That fire is all gone!" The Flash smiled.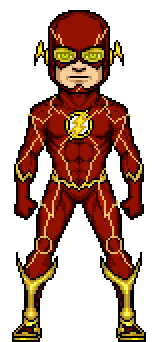 Before he could revel in his success, the Flash was sent flying 4 city blocks by the Red Hammer. Red Hammer's eyes were glowing and he left a trail of potholes in the pavement. The Russian ran over to where the Flash had landed and observed he was knocked out. Red Hammer turned and rejoined the fight. He was spouting Russian off left and right, and Green Lantern did not need a translator to determine the armored man was beyond angry.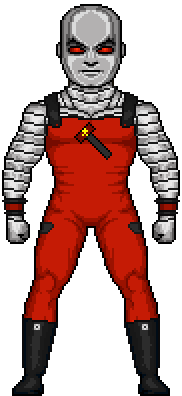 Magneto pointed his hand to the sky towards Power Guy. Suddenly, Power Guy felt sick.
"What…what's happening to me….?" He gasped.
"Just magnetizing the iron in your blood!" Magento smiled. "He's all yours Marvel Man!"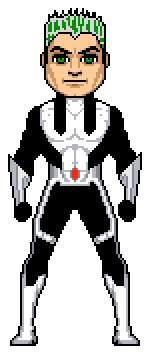 "Not so fast!" Sargona said, looking directly at the grandson of the original Magneto.
She started to say an incantation. Before she could get the first word out, Magneto used his other hand, sending a concussive blast towards her.
"You see, I am lucky! I inherited both my parents' abilities as well as my grandfather's lack of tolerance for those who would waste my time!" Magento said.
Sargona didn't have to time to move before the blast knocked her unconscious. Without hesitating, Freedom Falcon summoned one of her torches of liberty to bind the beautiful sorceress's mouth. Despite the torches fiery appearance, Freedom Falcon could command them to simply bind, not harm.
"Sargona!" Power Guy shouted!
"I wouldn't worry about her! You have more pressing troubles!" Marvel Man said, punching Power Guy in the face. In his weakened state, Power Guy felt the full force of the blast and dropped from the sky into Red Hammer's arms. Red Hammer then tossed Power Guy full force into a parked service truck.
'Well done Red Hammer!" Marvel Man shouted, raising his fist in the air.
Isis approached Wolverine. She noticed he had held back watching the others. As she got closer, she could sense there was very little natural about the man, as if he had been augmented.
SNIKT! Wolverine popped his claws and said, "I would stay where you are sweetheart, would hate to have to fight one as pretty as you."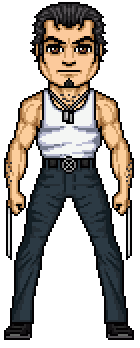 Isis merely stared at him and the sky suddenly turned dark as she summoned a bolt of lightning directly at Wolverine.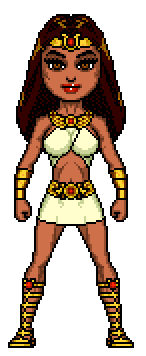 "So this world has weather manipulators too!" he laughed triple flipping out of the bolt's way and behind Isis. He grabbed her neck and pressed on a nerve. "There, you'll have a restful sleep." He smiled, admiring her beauty.
"Sorry dude, she's spoken for!" Corporal Marvel screamed as he flew at Wolverine, fists flying. Wolverine stepped backwards, dodging each punch.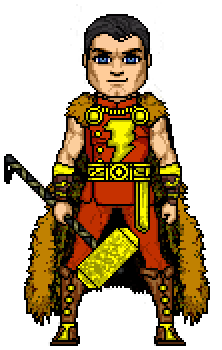 "Feisty one, aren't you kiddo?"
"Don't call me kiddo, claws!" Corporal Marvel said. Seeing Isis dispatched so quickly had upset him.
Just then, Corporal Marvel heard pounding footsteps behind him. He turned to see Red Hammer running at him full-force. Before he could move out of the way, Red Hammer ran over him, knocking the breath from his body.
Red Hammer shouted, "Nail! NAIL!!!!" as he began pummeling the current champion of Shazam.
"Watch out everyone! Red Hammer is really mad! I wish Frost was here to communicate with him!" Freedom Falcon said as she blasted away at Green Lantern. Green Lantern was dodging her torches of liberty, but could not get a clear shot at her.
"These people are good! Not letting up at all!" Green Lantern thought.
"How about we trade?" Wonder Man said to his teammate.
"You just read my mind!" Green Lantern replied.
The other Wonder Man was right behind Scott Trevor, ionic energy pouring off him. Green Lantern was able to hit him with his power ring, dropping him from the sky. The emerald gladiator then created a force-field, capturing the foreign Wonder Man.
"Hey! Let me out of here!" he demanded.
"Sorry, but that field is used to containing stronger stuff than you!" Green Lantern smiled.
Scott Trevor led Freedom Falcon in a race through the sky. She noticed his costume was based somewhat on the American Flag and wondered if this fight might be a mistake. Just then Jem flew up beside her and hit her with a massive sound wave. Freedom Falcon started to fall and was then captured by Donna Troy's magic lasso.
Marvel Man flew towards her. "Hang in there FF! I'm on my way!"
"You want her, you got her!" Donna smiled, twirling her lasso with Freedom Falcon. She then released the unknown woman directly at Marvel Man, sending them plummeting to the earth.
Sargona had woken up and now gotten the restraint around her mouth off and said, "tnaig noihsuc erutpac ruo yrep!" Suddenly a giant cushion emerged guaranteeing Marvel Man and Freedom Falcon a soft landing. Something told Sargona, these people were truly not her enemies.
Magneto noticed his team was taking a beating.
"Initate def-con strike!" he shouted.
Isis awakened and noticed the strange man with green streaked hair's costume start to glow. Magento appeared to be powering up.
"Hate to do this to Beverly Hills, but it may be our only chance!" she thought as she summoned a massive wind and the earth started to quake, hoping to leverage the field to her teammates advantage.
Within moments, the Titans and Avengers were on the ground, all about to square off again as the wind howeled. Flash had regained consciousness and rejoined his teammates. "I was thinking you would have mopped the floor with these guys by now!" he announced as Isis's lightning struck and colorful costumes illuminated.
"They're tougher than they look!" Corporal Marvel said, glaring at Red Hammer whose eyes were now glowing bright red.
The Titans all looked to Power Guy. He gave the signal.
The Avengers looked to Magneto who gestured to his team.
Both teams ran at each other.
Suddenly they all stopped in their tracks, grabbing their heads.
"Thank God I got here in time!" came a voice from the sky.
"Kid Comet!" exclaimed Jem.
"Hmmmm. A high level mutant." Magento said to himself. His costume was outfitted with a mini-Cerebro that detected other mutants.
"Sorry for the mental disruption, but I saw the fight and used my powers. Titans, these people mean you no harm. They are confused and looking for a friend. Their friend was taken like Lilith" he said gesturing at the Phoenix force, which seemed very calm, suspended in the California sky.
"You pack quite a wallop, Kid Comet." Wolverine said, rubbing his temples.
"I apologize for our harsh reaction." Magento said. "We are the Uncanny Avengers. The Phoenix Force took our friend and came to this world. We followed to free him and try to stop the Phoenix."
Power Guy stepped forth." It's ok. I'm Power Guy and these are the Titans of Justice. I guess it is a tradition of sorts for the super groups to fight during their first meeting," The Kryptonian said, trying to lighten the mood further.
Sargona said, "The Phoenix Force? Can you tell us about it? It seems I have encountered some writings about it in my father's magic books, but it was a vague, ancient reference."
Wolverine explained the history of the Phoenix and what a danger it was as the Titans intently listened. "I can't believe it is so calm just hanging out there. This world shouldn't even exist at this point. The Phoenix needs to feed on worlds to survive.
Donna Troy asked, "Do you know why it would take our friend, Lilith? I mean, if it's not of this world or even this dimension, how would it seek her out or even know about her?"
Wolverine looked up at the Phoenix, which currently had assumed Lilith's form. "Jean?" he gasped.
"Allow me to help." Kid Comet said, trying to tap into the mental waves surrounding the Phoenix. The thoughts overwhelmed him as he stumbled back. "Whoa!" he whispered as Wonder Man and Jem helped steady him.
"That….thing….it thinks Lilith is the one you call Jean Grey. She was its favorite, truest host. It thinks it is home, that it can rest….your friend is in there as well…..Frost. The phoenix is content for now….but is going to burn away what doesn't fit….what doesn't belong….including this Frost....and this world. Lilith is resisting the power...but if she surrenders…." Kid Comet said to the group.
"Consume Frost?" Marvel Man asked.
"Don't you see?" Magneto started. "The Phoenix burns away what it thinks doesn't belong. It thinks it has been reunited with Jean. It will feed on this world, get rid of Frost and then roam the cosmos until it needs to feed again.
"We can't let it destroy this world…or any world for that matter." Isis said. She could feel the earth's dread as if the planet knew what would eventually happen.
"We have to find a way to stop it and save our friends!" the Flash added.
"You might as well try to explain Einstein's theory of relativity in English to Red Hammer. " Freedom Falcon said. "Stopping the phoenix is next to impossible.
"Hmph, impossible? I like those odds." Scott Trevor said.
"You may not be so bad after all." Scott Williams said, liking the other Wonder Man's cockiness--and admiring his wife.
"Sargona, you mentioned that your father's books mentioned this force. I think that is where we start looking." Power Guy added.
"I agree," said Marvel Man. "If someone in this dimension knew the slightest about the phoenix, it's worth a shot.
By now Red Hammer had calmed down.
"Uh, are you guys going to be able to keep Big Red here in check?" asked Corporal Marvel.
"Sure, just don't tick him off!" Freedom Falcon smiled. The 2 groups made their way to the Hall of Justice.
Unknown to the assembled heroes, a tiny mechanical eye crawled along the ground recording their every move.
"Brilliant work, Despera! Sending one of your "eyes" to keep an eye on them!" Dr. Psycho laughed.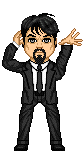 "I'm impressed." Added Sebastian Shaw. "I was hoping that the two teams would eliminate each other, but of course no such luck."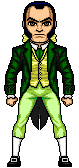 "Still we have trouble. If what they say is true, we can't control the Phoenix. Dr. Psycho, your plan has failed." Brother Blood said angrily. His fists started to glow.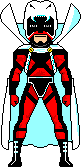 He pointed his glowing fist at the gnome-like dr.
"WAIT!!!" Despera shouted! "All we have to do is sit back and wait for the right moment! The phoenix is calm right now. Why don't we see what the Titans plan on doing? If they can control it, we just need to swoop in and take over. The Phoenix can still be ours! If it gets rid of Frost, Dr. Psycho or I can still manipulate Lilith! In a way, the stupid heroes and the Phoenix are helping us!"
Brother Blood waited a moment. "You make sense, alien. Dr. you are safe….for now."
Dr. Psycho sighed relief and collapsed into a chair.
"Hmmmm. These three are ready to betray each other at the drop of a hat. Best to sit back and observe. I can easily dispatch them when the time comes and the Phoenix will drop right into my hands." Sebastian Shaw thought as the villains continued watching the eye's transmissions.
TO BE CONTINUED!