Post by Dr. Poison on Mar 21, 2015 6:32:43 GMT -5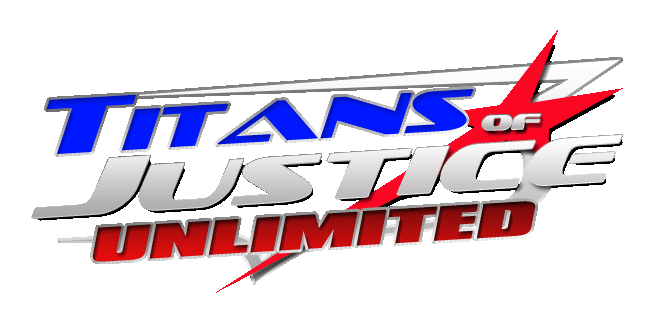 Titans of Justice #6 - "Paving the Road to Conquest Pt. 3"
Plot & Maxi-micros by: Power Guy
Script by: Shaxper
Editing by: Earth 2 Flash
The lantern casually swung back and forth to a syncopated rhythm she couldn't quite place. Every time her mind began to envelope around the beat, a rude rush of wind would surge against the tent roof sending the lantern careening off in a new direction, and with it Danna Raymond's concentration.
Not that she cared much.
She checked her phone again. 5:41. Dad warned her to conserve the battery, but this was taking for-e-ver, and lying on her back, with nothing to do but watch a haphazardly swinging lantern hanging from the ceiling, hunger was quickly becoming everything.
"Da-ad!"
"A few more minutes!" he barked back, rounding it off with softness, but the annoyance and frustration were clear. That wasn't like him at all.
In no time she was on her feet, poking her head through the tent flap as the wind whumped her casually across the face with biting bits of freezing rain. She squinted and called out to the blinding storm.
"Give it up. You're going to get sick out here. We can just eat the marshmallows."
"No way," he called back, shouting over the encroaching storm, though only a few feet from his daughter. "Raymonds don't back away from a little blood and sweat. The professor taught me that."
"I know, dad. I know. But you're not some smart-alec teenager anymore, and it's flipping freezing out here. You have nothing to prove."
Nothing to prove. He smirked at that. For the first time in the hour-and-a-half since he'd begun building this fire, he'd found himself amused and, for a moment, at peace. Nothing to prove. She knew how to call him out in these moments and help him see he'd earned the right to sit back and rest on his laurels a bit.
"No, I just have to come up with..."
A ball of energy bore through the middle of his chest, his eyes grew white with shock, and his mouth spouted open spastically, almost as if allowing his very soul to pour out of it.
He was Firestorm now, or had been, and this wasn't the Adirondack trail five short years earlier. This was now.
There was a Green Lantern rushing towards her; not the one she'd known from the reunions years earlier, and he was telling her to remain calm. She remembered cursing...a lot, and the world both slowing down and speeding up around her as reality itself seemed to crackle crisp blue with seething anger. There had been a sense of all encompassing awareness for a moment, almost as if growing a new pair of hands the size of the universe, but that had passed as well. There'd been a demon...without a face, Danna was sure of this part, and she had shot him; surged all her righteous fury and desperation at him in a holy bolt of malice, and then there was pain. Simple. Easy. Pain.
Danna was on the ground now with a broken mailbox bent under her right ankle. There was a torn fence further on, and beyond that an apocalypse, as garish costumed beings did battle in a muted ballet that neither made sense nor held much interest for Danna.
Dad was dead.
And she had become something. Him, maybe.
It had all become too much.
Only a few feet above, Green Lantern had troubles of his own as Crossfire repeatedly shot her deadly array of trick arrows in his direction. He dodged, flung his fist forward just long enough to send some green goodness her way, and then found himself dodging once again. Protective bubble, protective barrier, even the classic catcher's mitt stunt, but nothing was holding Crossfire back, and she grew bolder with each failed attempt.
"Is that all you're gonna do?" she asked only half-tauntingly, ducking between garbage cans and fallen debris. "Geez, I've trained for better than this. C'mon and SHOOT at me!"
"I don't do that, ma'am," the young pastor explained cooly amidst dodges and fist flingings.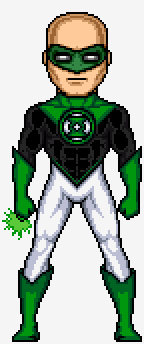 "A superhero who doesn't fight. How's that work? Can't you at least try to hit me with an oversized punching glove or something?"
"Nope," smiled the Emerald Everyman as he casually watched her stumble over a stray gutter pipe lying in her path. "I don't do that either. I think you have a good heart, but it's merely tainted at the moment. I don't fight good people," he replied politely, all while collecting her with an oversized green broom and dustpan on a beat as if she were yesterday's kitchen scraps.
"YEEERRAAAAAGGGGHHHH!"
Corporal Marvel and Wild Orchid clashed with deafening impact, palm to palm, neither titan giving way as they tested their might a cool, quarter mile above the Raymond house. Marvel glared into Orchid's eyes and caught the sight of something he didn't understand, but too late. Her face had transformed into the giant chomping jaws of a Tyrannosaurus Rex.
He fell back quickly, flecks of blood running down his brow and into his right eye. "Wow.....wasn't expecting that...." he thought to himself.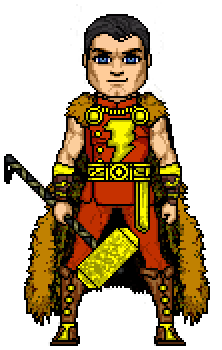 "Dinosaurs aren't really my thing, but, you know, whatever" she commented casually, as her face resumed it's normal, yet mysterious features, and she resumed her attack, only half seeming to pay attention to this fight.

To be fair, Marvel's heart wasn't in this either. It was back on the ground, with that poor girl who had just watched her father get eviscerated in front of her. Losing a father; he understood that. All of these warriors stood the chance of losing a father or mother if something wasn't done. And something was going to be done. He was going to make it okay, somehow, for that girl on the ground, for his teammates around him, for everyone. Making everything okay, that was his real super power. Smashing the enigmatic face in front of him in with a hammer: that was just a means to an end.
The new Flash wished he hadn't eaten all that shawarma. Super appetite to fuel super metabolism – check, but his stomach was the weak link in this arrangement that hadn't quite caught up with his still emerging powers. Whereas he'd started out his run with the intent to surround and impress the purple-clad Apotheosis, he soon found his rival matching his own speed and nearly overtaking him at every turn thanks to his power-absorbing abilities. He tried to return Apotheosis' smile, to show that he could take the heat and maybe more, but his teeth tremored and sweat poured down his brow, threatening to expose his severe gastrointestinal discomfort. Though the average human ear couldn't hear a scarlet speedster at high speeds unless he purposefully slowed down his speech enough to be heard, Apotheosis was now one with the Speed Force as well and his hearing distinctly registered a loud, liquid rumbling, followed by a quick yet lingering cry of "Shawarma! Why did I eat all that shawarma?!"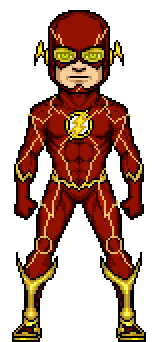 "'Scuze me!" smirked Trix as she summersaulted over Sargona and tapped her on the back of the head with her mallet.
Sargona sighed and then gritted her teeth.
"'Scuze me!" again shrieked the painted face just a few feet to the right of her this time. Sargona leapt at it once again, but alas, a plume of black smoke, and Trix was nowhere to be found.
"'Scuze me!"
Sargona emitted a low growl of pure rage, this time standing still.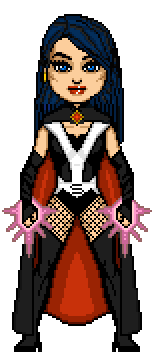 "I BURPED!" pierced the high pitched bellow as the blunt force of Trix's enormous hammer collided against the side of Sargona's head again.
"Ssucnoc ym tnenoppo!" she managed to articulate before colliding to the ground.
And then, so did Trix.
Danna had been trying, for several minutes now, to make sense of all that surrounded her, contrasting the current tableau of madness and cacophony with the benign front yard she recalled from what must have been less than thirty minutes ago. Except that front yard belonged to a different world, one in which her father was still alive.
She knew the faces, some of them at least, and there were some she definitely did not know, but her mind eventually settled on a figure not more than twenty feet from where she lay, keeled over on his knees: a body plainly seething in agony, even if the absence of a face on its head failed to communicate the same.
And she knew.
This was he, the man who had done it. The one who had...killed...daddy.
Him.
HIM!
And she was upon him, somehow on her feet again, standing dominant over this small, huddled figure, who seemed no more in tune with the present moment than she.
"Go ahead," he said plainly.
She began to work on articulating a response, but that required understanding what he meant, and that required fully being in this moment; in this new world in which she was...an orphan?
"I have traveled the cosmos, helped to decimate countless worlds, taken on beings your feeble mind couldn't even begin to comprehend, and here I am dying in agony because of some junior league of protectors."
He was convulsing now, violently. In spite of her unmitigated pain and rising anger, she could almost feel the white licks of pain surging throughout his body, no doubt caused by Crossfire's poison tipped arrows, still buried shaft-deep in his back.
"Could you imagine if they saw me now? If they saw me this cocky...foolish? Do it. Kill me. It's all over for me anyway."
"He was my father," she managed to say, and with a coolness and resolve that brought focus to her haphazardly spinning world.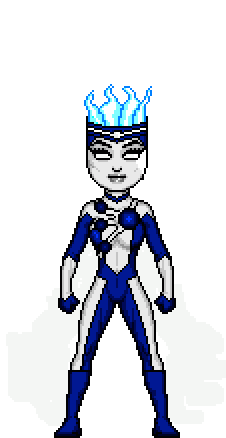 "He was my father; a good man, and he deserved better than to be shot from behind in the comfort of his own home, you coward."
Even from behind the face, she could feel her eyes glow cobalt blue, her fists surge with a rage beckoning to explode.
"I've killed lots of fathers, you whelp. What makes yours any different? But, if that's what you need, sure. Avenge all the dead fathers. Just do it already."
The power welled up within her so large that she was losing the power to contain it, not that she cared. Her body began to rise from the ground, smaller than the power of the universe it couldn't begin to contain, her head arched back, eyes growing white, mouth spouting open spastically as it could not hope to contain the energy housed within.
She considered that she must look something like her father did only moments ago, as the energy shot into him ripped him apart from the inside.
"Daddy..."
The Faceless Hunter's head craned upward, witnessing the slow explosion of a entity, swelling with energy that hungered for his demise and, for a brief moment, wondered if he shouldn't be afraid. Death had never scared him, but power like that – could she blast him to some terrible plane beyond even death? In all his strange wanderings across the galaxy, he had never fought the divine.
"I'm here, Danna" came the response. That cool, smiling, noble tone that had been a part of her world even thirty minutes earlier.
"D-ddad!?!"
"I'm here, Danna. A part of you. I moved the Firestorm Matrix into you and, with it, me."
"Impossible" came a third voice from absolutely nowhere and yet everywhere at once. "The Matrix, yes, but..."
"It's okay, Professor. Looks like we're all sharing the same head now."
...and with that wry quip, delivered perfectly in her father's style, Danna was whole again, tears flooding and cooling her once burning eyes, mouth now closed with the lazy trembling of a good sob. She was whole again. They were a family again. Even if, with all three inside one head, nothing would ever be the same.
Danna stood, took one look at the pathetically cringing, convulsing figure before her, another at the pointless fighting all around her, police sirens wailing in the distance as neighbors gathered around the block to view this meaningless whirlwind of madness, and made a decision.
"STOP!" she cried. "It's over."
Realization came in staggered moments. Green Lantern stopped, put up a single hand, and let his gaze toward Danna inform Marvel and Wild Orchid that their three way battle was now finished. Crossfire watched from beyond the bars of her newly minted green prison. Trix looked up long enough to interrupt her spray-painting "Kick Me" onto a face-down Sargona's cloak. She nudged the young wizardess back to consciousness and pointed onward. Flash fell to the ground, relieved merely that he could soon be, well, relieved. And Apotheosis knew the battle was over before it was even over.
He approached the two figures at the heart of this calamity. "Why?" he demanded, as Danna removed her hands from the Faceless Hunter's back, the arrows and their poison now transmuted into vapor. "Why have you healed this monster?"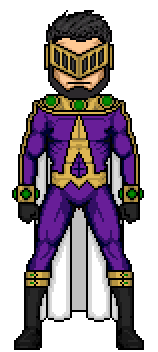 "Because I'm not a killer," replied Danna. "And it's not something I ever plan to become. I've felt what death can do, and I have no desire to inflict that on others. My father isn't dead; he's absorbed himself into me somehow. So, property damage aside, things are okay. There is no need for more bloodshed today."
"I can't believe this," exclaimed Wild Orchid. He's a mass murderer, and he would have come after every one of our parents if he could have. He needs to burn."
"But he won't," promised Corporal Marvel. "You heard Ms. Raymond. Her father is okay, she wants the Faceless Hunter to be brought to trial for his crimes, and, if I'm not mistaken, her stance on this leaves your team hopelessly outgunned. We've got a Firestorm on our side.
"Foolish," growled Apotheosis, "but it's your call to make. Just be warned that we're on a mission, and we don't coddle those who seek to harm the innocent. Better get to the scene before we do next time, because this one's on the house. Next time, walking away with the bad guy is going to cost you."
Lantern deactivated the bars around Crossfire, Wild Orchid shot Corporal Marvel a look, but what it meant he couldn't decide, Trix stuck her fingers in her ears and blew a raspberry in the team's general direction, and they were off. Four heroes left standing, with a fifth already super-sped over to the nearest gas station restroom.
"I'll make sure he sees justice for his crimes on Oa," promised Green Lantern.
"Yeah, good," added Marvel.
"So…" began Sargona.
"Hmmm..." added Corporal Marvel.
"Okay, I'm just going to say it," spoke Lantern. "This felt GOOD."
"Agreed," Sargona replied. She considered adding "up to the point where I got slammed in the head," but decided against it.
"Seems clear that someone sent this faceless assassin against my father," added Danna. "I'd like answers, and the old guard is going to need some fresher, younger folks to keep watch for them too."
"That's what we'd been discussing previously," answered Sargona. "I think we should formalize this; become our own team."
"Cool, but what do we call ourselves?" chimed The Flash, just a little too quickly after zooming back in to a full stop, a piece of singed toilet paper still somehow clinging to his boot.
"I, uh," began Marvel. "I've been toying with a name ever since we first met earlier today. What do you all think of
League of Titans
? Sort of an homage to the super teams that came before us."
"It works for me, so long as I can be a part of it," chimed Danna, the new Firestorm.
"Kinda' loving it," added Flash.
"It's as good as any name," spoke Sargona, "and I like the message it sends."
"You know, we could set up in the Hall of Justice for now," contributed Green Lantern. "It's not like anyone's using it."
"Then we're agreed," concluded Corporal Marvel. "Here's to the League of Titans."
"Can you say that a little quieter, or, ya know, get me some Tylenol?" added Sargona.
"This calls for a feast! The Shawarma's on me!!" exclaimed The Flash.
***


Epilogue:


The planet of Apokolips…
The master of torture, Desaad, shut off the monitor screen in front of him and announced, "I'm sorry, sire, but your agent has failed."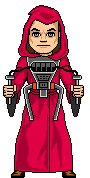 "WHAT?!?!?!" roared Darkseid as he rose up from his throne. "The Faceless Hunter is one of the universe's most deadly hitmen. How could the ancient Justice League have defeated him when he is still in his prime?"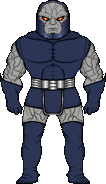 "Sire, it was not the Justice League that defeated him, but their children and some rogue vigilantes from earth," explained Desaad, his voice crackling, hoping Darkseid would not take his anger out on him. "It seems that they took the Hunter by surprise and got the best of him. The young Green Lantern is currently transporting the Faceless Hunter to Oa."
"He deserves whatever the Guardians of Oa decide to do with him for his failure," Darkseid stated firmly while crossing his arms in disgust. "No matter though, I shall come up with another plan to soften earth's defenses in preparation for my assault. Assemble my entire elite. We have no time to waste!!!" declared the ruler of Apokolips as his eyes sparked from his Omega power.
The End - For Now...