Post by Cei-U! on Dec 13, 2014 8:35:14 GMT -5
And so it begins…
I was tempted for a while there to fill my entire list up with nothing but issues of a certain comic book title, a title most CCF oldtimers will remember me touting as my all-time favorite, but it wouldn't have truly been representative of either the breadth of my taste or the influence other comics have had on my life. Still, two issues did make my list, beginning with
#12. The Brave and the Bold #55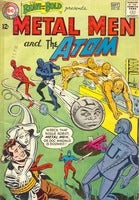 This is the earliest issue of B&B to ever cross my path. I had a nodding acquaintance with the Atom (we had a couple issues of his solo title kicking around the house) but this was my introduction to the Metal Men, and I would be hard pressed to imagine a more impressive one. Indeed, I'm not sure they'd have had the same impact if I'd seen an issue of their own book first.
I've always felt that B&B scripter Bob Haney had a better grasp at what made these personable robots work than their co-creator, Robert Kanigher, and he does a terrific job here of displaying and contrasting their individual personalities, as well as the somewhat unsettling relationship between Platinum, the only female Metal Man, and her inventor, Doc Magnus. The plot itself centers around Magnus' first—and previously unmentioned—robot creation, the radioactive powerhouse Uranium, returning to wreak vengeance on Doc by destroying his despised younger "siblings." He succeeds for a time, courtesy of a generous helping of silly Silver Age science, but is undone by the Atom's intervention. Uranium is eventually, and literally, consumed by his own hatred, Haney adding just enough poignancy to his death scene to make us understand and pity him just a little. That small touch, unneccessary to the plot yet giving it a whole new meaning, is the kind of detail that makes Bob, despite his many undeniable faults, my favorite comics scripter.
This was also my first introduction to the art of the fabulous Ramona Fradon (though I didn't know that then in those creditless days). The clarity of her storytelling, her judicious use of details, and her clean, polished draftsmanship wowed me on sight. Her interpretation of the Metal Men surpasses even that of original artist Ross Andru and is equalled only by those of Jim Aparo and Jose Luis Garcia-Lopez. It gave me great pleasure a decade or so back to tell Miss Fradon in person just what her art meant to me then and now.
But what makes this book stand apart from so many others, and the primary reason it made my list, is a memory associated with it. The copy of B&B #55 that crossed my aforementioned path wasn't mine. It was my cousin's and she was as crazy for it as I was. I had to agree to do her homework for a month to pry it from her grasp. I thought it was worth it then, and I still think so nearly fifty years later
Cei-U!
I summon the source of my team-up title addiction!