Post by thwhtguardian on Jul 24, 2021 16:40:21 GMT -5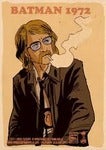 Superman and the Authority #1
Written by Grant Morrison
Art by Mikel Janin
Summary
: With his powers waning Superman reflects and feels he has come up short and so decides the world needs a different kind of hero.
Plot
: This hold over from Dan Dido's aborted "5 G" timeline gives us Grant Morrison's look at a Superman at the end of his career looking to the future. At its heart it's an interesting concept: just days before his assassination in 1963, President Kennedy tasks Superman with creating a truly better tomorrow and when he fails to stop President Kennedy's death the Man of Tomorrow takes that oath to heart...but as his own life draws to a close many years later he feels like he has failed at his promise and so decides to make it happen by any means necessary. It's the kind of opening that has a suitable amount of oomph to it, allowing Superman to be the boyscout and yet giving him a sense of melancholy as well and Morrison does really nail Clark's voice and yet ( and this will come as a shock to
shaxper
) I think Morrison fails to hit it out of the park here. This was the start of a four issue mini and as such I feel like we should have had a much greater sense of what's going on past the bare bones of the concept I laid out above and yet despite its slightly longer than average page count there is little more to go on than my summary. It's a start...but there should have been much more than that in the pages allotted and that sluggish pacing doesn't fill me with optimism for the rest of the book. I'm usually bullish on any book Morrison is on but I just can't convince myself to be optimistic here.
Art
: Despite not a lot actually happening here I really enjoyed what Janin was able to do with what he was given. It's the little things that count with the art and he really shows his mastery of that here with using something as simple as posture to display a change in time and characterization in Superman, in the scenes with Superman and President Kennedy we see a Superman in his prime and he's ram-rod straight in every panel but when we see him later in the present day despite still possessing a fit exterior there's a slight sag to his shoulder and looseness to his gestures that instantly portrays a weariness and age that defies the other obvious signs of strength. It's a masterful touch that sells so much of the concept and though done so minutely it has a tremendous impact.
Grade:6.5/10
I really like Wildstorm, but I don't think Grant Morrison, even at his prime, is a good fit for the universe and his few attempts at doing anything with Wildstorm were just embarrassing. It sounds like this is just using the Authority name and not the characters? (Quick look at the covers, I do see an Apollo and Midnighter)

Apollo and Midnighter definitely look like they're in but I don't know about the rest.