Post by codystarbuck on Oct 24, 2020 21:15:30 GMT -5
Scout #18
Creative Team:
Tim Truman-story & art, Tim Harkins-letters, Sam Parsons-colors, cat yronwode-editor
Monday: Flint Henry-pencils, Jeff Easley-inker, everyone else the same.
Also from Eclipse: Airboy #19 & 20, Alien Encounters #12, Axa #1, Bullet Crow #2, Crossfire #21, Dreamery #3, Enchanter #1, ESPers #5, Mr Monster #9, New Wave vs The Volunteers #1, Overload #1, Portia Prinz of the Glamazons #3, Tales of the Beanworld #6, Villains and Vigilantes #3, Whodunnit #3, Zooniverse #5.
Axa featured new stories, written by Chuck Dixon, and drawn by original Axa artist Enrique Romero (who also drew Modesty Blaise, for a long period of time).
In the Penumbra, cat fills out a change of address form, as the Eclipse offices have moved to Forestville, CA, an hour and a half north of San Francisco, near the Russian River (but outside the flood plain, on an old farm. Sounds pretty nice.
Synopsis:
We are in Las Vegas and it looks like Tim has been reading some Moebius...
Well, him or Juan Giminez, as there a similar vibe to their work (Jiminez did character designs on the Harry Canyon sequence of Heavy Metal, aside from his own comics and the Metabarons, with Alejandro Jodorowsky).
Scout and Monday are trying to look inconspicuous. Scout notes that Vegas soldier on, while the rest of the cities crumbled. he spots a flyer on a lampost for Missy and the New Disciples of Soul. he's happy to see they are becoming a success. Monday feels Scout should ignore it; but, since he hasn't clued in Scout on why they are there, Scout tells him to pound sand, until he does. Monday has things to do, anyway, so they split up and Monday tells Santana he will find him. He is lost in thought and memories, thinking he can just head out to his homeland, but the sight of Missy keeps him there. Then he sees another sight which churns up a less pleasant memory...
Doody lives on, in a cult of followers that consider him a prophet. He is standing in front of Circus Maximus, with a big poster of Missy and the urge is too great. Also on the walls are graffiti promoting the upcoming 4 Winds projects, including Prowler, Strike! and Rangers ATF. There are also notes to Beth, Ben and Emily Truman. Oh, and Mojo Nixon Lives!
Michael J Fox is the Anti-Elvis!
Meanwhile, Savage Henry is getting some "medical" attention from one Dr Portugal, who seems like a sick puppy.
We are interrupted by a Monday back-up story, covering what he does, but we will get to that, in a moment.
Inside Circus Maximus, Guitar Man cuts off Missy as she is announcing a new song and he pulls her off stage. The crowd chants for more. They have a little creative discussion backstage...
Ah, yes; this bodes well for the future.
Scout interrupts and Missy and the band are ecstatic. Showdog interrupts (and seems to recognize Scout) and tells them they are going to play live, via satellite, from Colorado. Then, Lex Lucifer and the boys further interrupt (where's security for this club?). With them is Wormer, who informs them that Melissa Strange, aka Missy, already has a contract with Savage Henry, who is Henry Bonanza, son of Al Bonanza, the first "monster," slain by Scout. He is holding her to the contract and she is now with Lex Lucifer and the Blue Scream...
Missy says it's over; but, Guitar Man and Scout aren't settling that easy. Next issue will feature a real Battle of the Bands, for Missy's contract. Oh, and we will meet the mayor of Las Vegas.
Monday-while Scout is having reunions, Monday is experiencing old times, as people try to kill him. They are professionals and he feels like he is back in Paris...
..when Robespierre and his fanatics hunted him. The guillotine was one of the few things that could kill him.
He fires his HK-33 assault rifle...
and takes several down, bit receives a few hits of his own and seems to fall down dead. Until he poops up again and kills some more. He moes on and the hunters enter the alley, behind where he was. He has moved to higher ground and shoots from above, while he thinks about how the Legion of Man used Robespierre and his cult as pawns in their game.
Monday pauses as her hears a sound and smells gunmetal. It turns out to be friendlies...
It is Wizard, Monday's buddy from Vietnam, looking older. The people with him are "Samothracians, " some of Monday's "people," as well as natives, who are allies. The Samothracians have "wire guns", which doesn't mean much yet, except that they have an optical mechanism over one eye and the weapon seems to fit onto a socket, over their hand. Monday says he will "sleep," then he will be ready.
Observing all of this is Ortega, who has the nuclear warhead, from Mt Fire, after double-crossing Banner and the Swords of Texas. The hunters were his men, though they didn't know it, neither do his "Mexican brothers." he appears to be working for another agent and he knows of the Samothracians, which suggests the Legion of Man.
Thoughts:
this issue is about reunions as Scout and Missy (and the band) find themselves together, for the first time, since Scout slayed Jerry Grail, the President of the United States and they parted ways. It is good to see their storylines converge and Truman gives everyone involved a real look of affection. of course, he also throws a major complication into things, as Savage Henry is tied to the beginning of Scout's quest and he "owns" Missy. Don't expect that to stand, for long.
Meanwhile, Monday info dumps a lot of stuff on us, among the slaughter. Monday is definitely long-lived, as he was in Paris, during the French Revolution and The Terror. The Legion of Man are shown to manipulate history, via agents like Robespierre; though, to what end?
Nothing terribly original here, as this matches up with masonic and martial order conspiracies, such as the Templars, Rosicrucians, and Freemasons. The theories would have you believe that they have and do secretly manipulate government and events for their own purposes, though everything I have ever read about these ideas seems to always stop short as to what their goal is, apart from vague things like a world government or "total control." Really, it's just fear of the unknown and looking for scapegoats for personal troubles and the ego of "knowing about the conspiracy," and inflating one's self-importance. Fraternal orders do create networks, which can aid one in their profession; but, it's a much bigger leap to say that such groups "control" societies and governments. Various people have exploited these fears for their own gain, such as the Tsars and the fascists, feeding Jewish conspiracies to angry and frightened people, focusing their fear and hate on another, to keep them from noticing that the dictators are taking power for themselves and living high on the hog, while the masses continue to struggle through life. It goes on and on.
So, Truman is mixing that with some other old adventure stories, such as the Wandering Jew, a mythical figure, whose stories spread in the 13th century, telling of a Jew who mocked Jesus, on the way to the Crucifixion and was cursed to wander the Earth until the second coming. This was the inspiration (the main one) for Barry Sadler's Casca the Eternal Mercenary and it is probably one of the roots of Monday. Added to that are the mysteries and legends surrounding Samothrace, an island in the Aegean Sea, traditionally part of Greece. It was the site of Sanctuary of the Great Gods, where various rituals were held, across not just Greek cultures but others, as well. Various historical figures are said to has visited and partaken in rites, including Lysander of Sparta, Phillip of Macedon, and Caesar's father-in-law, Lucius Calpurnius Piso Caesonius. Talbot Mundy, one of the granddaddies of pulp adventure fiction (the JimGrim series, King of the Khyber Rifles, The Nine Unknown, and many more) wrote the seminal novel, Tros of Samothrace, around its lore. Tros is a Samothracian who aids ancient Briton in fighting the Romans. The novel originally appeared as a series of novellas, in Adventure magazine and proved to be the most controversial series in the magazine, as it depicts a rather corrupt Caesar and Roman Empire (which is a certain point of view). Volume 5 of the Tales of the Shadowmen anthologies features a story, by GL Glick, which teams up Tros with yet another enemy of Rome, a certain Gallic (all of the stories in the anthology have some tie to French pulp literature or related fields) warrior who stars in a series of satiric adventures, created by Rene Goscinny and Uderzo....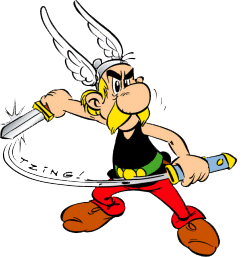 So, Monday is definitely immortal, though his thoughts reveal that he would die if his head was cut off (Highlander would appear later, in 1987, after this comic was published) and he has been at odds with the Legion of Man for some time. The Samothracians are his followers and Wizard appears to be one of them, as we saw previously, when he aided Monday, in the past. The wire guns will get an explanation coming up, but, if you think of the term "wire-guided missile," you get the basic idea. This will add an interesting wrinkle to Monday, though it also throws him firmly into Terminator territory, again. "The sleep," sounds rather like the Odinsleep," of Thor.
Wizard speaks of a "new war" and the Legion of Man, the native Americans that aided Scout and Monday's escape, Ortega and the nuke and Monday and his Samothracians suggest it will definitely be something different. It is obvious we have taken a decidedly weird turn, with a bit of a sci-fi bent and a bit of mythology. It's not too far off the track, as we have been treading the edges of sci-fi, with an alternate future, as well as Apache legend, in the Four Monsters, plus Biblical prophecy and metaphor.
Next, Airboy #19.