Post by codystarbuck on Feb 16, 2020 19:29:24 GMT -5
I did some lists on imdb, for fun and one of them might have some discussion here; so, what they hey?
Comic book Films That Weren't Adapted From Comic Book
The premise of the list was to highlight films that use comic book-style storytelling or feature comic book style heroes and villains or plots; but, weren't derived from an actual comic book or newspaper strip. You see youngsters, in days of old, it was a long stretch between movies base on some form of comics. Batman may have hit tv screens and then theaters in 1966; but, I was born in 66, so I didn't get to see it right away. I had to wait for the Wonder Woman pilots and then tv series and for Christopher Reeve to take flight. However, if you looked around a bit, you could find great films that gave you the kind of stuff you got in comic books. So, in this thread, I will point out some of them, why they are like a comic book and share some influences on comics or drawn from comics. I am going to leave out the obvious serials and films derived from pulp novel heroes, as those are a bit too obvious for comic fans.
I'm gonna start by going back to the 1940s, to the days of the Saturday matinee. In days of yore, movies were events, with short features before the main picture. Many of of these were cartoon shorts; the classic Looney Tunes, Tom & Jerry, Popeye, Superman, and Woody Woodpecker. You could also watch newsreels (though they were pretty much done by the time we had tv news). For kids, though, you could also see a 20 minute chapter in an adventure serial. Now, some of these (quite a few) were adaptations of popular newspaper strips (Flash Gordon, Buck Rogers, Adv of Smilin Jack, etc) and some from comic books (Adv of Captain Marvel, Superman, Batman, Spy Smasher, Captain Marvel, Blackhawk, Vigilante). Republic was the king of the adventure serials; mainly because they had the best stuntmen and directors and they used a lot of ideas that came from comics and pulp novels. One of these ideas was a masked hero they called The Masked Marvel.
The basic plot is that a Japanese sabotage ring, led by an agent, named Sakima, is wreaking havoc in what appears to be the Los Angeles area. A group of insurance investigators are brought together to smoke them out, reporting to Alice Hamilton, who coordinates things for them (and ends up in peril, constantly). A group of hoods is working for the ring, so there are plenty of people to punch around and shoot at, or vice versa.
Now, the conventional serial mystery plot is to have a masked villain and spend 12 chapters (or 15, in some cases) trying to figure out who it is. Here, that gimmick is reversed as the Masked Marvel is one of the 4 investigators: Bob Barton, Frank Jeffers, Terry Morton and Jim Arnold. We are teased at different points as to who is really the Marvel, before the final reveal. So, how do they get away with that for 12 chapters? Well, for one thing, the Marvel isn't played by any of the 4 actors playing one of the potential heroes. He was played, physically, by Republic stuntman Tom Steele (one of the legends of the stunt industry), and voiced by radio actor Gayne Whitman. All 4 of the actors were physically similar, which helps the whole thing.
The scripts in these things had multiple writers, but one of the ones here is George H Plympton (not the noted writer who did talk shows and commercials). Plympton had written parts of the Flash Gordon serials, the excellent Green Hornet serial (which features different criminals, who are part of a ring, leading to the big baddie in the final chapter), Superman, Batman & Robin and was a principal writer of the Jungle Jim series, with Johnny Weissmuller. Basil Dickey was another, who had written for Captain America, Flash Gordon, The Spider's Web, Secret Service in darkest Africa (sequel to G-men vs the Black Dragon), and Zorro's Black Whip.
Tom Steele is awesome, as he crashes around on all kinds of sets, falls off towers and buildings (well, dummies do), hangs onto vehicles, punches and throws other stuntmen all over the place and, at one point, chases himself up a staircase! Steel was the stunt gaffer, who set up the stunts and also did some of the bit stunts, as well as the main. At one point, he is playing one of the gang's thugs, who takes off running and the Marvel chases after him.
The series is pretty imaginative for these things, as plots tended to get repeated across 12 chapters. They take it out on the water for a bit, the usual warehouses and drawing rooms, and a few other spots. At one point, the Marvel falls off a tower and you can see the arm of the dummy torn off by a piece of equipment, on the way down, only for Steele to land with two arms.
Some of the acting is nothing to write home about, especially Louise Currie, as Alice Hamilton. She also appeared in the Adv of Captain Marvel and The Green Hornet Strikes Again. She was nice to look at...
...but, there was a reason she never did more than it parts in A films. It's not like she got a lot to do. Unless you were Nyoka, you didn't get to do much, as a woman, in a movie serial, except scream and struggle. Miss Hamilton ends up caught by hoods, tied up and placed under a freight elevator to get her to talk.....
...knocked out, tied up, dumped in a crate, and driven out a warehouse wall and dumped into the ocean...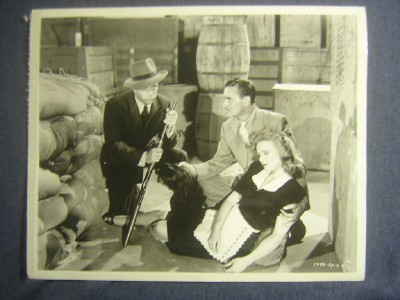 and, if memory serves, she gets caught again, while undercover (may be confusing chapters).
As for our hero? How can a comic book fan not like a guy with this kind of dress sense?
Plenty of great fights....
anf stuff that blows up real good...
While this isn't quite as good as the Fawcett serials (Adv of Captain Marvel, Spy Smasher), it's better than Captain America or many of the Columbia hero serials.
Now, I know someone out there will say, "Hey, wait a minute; wasn't there a Masked Marvel in comics?" Well, yeah, but none of them were this guy (nor any of the various wrestlers and daredevils who used the name).
This is one of the best hero serials out there, both due to Steel playing the hero (which means hey didn't have to cut to a double when the fight starts); but also because it is shot so well.
Now, 12 chapters is a lot to sit through (I recommend watching a chapter or two a night, over several sittings, rather than trying to watch 3-4 hours in one go; or, there was a 100 minute edit for televisioon, known as Sakima and the Masked Marvel.
Next: Federal Agent Rex Bennett takes on an actual Japanese spy ring!