Post by beccabear67 on Dec 2, 2019 14:39:44 GMT -5
It's the late 1980s at DC Comics. Batman and Watchman have proven exaggerated violence and hero on hero rapes make history (and sell multiple printings), the original Flash and Supergirl are dead in a multi-part Crisis 'event' wiping out various convenient alternate worlds (like for the WWII era heroes and the characters adopted from other companies or owners)... also some Robin or other was successfully done in to good sales effect and upping Bats' brooding quality with yet more to brood over... Batgirl will be in a wheelchair with PTSD from meeting Alan Moore's Joker... laughing space biker with Kiss face paint Lobo, for whom the height of jocularity is a frag grenade up someone's butt, is a real up and comer... it's back to square one only with greater darkness and morbidity, because "DC comics aren't just for kids". Writers Mindy Newell and Joey Cavieleri have been given the remits to update "suggested for mature readers" style Batman foil Catwoman and erstwhile WWII era Batman's costumed daughter The Huntress... which will mean in the age of 'dark and gritty' getting the most attention we have to get edgy. I'm going to examine, with my superheroes are light fantasy chip on my shoulder, first the Catwoman mini-series re-introducing Catwoman, and then eventually the entire nineteen issue run of The Huntress with detours for other heroines.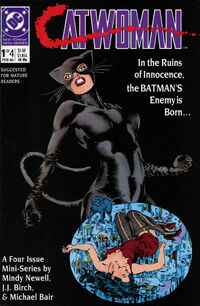 Catwoman as re-imagined by Mindy Newell is a big city Gotham prostitute with a violent pimp, a Nun sister, an even more underage street walker she's semi-adopted, and a vice detective who wants to help by giving her the name of a guy who run a gym. Oh yeah, and there's a fetish black leather or vinyl 'catsuit' Selina Kyle finds herself taking a liking to. To each their own, she find it empowering. Somewhere a tail is added and whiskers and, well, I don't know where that comes from, it's looking less stereotypical bondage fetishwear anyway. The story starts out with an older Nun who dislikes the stray cats at the convent or church backdoor (because a younger Nun feeds them)... she's taking out the trash to their dumpster, then sees a little further in the alley, following the direction a cat is heading, a body. This will be our heroine, a prostitute beaten up by her oddly wrinkled and white-faced pimp Stan who ain't gots no good english ta speak. She gets taken off to hospital and we meet the younger Nun, the one that feeds the cats, Magdalena (ouch, Mindy Newell must've cut herself on that cliche), who starts wondering if this could be her sister she knows is out there in the dark night somewhere. The artists Joe Brozowski and Michael Bair in a semi Guido Crepax show the results of the violence, blue and purple bruises, torn stockings and whatever passes for street-walker lingerie ripped up. In hopsital the vice detective asks questions, gets no answers, and leaves a card for the gym instructor who might help her even the odds the next time.
After recuperation and starting self-defence lessons on the downlow Selina of course returns to the strange looking and talking pimp in his old suits (hey, at least it's not purple with giant lapel flower and super-oversized floppy hat). She returns because that's what they do, they all have the 'he really loves me' hook in them right? Well actually many are hooked by something a lot harder, usually forced on them the first couple of times, sat on and injected. Mindy Newell must've still had some innocence thank goodness, and the 'he really loves me' fades fast once she's given in and put on this black shiny shiny fetish get-up for a special client (it's highly reminiscent of the old Miss Fury character of the '30s-'40s who used to run in a lot of newspapers and even had her own comic title over at what became Marvel comics). Whiplash girl child in the dark! Later she asks self-defence guy (with two cauliflower ears) to teach her how to use this expensive whip that somehow got in with the more usual prop like ones I guess (I mean who gives a general working girl something that could seriously injure, not to mention it's possible pawn value)... and guess what, the guy knows how these things operate and she quickly masters the thing. In no time she is up to precision flicking both offensively and defensively. Somewhere around here her pimp is accosted by a dark haired stranger who will turn out to be Batman, and some time after that Selina and child star Holly (with dialogue equally as bad a the pimp Stan's) rush to a scene they saw on the local news involving Batman, Holly wants a glimpse of this lurid character. A whole mess of Year One bats help the famous Bats escape Lieutenant Gordon and his men, and he grabs one of their police motorcycles. Selina gets more ideas.
Catwoman prowls the rooftops being empowered in her costume inbetween feeding over a dozen cats she somehow provides for at her and Holly's seedy apartment in the no rent district. She starts thinking about what a no good this Stan character is even more. And she'd been nothing but kind to the violent wrinkly white-skinned cartoon, but events move things up further when Stan spys this Catwoman who he knows to be his piece yakkin' in that alley with a Nun, her sister. Nun make pleas for Selina to come home as it were, all is forgiven, the Lord helps those... then after she scrams to her rooftops to brood on this Stan (this part isn't shown) grabs the young sister/Nun Magdalena. This Stan guy is pretty central to the whole thing, without his actions, first beating his 'ho' for no real explained reason other than he lost his cool, then pulling out cat suit and whip for the special client, now grabbing... oh, why is he grabbing the Nun? Because he caught the drift they are related and wants his woman back in line, plus the heat on the street is up a bit for some reason. He holes up in an abandoned theater with Selina's sister tied but fervently praying. He even feeds her McDonalds; give him a break today? Then he gets ahold of Holly when all this isn't bringing Selina back, she just wants to find out where he is at and rescue Maggie. Holly is a message sent, she turns up black and blue and begging Selina/Catwoman not to do nothin' crazy in retaliation (heart of gold, plus Stan really loves her). There is some nice character work where the older cat hating Nun evolves and puts the good fight against her disdain of all around her. As Catwoman Selina gets a chance at some valuable goodies while getting info from another of Stan's old professionals, one that has moved up in the world, and takes them for keeps (those cats and two women need groceries). The vice squad are tracking and spying on her as best they can thinking she might lead them to Stan and Maggie who they know about and want to free as much as she does, but they seem to miss the Catwoman action where she gets the info and jewelry.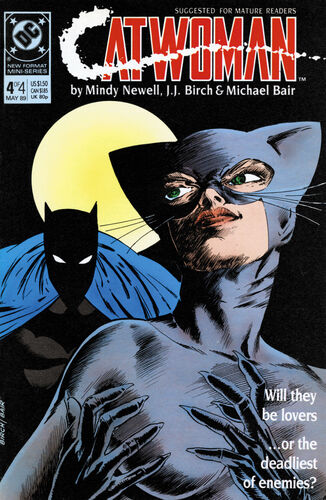 SPOILER ALERT: Big finale, showdown in the old movie theater, Stan, Nun, Catwoman, and our mon Bats! Well, he's on the cover, no surprise, and we have confirmation he was the dark-haired stranger back in the first issue hassling Stan. He was on the case all the time, though a step behind our title heroine (it's her book). Action in the catwalks of the theater (how appropriate). Two figures fall, Stan and Nun, Bats can only save one, Catwoman is up above either not super enough, or does she just not want to save Stan? Maybe even she doesn't know.
Happy ending... baddie gets semi-graphically taken down (nice sound-effect), Holly goes to live with nuns and get an education, and no cats were seriously injured. Oh yeah, there was some kind of strange costumed romance scene where Catwoman first kisses then scratches and slugs Bats and skedaddles like a girl that pushed a boy just to get his attention. Bats is dazed and intrigued. Who knew he had a thing for tail and whiskers? And maybe tender-vittles breath? The world may never know. But Catwoman, though she says she will try to be good, hints at darker directions and we're left in the dark as to where the character may turn up in suit or out... the end.
The text is a bit sparse and so these four issues were a fairly quick read. I didn't find them too graphic, though there is a little fantasy extreme evil, but Stan seems to be ill, so maybe he was just a formally uneducated guy using what his environment provided to look after himself? Batman is in dark knight mode without it being laid on thick, and he is still a bit of a boy scout and true believer goodie. As we'll find in The Huntress there is suggestion more than Sam Peckinpah detail. I think a semi-sharp twelve year old could handle this myself, if it doesn't give them a new fetish for dark colored cat costumes, but others' mileage may vary. No crowds run-over in Bat-tanks, but it is all a bit cartoonish in places despite the gritty art style. On an adult literature scale? It's your basic prime-time detective tv show with a morally conflicted character as main focus. Not revolutionary or upping the extreme to get notice, just a solid tale with the dual purpose of re-introducing a company owned property.