Post by codystarbuck on Jul 6, 2017 1:07:56 GMT -5
Episode 13:
Guest Stars: Gerrit Graham (tons of TV, CHUD II, The Critic, Dallas, Parker Lewis Can't Lose) as Lord Kiro, Fredi Olster (Walker, Texas Ranger, ) as Lady Ladira, Whip Hubley (ex-brother-in-law of Kurt Russell, Hollywood in Top Gun, revived Flipper), Ed Wasser (Guerra in the B5 pilot, "The Gathering", other small roles) as Morden.
Synopsis-A Starfury pilot sends out a distress call when raiders attack; but, is killed before B5 can launch Delta Wing for support. meanwhile, a man named Morden arrives on B5, coming from the outer rim of the galaxy. The security officer asks if he found anything interesting. Morden smiles and says, "Yes!" Sinclair, Garibaldi and Ivanova discuss the raider attacks, which are getting closer to the station. They can't figure out how they are attacking so suddenly. Delta Wing is kept at "Ready 5". Sinclair then asks Garibaldi a personal favor and fills him in on his memory gaps and that he has exhausted his own investigation and asks Garibaldi to dig further. Londo meets with a human, who has recovered a valuable Centauri artifact, The Eye, which Londo pays a hefty price to take it off his hands. Londo spars with G'Kar, causing them both to miss the lift.
Later, Morden comes to G'Kar's quarters and asks, "What do you want?" G'Kar sarcastically replies with "What do you mean what do I want? What do I want for dinner...." Morden repeats the question until G'Kar finally says he wants revenge on the Centauri for what they did to Narn. Morden asks "And then what?" to which G'Kar replies that nothing matters after that. Morden thanks him and leaves.
Londo receives important visitors, Lord Kiro and Lady Ladira, highly placed nobles from Centauri Prime. Lady Ladira is a seer and faints after an intense vision. She is taken to Medlab. Kiro is skeptical of her visions, saying she has been wrong before and says that when he was a child, she predicted he would be "killed by shadows." Kiro is there to take possession of the Eye, which had belonged to his family for generations, before being lost. he is to take it back to Centauri Prime to be presented to the Emperor.
Morden next visits Delenn and she says she is aware that he visited G'Kar. She suddenly feels weak and sees a shadow pass over Morden's face.
A silver triangle appears on her forehead and she covers it, telling Morden to leave. He departs and she says "They are here!"
B5 receives a communication from the ship Achilles, who have detected raiders. Delta Wing is launched and a man who has been following Lord Kiro speaks into a comm-link, saying "They have taken the bait!" Kosh arrives back on the station and Morden spots him and deliberately avoids him. We later see Lord Kiro tell Londo (via Babcom link) that he is ready to depart and to bring the Eye. Londo runs into Morden. He asks "What do you want?" Londo tries to dismiss him and calls him a lunatic. Morden keeps asking until Londo drops all pretense and answers honestly...
Morden is satisfied and leaves. Sinclair is troubled by the attack on the Achilles, as it is further out then previous attacks. he calls for the manifest and sees that it is agricultural implements, which have little value to raiders. He tells Delta Wing to break off and return and orders Garibaldi to launch Alpha Wing. Londo meets with Kiro and Ladira and takes them to their shuttle, when the raider agent jumps them at PPG (phased plasma generator) point. He says that he is taking Kiro and The Eye. Sinclair comes along and sparks a confrontation. The raider is allowed to leave with Kiro. Sinclair orders Garibaldi to disable the ship and has the jumpgate shut down. He believes the ship is trapped when a jump point opens and a large ship appears, and promptly launches raider ships.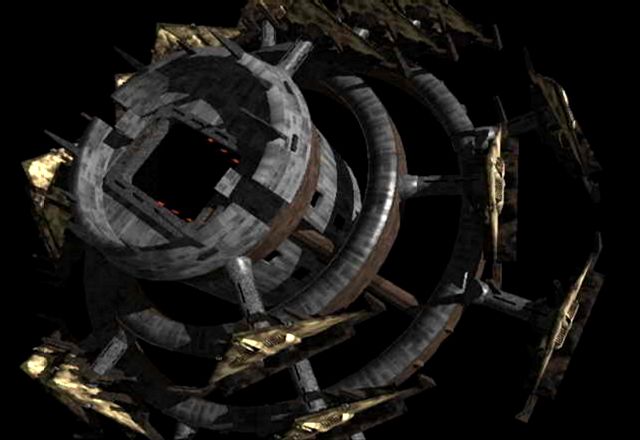 That is how they have attacked so quickly; they have a ship large enough to create its own jump points, carrying the fighters to their target. The raiders attack B5 and Alpha Wing engages. Lord Kiro's ship docks with the raider mother-ship before Alpha Wing can intercept. inside the station, people are urged to head for shelters and Londo guides Lady Ladira. She has another vision and says "The shadows have come for Lord Kiro!" Morden runs into Kosh, who says "Leave this place. Now" He does not appear to be talking directly to Morden, though it is hard to tell, with his encounter suit.
Delta Wing returns and engages the raiders. Sinclair directs the battle and has Alpha Wing and Delta Wing drive the raiders towards the aft section of the station, into the line of fire of the station's defense grid, where they are wiped out. The mother-ship jumps before the Starfuries can close distance. Later, Garibaldi goes over the after-action reports, showing 11 raider ships destroyed, 4 disabled, 2 Starfuries hit, one pilot safely ejected. The station received minor damage and Kosh suffered damage to his encounter suit and requested tools to repair it. This puzzles them both, as they can't see how damage occurred.
On the raider mother-ship, we learn that Kiro hired them to help him steal the Eye to keep for himself, to challenge the throne of the Emperor, possibly launching a coup. The raiders have other ideas and are going to sell the Eye back and Kiro. Just then klaxons go off and a strange ship appears, and slices the mother-ship in two with massive energy beams.
Lady Ladira senses Kiro's death. Later, Londo laments that his career is ruined, when Morden shows up and presents a gift, the Eye. He tells Londo he has friends he doesn't even know and then departs. Garibaldi tells Sinclair of his investigations and relates that Sinclair was far down on the list for potential B5 commanders. It was the Minbari who insisted he be appointed. Sinclair ponders this. He later sees Ladira off and she tells him of her vision of the station erupting in fire and being destroyed. He asks if it is just a possible future or certain and she says she cannot tell.
Business just picked up!!!! This was the episode that turned me from viewer to fan, from the moment Morden asked his first question. Ed wasser is chilling, as Morden. He has an unnerving aura about him, like you would expect of Damian, in the Omen films. He does seem to be the Devil coming to find a soul to tempt and Londo rises to the bait. JMS says the questioning is based on encounter groups and group therapy, particularly the Synon game, where you ask over and over "Who are you?" to get to the truth of who a person really is.
Ed Wasser appeared as a CnC tech, Guerra, in the pilot, "The Gathering." This led many fans to speculate that Morden was Guerra, though JMS categorically dismissed this theory. They are two different characters. JMS liked Wasser and wrote Morden specifically for him. In watching the dailies, he said Wasser had a Rod Serling quality that really came out of the scenes and accentuated them In the commentary for the episode, JMS remarks about Morden's smug smile that makes you want to smack him.
In the commentary, JMS remarked that Gerrit Graham wore the Centauri hair crest the worst (I'd say a couple of later actors were more self conscious in it). The hair design was being developed still and didn't look right for most of the first season. It was refined by adding more layers to give and more sweeping crest and so it looked lis disjointed. Londo's was best, though there were a few other really good versions. We soon saw that status and rank was reflected in the crest. Younger and lower Centauri had a shorter, tighter crest, almost like a hair pick. Vir's was shortened in the second season; but, as his character grew, his crest grew. By contrast, the centauri women were bald or had just one strand of hair, in the back. Generally, they cast either beautiful young actresses or interesting character actresses for the Centauri women (the later for more mature women). We will later see Majel Barrett Roddenberry as the widow of the Centauri Emperor, as well as Londo's three wives "Death", "Famine" and "Pestilence." They will be played by Jane Carr (Dear John tv series), Blair Valk, and Lois Nettleton (Dirty Dingus Magee, Butterfly) (who also shares my family name and was from Oak park, Illinois, though I don't believe she is directly related to me. It's a geographical surname.)
The name Morden conjures up the wicked Mordred, from King Arthur, as well as Mordor, from Lord of the Rings. LOTR was a major influence on B5, as is King Arthur (especially Tennyson's Idylls of the King.
We also get our first glimpse of the Shadows, as a spidery ship attacks the raiders. At this point we don't know if it is a vessel or a creature. Morden's story and his link to the Shadows will later be explored in the novel, The Shadow Within, by Jeanne Cavellos (based on notes by JMS), which was released after season 3.
At the end of the episode, Garibaldi and Sinclair speak in a men's room. Later, as they are leaving, a female crew member is seen walking in the opposite direction, towards the restroom. In the commentary, JMS states she is headed into the Men's Room. Too bad no one caught it and ADRed a male yelp, and a female shriek, to accentuate this.