Post by Confessor on Apr 24, 2020 11:48:32 GMT -5
Tintin and the Lake of Sharks
(French:
Tintin et le lac aux requins
)
Original publication dates
: December 1972 – January 1973
First collected edition
: 1973
Story
: Greg (a.k.a. Michel Régnier)
Artwork:
Bob de Moor (with help from the Studios Hergé team)
Tintin visits
: Syldavia (Klow, Lake Pollishoff).
Overall rating
: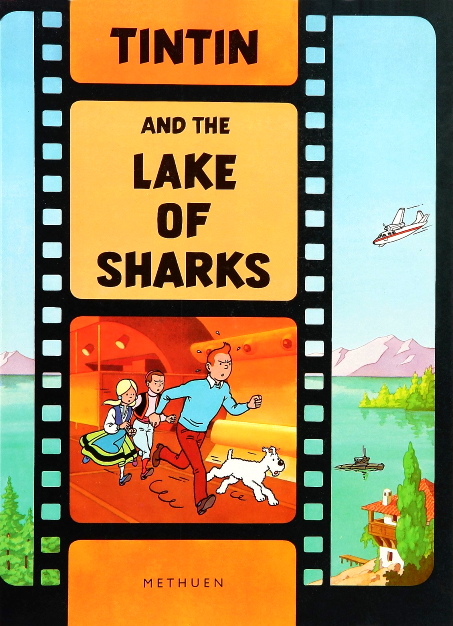 Plot summary available here
.
Publisher's synopsis
:
Tintin and his friends are holidaying in Syldavia with Professor Calculus, who has invented an amazing new duplicating machine. But a series of strange occurrences makes Tintin suspicious. Who is the mysterious "King Shark", and what does he want with Calculus' machine? Is there a connection with the recent theft of famous works of art from the world's leading museums? Tintin is determined to find out!
Comments
: Great snakes! What's this? A Tintin book
not
written by Hergé?!
Tintin and the Lake of Sharks
was a Franco-Belgian animated film directed by Raymond LeBlanc and written by Michel Régnier (under his pen-name Greg), which was released in mainland Europe in 1972. Régnier was, at that time, the editor-in-chief of the hugely popular
Tintin
magazine and was asked to write the story for the film by Hergé himself. The film's animation was predominantly created by Hergé's chief artistic assistant, Bob de Moor, who had actually been an animator at the Afim animation studios in Antwerp before joining Studios Hergé in 1950.
Beginning in December 1972, a black & white newspaper strip version of the story appeared in the pages of the Belgian newspaper
Le Soir
, again drawn almost entirely by de Moor. This was followed in 1973 by a film tie-in book. The book featured animation cels from the movie with speech balloons added, in an attempt to simulate the look and format of the regular Tintin albums. Although the film wasn't released in the UK until a 1998 home video edition, the film-book was published here in 1973 and was translated, like all the other Tintin albums, by Michael Turner and Leslie Lonsdale-Cooper.
While I realise that it's not a canonical Tintin adventure, since Hergé wasn't actually its author – and by all accounts wasn't terribly fond of it either –
The Lake of Sharks
is official insofar as it was closely supervised by Hergé himself and issued by his publisher, Casterman, in the same format as all the other Tintin books. Certainly, here in the UK in the '70s and '80s, the book was very much marketed as being a genuine part of The Adventures of Tintin, and, as a result, was advertised on the back cover of each Tintin book, just like all the other volumes were (although the cover wasn't shown). So, for me as a youngster,
Tintin and the Lake of Sharks
was as "official" as any other book in the series, even if nowadays I realise that it isn't. It's for that slightly nostalgic reason that I have chosen to review the book for this thread. So, think of this as something of a supplementary review.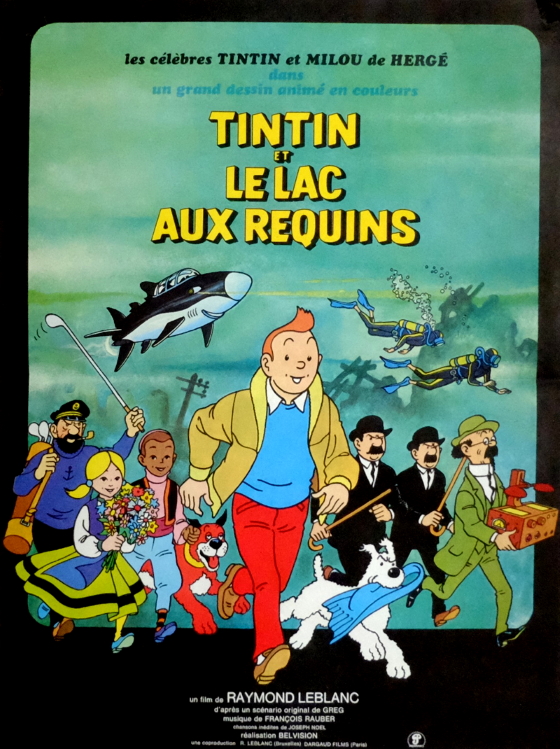 There had already been a number of Tintin screen adaptations by 1972, including a puppet/stop-motion version of
The Crab with the Golden Claws
in 1947, and the Franco-Belgian live-action films
Tintin and the Mystery of the Golden Fleece
(1961) and
Tintin and the Blue Oranges
(1964). There had also been the animated
Hergé's Adventures of Tintin
TV series which had aired in Europe and the UK between 1957 and 1964. Then in 1969, the animated
Tintin and the Temple of the Sun
film adapted Hergé's two-part
The Seven Crystal Balls
/
Prisoners of the Sun
adventure. However,
Tintin and the Lake of Sharks
was the first Tintin cartoon not to be based on one of Hergé's stories. With Hergé becoming increasingly disinterested in writing new Tintin adventures and instead immersing himself in his new hobby of art collecting, the film served as a stop-gap instalment of the series during the seven year wait between the publication of
Flight 714
and
Tintin and the Picaros
.
With regards to the 1972 black & white newspaper strip, something that I find interesting is that de Moor's artwork is noticeably different to the 1973 film-book. The black & white art of the former features backgrounds drawn in Hergé's signature
ligne claire
("clear line") art style, while the film-book uses painted backgrounds taken directly from the film's animation cels. However, the foreground figures remain the same in both versions of the strip. Have a look at these examples below to see what I mean...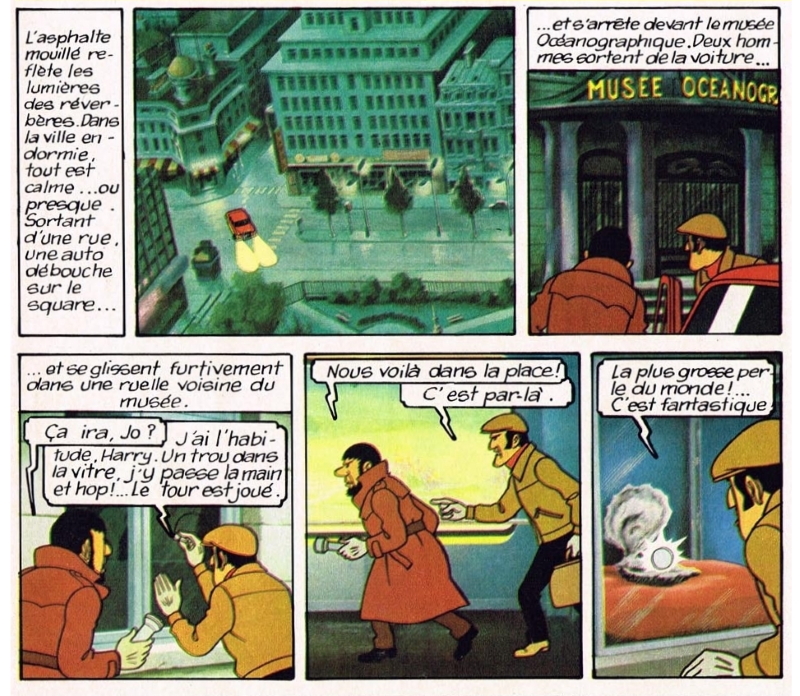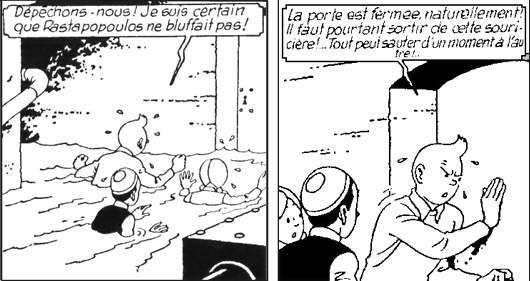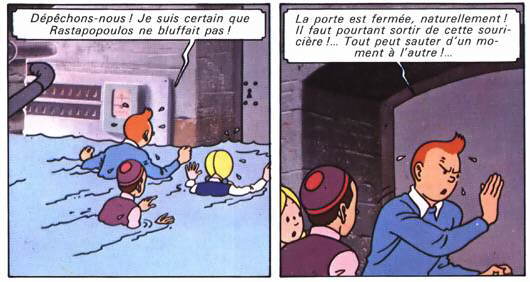 As you can see, the two versions follow each other frame-by-frame, with exactly the same character art in the foreground. In addition, although the film-book appears to use stills from the film in each panel, comparing the book to the movie shows that many of the images in the book are different to those found in the film. For example, in the movie, Captain Haddock uses a spent match to draw a moustache onto a poster of Bianca Castafiore, but in the film-book he uses a pen. The more you look and compare the film to the book, the more differences you will spot.
Personally, I like the more authentic
ligne claire
style of the newspaper strip and think its a shame that this artwork wasn't coloured and used in the film-book. It would've made the book look much more like an official entry in the Tintin series. Mind you, some of the painted backgrounds from the film are really rather nice...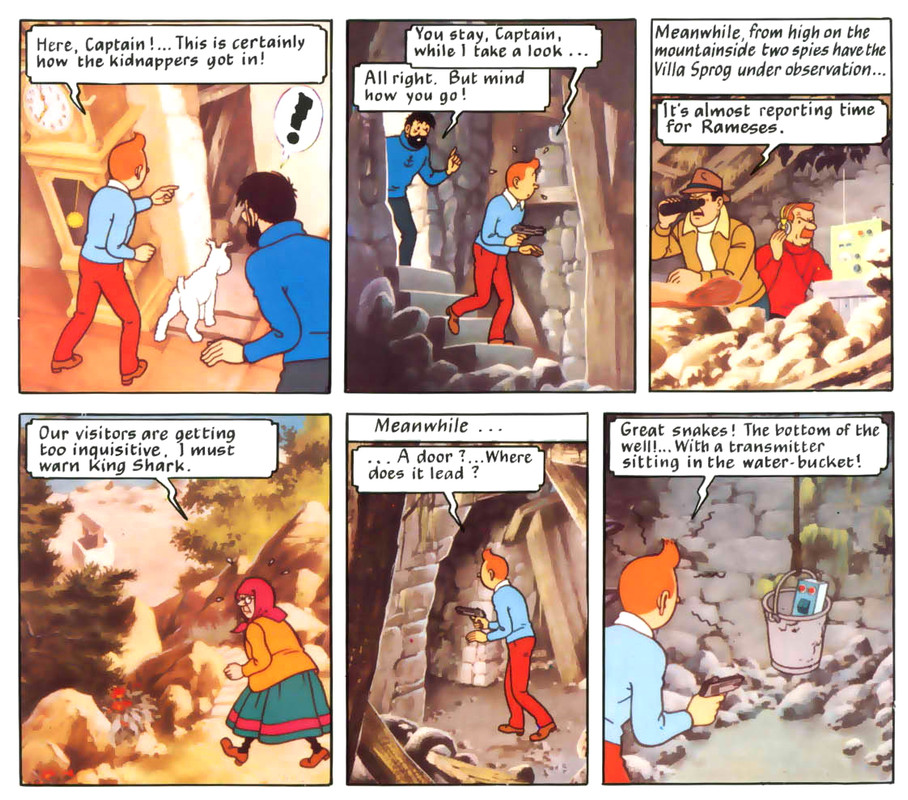 Regardless of which version of the story we're looking at, I've gotta say that de Moor and his Studio Hergé team do a pretty good job of mimicking Hergé's signature style. Of course, that shouldn't really be a surprise, since de Moor in particular had been helping with the series' artwork since
Destination Moon
, some 22 years earlier. But unless you look very closely, I think that most viewers would find de Moor's work pretty much indistinguishable from Hergé's. He has the look of the characters, their body language, the physical comedy, and Hergé's love of background detail down perfectly.
However, if we're being nitpicky, some details are slightly off, such as Tintin's quiff not looking quite right and some of the character's facial expressions being rather too harsh. Take this panel below for example, the expression on Tintin's face is really very un-Hergé like...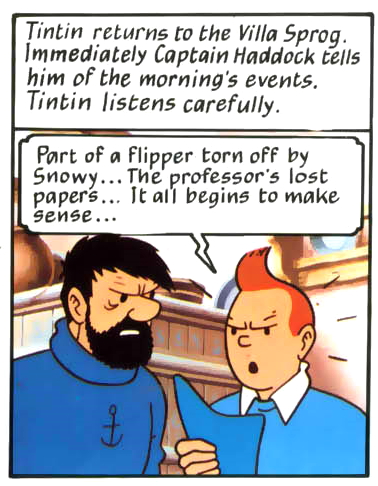 Something else I just want to note is that, however much Hergé professed to be disinterested in the film, he definitely took note of de Moor's updating of Tintin's attire. In
The Lake of Sharks
, de Moor dispenses with the boy reporter's traditional plus-fours (golfing trousers) and instead clothes him in a much more fashionable (by early '70s standards) pair of tan jeans and a sheepskin-collared jacket...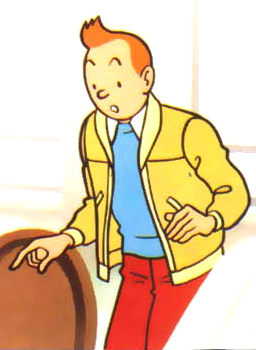 Tintin would be wearing exactly the same jacket and jeans on the first page of the next Hergé-penned adventure,
Tintin and the Picaros
.
As for Régnier's plot, it's fairly gripping, I suppose, although it does seem to be written for a slightly younger audience than the regular books. The story sees Tintin, Haddock, and Snowy returning to the fictional Eastern European country of Syldavia, where Professor Calculus has rented a villa near Lake Pollishoff in order to construct his latest invention: a matter duplicating machine. While they are there, Tintin and co. stumble upon a criminal plot headed by the mysterious "King Shark", who turns out to be none other than Roberto Rastapopoulos, who we last saw being abducted by aliens in a flying saucer in
Flight 714
. Rastapopoulos, who is initially only glimpsed from behind, thus preventing the reader from recognising him (although it's still fairly obvious who it is), has constructed a James Bond villain-style base on the floor of Lake Pollishoff, among the ruins of a sunken village.
The presence of Tintin's arch-enemy presents us with two continuity-related questions: when is this adventure set, chronologically speaking, and how could Rastapopoulos, following his alien encounter and failed attempt to seize Lazlo Carreidas's millions, have managed to obtain the financial resources to construct his underwater base? On the first point, looking online, it seems as if a lot of Tintin fans place
Tintin and the Lake of Sharks
between the events of
The Casterfiore Emerald
and
Flight 714
, but I don't think that can be right. It must come after
Flight 714
because Rastapopulous is arrested and imprisoned at the end of this book, and when Tintin first encounters him in
Flight 714
, the young reporter is shocked that he is still alive following the events of
The Red Sea Sharks
(something that Rastapopulous himself refers to). If
Tintin and the Lake of Sharks
was set prior to
Flight 714
, Tintin would be wondering how his enemy had escaped from prison when he first comes face-to-face with him.
Of course, the simple fact is that
Tintin and the Lake of Sharks
is a non-canonical adventure, so we really don't have to worry about where it fits into the series chronology. But, if you're a bit of a continuity nerd like me, this sort of thing will keep you awake at nights. So, as far as I'm concerned, this adventure is set exactly where it comes in the series' publishing order: after
Flight 714
and before
Tintin and the Picaros
. Personally, I think that having Rastapopulous arrested and imprisoned in this book provides a much better end to his character-arc than being whisked away into space by extra-terrestrials.
In addition to Tintin, Haddock, Snowy, and Calculus, the bumbling Thom(p)son Twins and the opera singer Bianca Casterfiore make an appearance in this book (although there's no hint of Calculus's new-found infatuation with the latter in this album). The Thom(p)sons in particular have a fair bit to do in this story, and I must say that it's rather nice to have them and their brand of silly, physical comedy back in the books again, since they've been either mostly or entirely absent from the last few stories.
Tintin and the Lake of Sharks
also introduces a young brother and sister named Niko and Nushka. I suspect that these two youngsters were inserted in an attempt to make the film more appealing to children, but really, the existing cast were already tremendously popular with the youth of Europe by the early 1970s, so I'm not sure why Régnier felt that they were needed? Still, as someone who has a very low tolerance of kid characters in comics, I must say that Niko and Nushka aren't too offensive...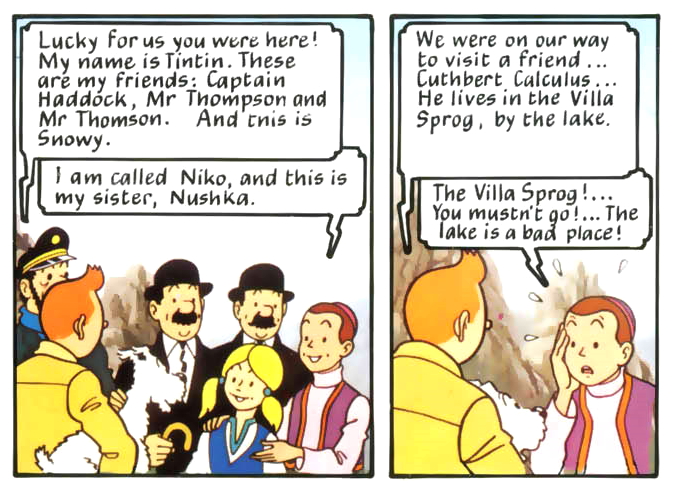 As you can see in the above panels, there's supposedly a "curse" on Lake Pollishoff, which is a nice touch and a very "Tintin" trope, calling to mind earlier adventures like
The Black Island
and
Cigars of the Pharaoh
.
Niko and Nushka have a pet dog, Gustav, who teams up with Snowy, providing Tintin's fox terrier with a canine friend for the first time in the series. However, nice as that might sound, Gustav is an even less necessary addition to the cast than the two children, although he does help save Tintin and his friends from a burning plane wreck early on in the story...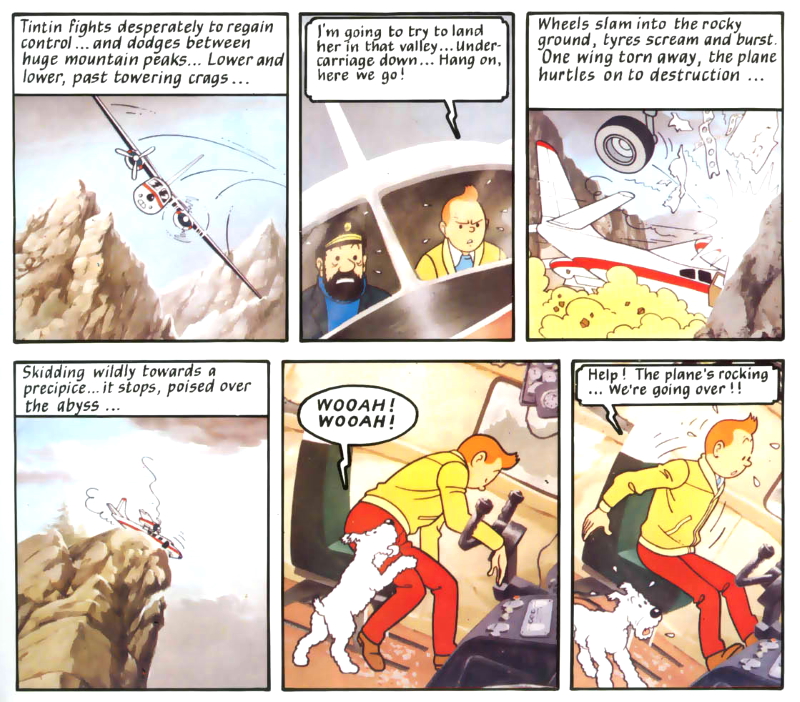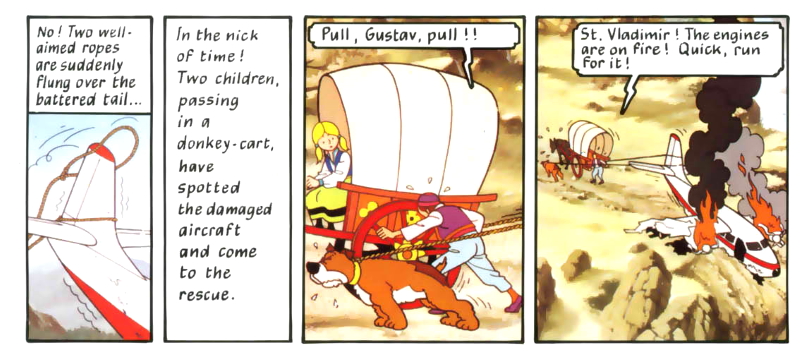 The above sequence is a good example of how Régnier's writing is much less couched in realism than Hergé's. I mean, the escape is pretty contrived insofar as Niko and Nushka just happen to be nearby when the plane crashes. But even if we ignore that, the manner in which they rescue Tintin and his friends wouldn't work anyway. I mean, the children being able to lasso the tailplane is unlikely enough, but even if they managed that, an aircraft's tail is not built to take the weight of the entire plane and anyway, the rope would surely snap! But even if it didn't, the plane must weigh considerably more than that horse and cart, so I'd imagine that they would all follow the plane over the precipice to a fiery death! Don't get me wrong, I know this is just a comic, but I really can't imagine Hergé writing a scene as unrealistic as this.
That said, Régnier certainly knows how to achieve a Hergé-like balance between thrills and humour – especially in the story's action sequences. There's a particularly exciting underwater sequence in which Haddock is piloting Calculus's shark submarine (last seen in
Red Rackham's Treasure
) and attempting to rescue Tintin from Rastapopulous's underwater base. Bob de Moor's art really shines in this sequence...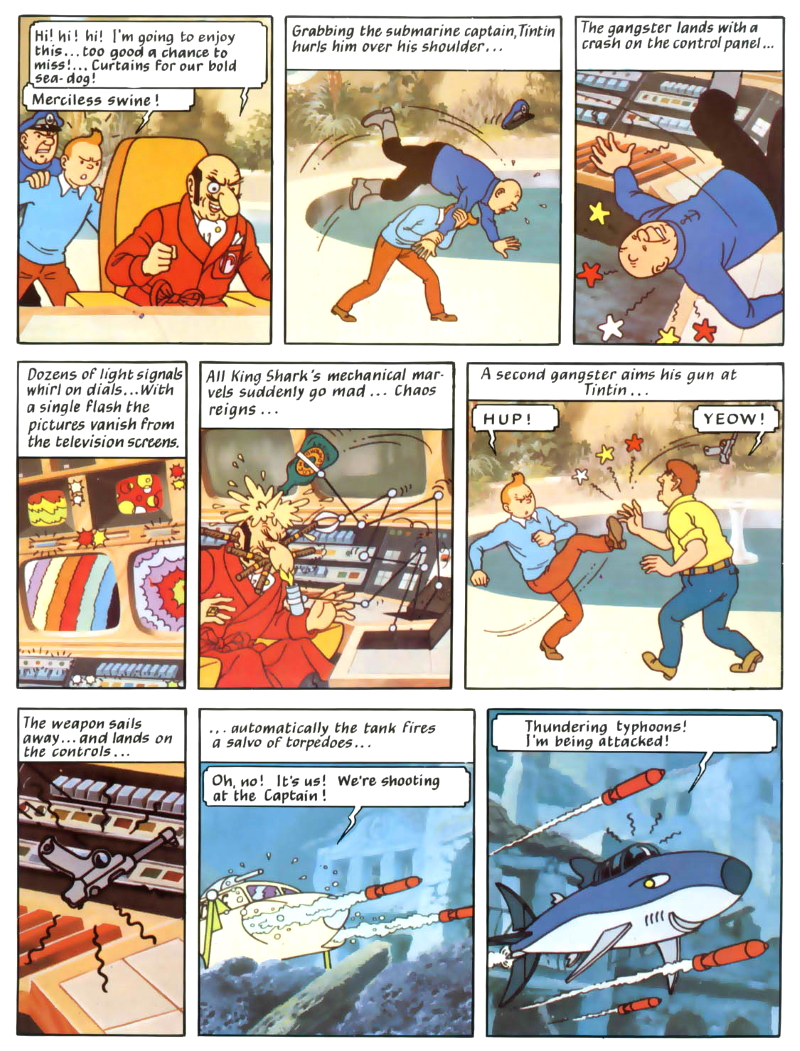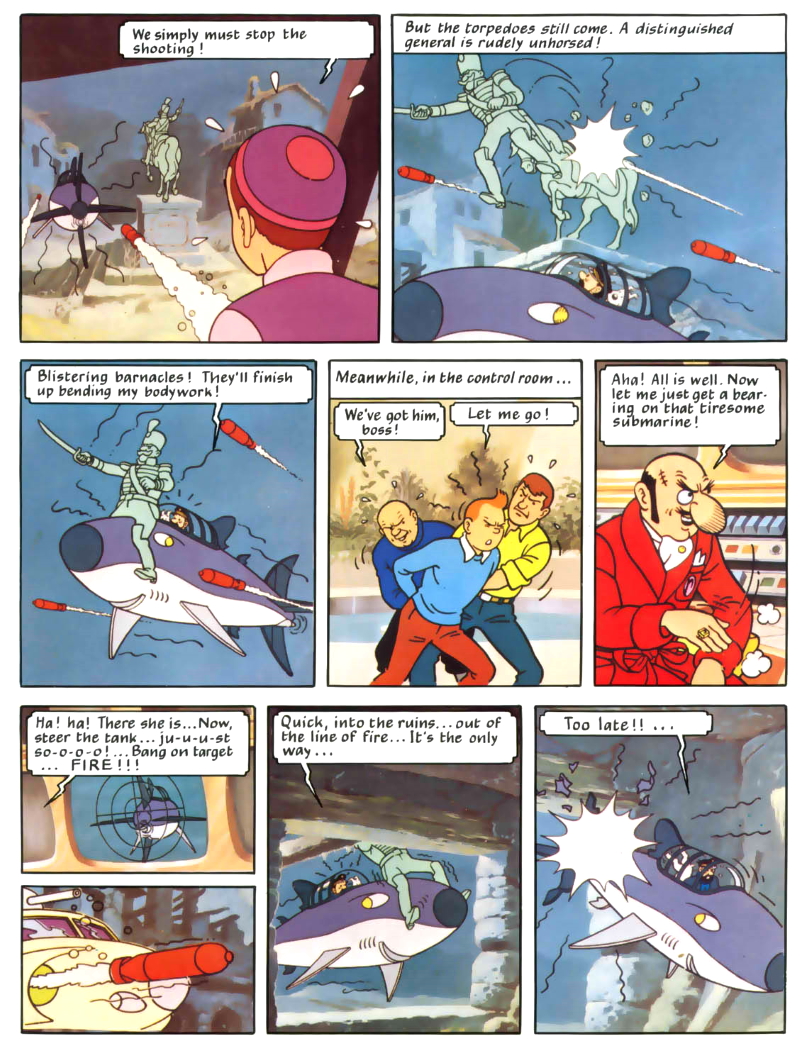 Anyway, it turns out that Rastapopulous is engaged in an art theft caper and desperately wants to obtain Calculus's duplicating machine, so that he can steal priceless works of art and produce exact copies to sell on the black market. However, there's a gaping plot hole associated with this plan. At the start of the book, we see two thugs in Rastapopoulos's employ stealing a priceless pearl from a museum and replacing it with a brilliant forgery. So, if Rastapopoulos and his gang were already able to produce such high quality forgeries, why would they need Calculus's machine?
On a related matter, I can't help but wonder if Rastapopoulos's interest in art theft was influenced by Hergé's new passion for art collecting? Certainly the world of fine art and its intrigues would make another appearance in the final, unfinished Tintin story,
Tintin and Alph-Art
.
To sum up, I have to admit that
Tintin and the Lake of Sharks
is a somewhat mediocre adventure. But on the other hand, it's not entirely bad either. Bob de Moor does a good job of making the book look like a proper Tintin story, in spite of the painted backgrounds, and Régnier certainly manages to capture the personalities of the central cast pretty well. However, there are some plot holes in his storyline that you really can't imagine Hergé would've allowed to go unchecked. The book is also shorter than the usual 62-page Tintin albums, clocking in at just 44 pages, and, as a result, it has many more narration boxes than Hergé would normally use. With all that said, and bearing in mind that this adventure falls outside of the official Tintin canon and doesn't come close to the standards of Hergé's best work, I have to say that it's still a much more enjoyable read than some of the earliest Tintin adventures, such as
Tintin in the Land of the Soviets
or
Tintin in the Congo
.