Post by shaxper on Aug 8, 2016 21:52:22 GMT -5
(note: I reviewed volume 1
here
)
When I read volume one of this series, I was really impressed. I knew from scans I'd seen that the art would be somewhat impressive, but I didn't expect anything above the level of a solid amateur effort. It turned out that the volume contained artwork that put the previews I'd seen to shame and, best yet, contained ideas and visual techniques that knocked my socks off.
Okay. Cool. I knew what to expect going into volume 2, right?
Holy-frickin'-no. Where to start? First off, Ben's art has matured stunningly for this volume, particularly his mastery of faces and the human anatomy: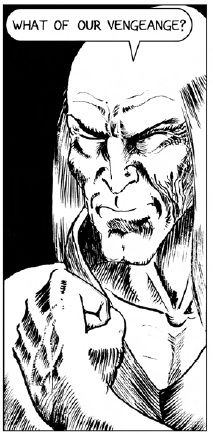 These were always done well enough in volume 1 but didn't hold a candle to the depictions of space and technology that were blowing me away. Now the art is across the board stunning.
But beyond that, the story-telling itself is magnificent. The volume begins with an intergalactic battle. Whereas most stories would have a half dozen or so ships fighting, we have literally thousands of ships engaging each other, and that magnitude is never lost on the reader. Plus, the artwork is grip-the-arms-of-your-chair powerful. There's a momentum, combined with Ben's stunning art, that just make you feel like you're flying by at warp speed, savoring every moment of this epic space battle: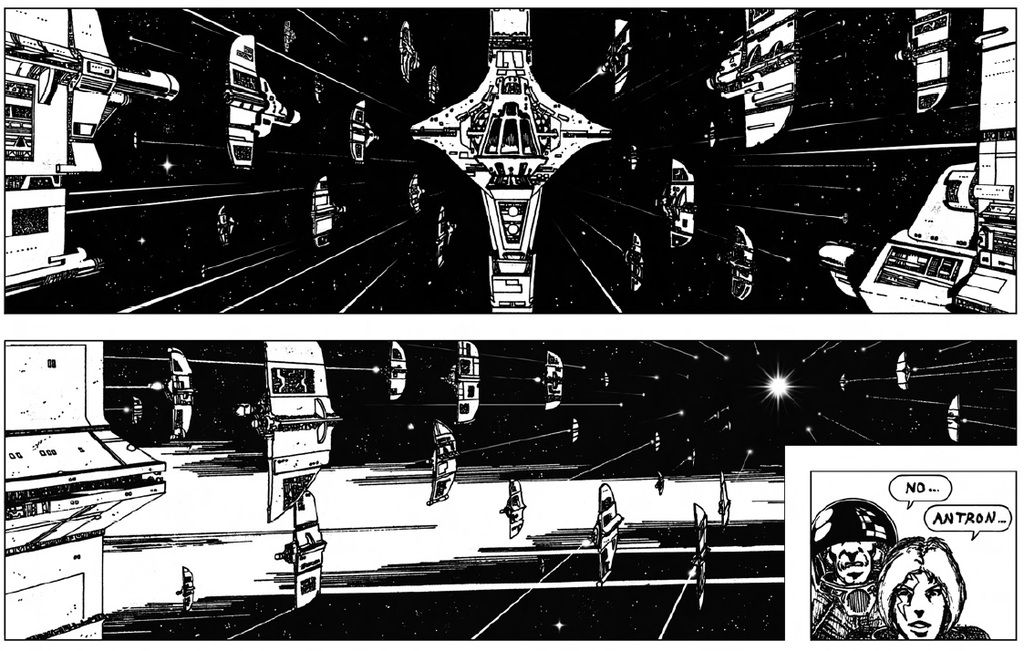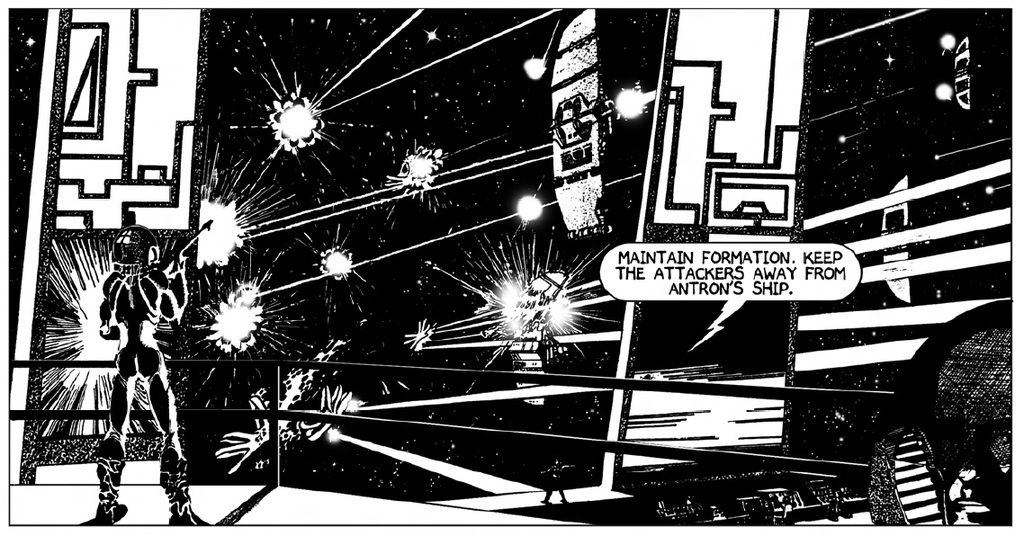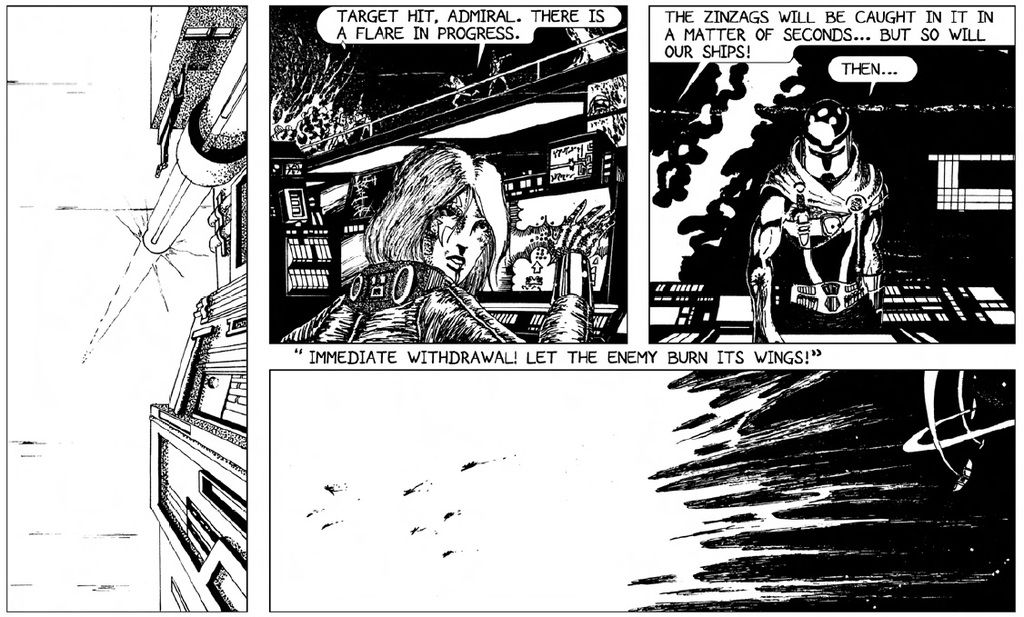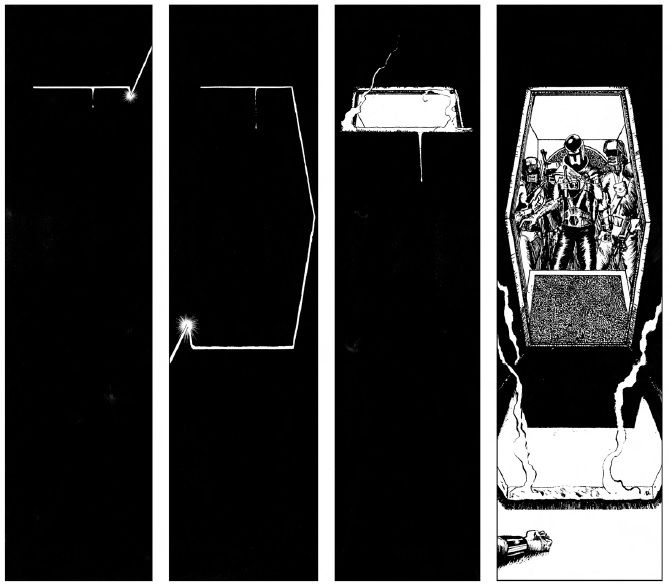 And there are so many brilliant visual choices being made. Take, for example, the panels below, where information is first revealed via a reflection on a visor: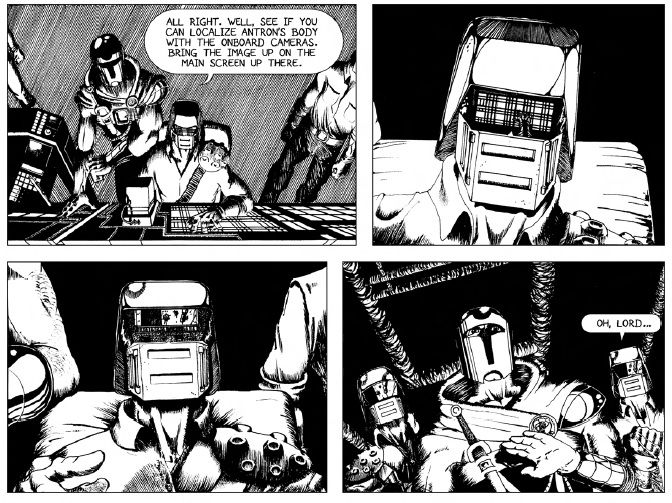 When that chapter concludes after 35 pages, there's an emptiness akin to getting off of a roller-coaster. The momentum and euphoria is still within you; you don't want to slow down or change scope. And yet Ben earns that transition beautifully as he takes time to introduce new worlds and characters that truly make us feel like we are following the intrigues of a vast empire, and not just a small cast of characters visiting a small number of planets in a limited storyline: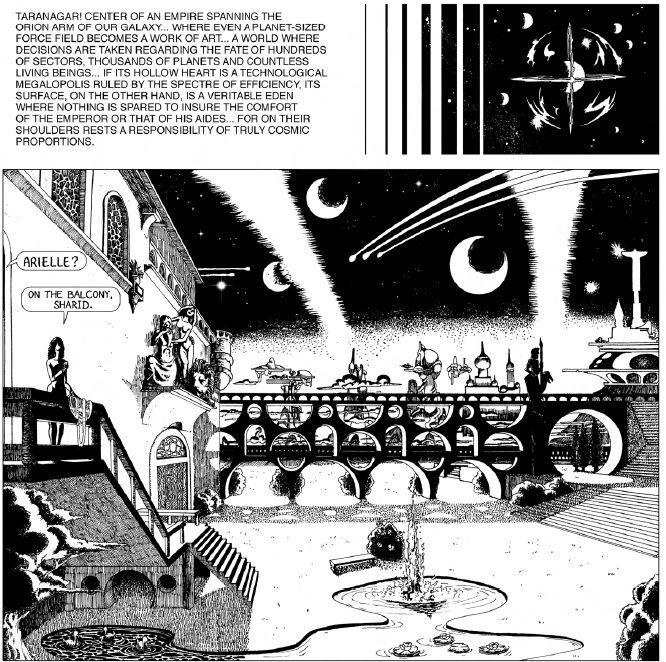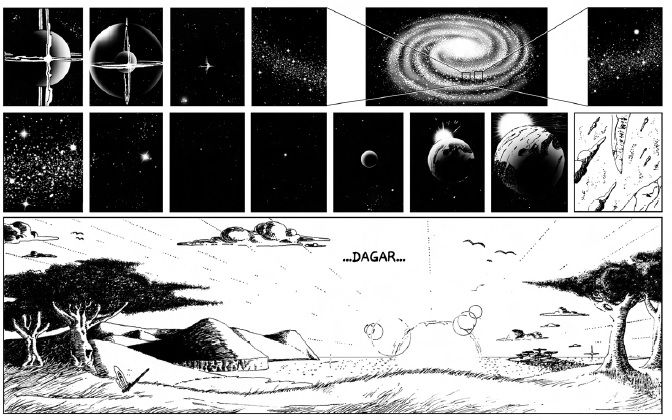 There's tremendous implied depth to each of this ever expanding cast of characters, and they avoid the typical arch-types for the most part. I also respect the unique decision to make two of them parents, both treating that duty with tremendous intensity. In fact, Rah;s father-daughter relationship is teased to be of vital importance to the universe, and that never comes off as forced or hokey in the slightest.
And the final story, a departure from both the concepts and tone of the main plot, provides us with incredibly welcome endearing comic relief as we learn more about what makes two of our core characters tic by experiencing their first meeting. Ben's drawing and inking styles both adapt beautifully for the task and create a series of events that's both laugh out loud funny and makes you care about the characters more than you did before. I wanted to provide scans, but the jokes don't come off well out of context in a scan of only one or two panels. You'll just have to read it yourself

If I have any criticism in what may sound like an overly zealous review, it's the dialogue. Ben is such a master of visual subtlety that it's disappointing when one character has to explain for us that another has the soul of a poet deep down, and sometimes there's just too much talking in a panel to the point that it gets a tad confusing: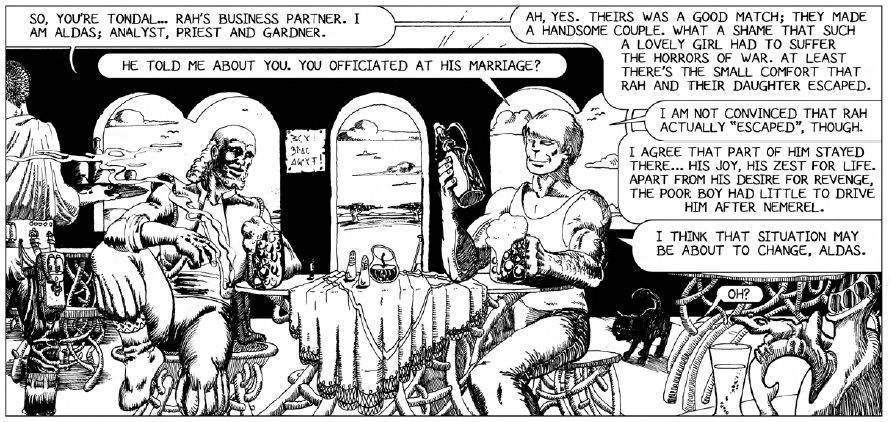 It's at moments like these that I have to remind myself we aren't reading the work of a long time comic veteran using his decades of experience in the field to create his masterpiece -- this is Ben...
our
Ben -- and he's just getting started.
Oh, and the cover art. I don't know if it's the coloring and lighter inking or what, but the covers have been the least impressive of the artwork to date. I hope that, when Ben completes the series, we'll see a collected edition with a cover that better reflects the genius within.
But otherwise, really, I swear I'm not talking this thing up just because it's Ben. This thing is incredible. Volume 1 was amazing, if uneven. This is light years beyond it and far more consistent. I truly cannot believe the quality and substance of this series, and I don't know how I'm going to handle the wait until volume 3 sees print.
Both volumes 1 and 2 are available for sale
here
, either as print editions (in French, $15) or as digital downloads (in English, $5). If you purchase the print editions, Ben sends you the digital download free of charge and does an impressive sketch on the inside cover to boot.
_______________________________________________________________________________________________________________________
Note:
While I received no payment for this review and feel I've been objective, in the spirit of full disclosure it's important to note that the author is none other than
Roquefort Raider
, a member of the CCF moderator team. I did pay for my copy of this book and was never asked to review it, nor did I promise to do so in advance.