Post by Dr. Poison on Apr 18, 2015 5:21:27 GMT -5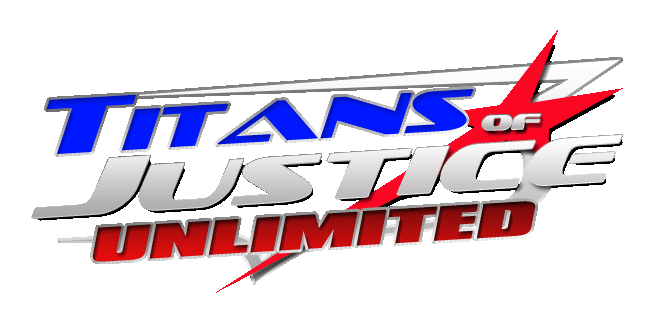 Titans of Justice #7 - "Star Crazy"
Plot & Maxi-micros by: Power Guy
Script by: Shaxper
Editing by: Earth 2 Flash


The Basement of the Brownstone, Earth 2…
The magnetically sealed, triple reinforced steel doors loomed ominous, but they opened with an unexpectedly smooth "whoosh". How long had it been since someone had walked these halls and had need of the JSA trophy room? Yet the doors opened as if they had been used just yesterday, or at least as if they hadn't given up hope that a new team would one day come, complete with their own legacy to add.
The opened doors revealed corridor after corridor of treasures beyond compare; artifacts both seemingly common and bizarre, logical and impossible, massive and minute, each beckoning to tell their own peculiar story. It was a scene guaranteed to instill one with awe or, at the very least, insatiable curiosity.
"Unbelievable!" huffed Alchemy Lad. "I get imprisoned back in the past and instead of using my knowledge to help perfect this team into an unstoppable force, I'm reduced to inventory duty."
"Don't feel that way," urged Stardust. "The Huntress asked us to go through these trophies and souvenirs from old JSA cases in hopes that there might be some things in here we can put to good use in our fight against the bad guys. Plus, if you share too much of your knowledge of the future with us, it could significantly alter the past, and you could cease to exist."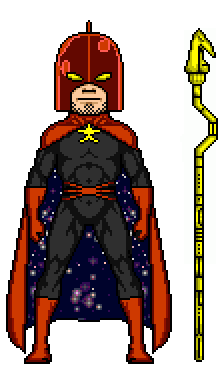 "Salvage duty," murmured the time lost Legionnaire-ancestor. "Man, I've done that too many times. You'd think I'd at least have gotten away from that in the distant past."
"You did salvaging...in the future?" asked a slightly bewildered Stardust. "I mean, I know a lot about the time you're from; the Legion of Superheroes and all that. It seemed like a pretty prosperous time. They had..."
"You don't know anything about my future, Star Guy."
"...eh, it's 'Stardust'."
"The future you're describing is one I don't know. It's far off from where I come from, and surely you can't tell me you believe economics runs in a straight line. In your own lifetime, the economy has never had ups and downs, good times and bad?"
"Well sure, I mean, yeah," conceded the young conduit of the cosmos.
"Well, in my lifetime folks've known a lot of bad, okay?" growled Alchemy Lad.
"Alchemy Lad!" hollered Power Guy's voice over the still active communicator. "Stop telling Stardust about our future, and Stardust," added the exhausted voice, "Stop telling Alchemy Lad about his!"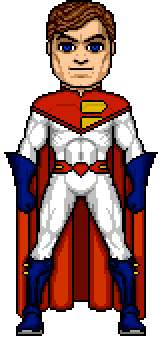 "Sorry" they both mumbled, and the communicator went silent.
"I wonder what his problem is," added Alchemy Lad, half-perusing a crate he had come to. At this point, discussing future economics and the emotional state of their formerly simian leader held more interest for him than taking an organized approach to indexing the contents of the room.
"Power Guy is still having headaches after having his mind transferred back-and-forth from the Ultra-Humanite's body," explained Stardust, though he was sure Alchemy Lad already knew this.
"Well, it would be nice if he'd yell at a few other team members to come give us a hand with this busy work," considered Alchemy Lad.
"Like who?" asked Stardust, trying to keep the sarcasm out of his tone. "Sandman is meeting with his dad and some other former JSA members to make our status official, The Huntress is pursuing leads on how to find Brimstone, Fury is on Paradise Island retrieving the Amazons' Magic Sphere for us to use, and I'm sure you saw Nephthys bored off her winged-behind upstairs on monitor duty."
"I just don't see how any of this old junk is going to benefit us," Alchemy Lad grumbled, "I mean, look at this here. The label says it's the Fiddler's Fiddle. Who wastes this kind of space on useless sentimental knick-knacks? Where I come from, space is at a premium and you use it wisely."
"Be careful with that and anything else you find down here," chided Stardust. "While that may look like a simple musical instrument, the Fiddler used that thing to injure and kill dozens of people in his heyday."
Alchemy Lad set it down gently, but quickly.
"This all matters a great deal to you, doesn't it?" he noted.
"It's legacy; history, you know. I've spent my life dreaming of adding a trophy to this room. It deserves our respect."
"Our respect?" questioned the young master of matter transmutation. "Let's get one thing straight, here. I'm awfully glad for you folks creating your new team, but this is NOT my team. It is not MY legacy. I don't plan to get comfy here and squander my life inventorying someone else's past history. I have a future to return to, and I expect every one of you folks to give your full attention to helping me get back there."
He paused, perhaps considering that he'd been too hard on his dutiful companion. Looking down, he noticed another box and proceeded to pick it up. Curiously, he opened the box and dug out what was inside, "Well, here. This looks valuable."
From several feet away, Stardust, still irritated by Alchemy Lad's last comments, corrected, "We're looking for objects that are useful, not resell-able." As he approached and narrowed his gaze, he added, "It looks like a dirty rock. Still," he paused, "I have a hunch that you might want to put that back in it's box."
"It is dirty," confirmed Alchemy Lad. "It's covered in dust but I think it's a gem." The young man from the future promptly dusted off the item with his hands and announced, "It's beautiful! Even I couldn't create something like this."
"Well don't get any idea about Ebaying it."
"Starburst, I don't even know what bay you're talking about," complained Alchemy Lad.
"Ahhhhh! The Time Has Finally Come" boomed a foreboding and shrill voice, just approaching the level of an endless cackle. Alchemy Lad suddenly noticed his hands were burning and involuntarily dropped the gem to the ground. With bewilderment he watched as a well-endowed woman, with brown hair pinned up into a French-twist appear beyond the gem. She was clad in a white and purple garment and fishnet stockings covered her legs. She then absorbed the gem into a holding place on her tiara. The gem then seemingly split into three with one landing on a ring on her finger and the third and final one, attaching itself to a choker on her neck.
"She would be a goddess," thought Alchemy Lad, "if not for the violent sneer running across her face."
"See," cautioned Stardust with only half attention, focused just as intently on the stranger's beauty as his counterpart. "I told ya' you should'a put it back."
She was alluring, terrifying, and somehow even more beautiful for her cruel rage. Stardust could not help but look upon the Star Sapphire of the Seventh Dimension. Seemingly trapped in an endless gaze, he fully realized that this enigmatic woman's appearance likely spelled his doom.
"This...this is Star Sapphire of the Seventh Dimension, Alchemy Lad," spoke Stardust as he drew his Cosmic Rod all too slowly. "She took on the original Flash back in the forties. She, uh, almost stole the world's oxygen trying to kill all of the male population of their time."
He was standing in the presence of a legend, and yet, despite the profile and images he'd studied intently as a boy, she was so different here, so radiant. Almost fighting himself, he managed to swing his cosmic rod forward and fire off three quick stellar blasts at the notorious villain of his childhood studies.
A purple energy barrier surrounded the former queen of the Zamarons, easily deflecting Stardust's half-hearted attempts. Star Sapphire then laughed, "So you know the Flash?" Another cackle followed. "Forget about the quick death I was going to grant you," she began as that familiar twisted sneer crossed her face once again. "Your deaths will be exquisitely slow, painful, and insanity-inducing."
"Actually, no, lady," countered Alchemy Lad. "I'm going to turn that goofy gem of yours into dust, and you're going back in your box!" The man out of time gestured dramatically, but nothing happened. "Huh?"
"Stupid man-ape!" scoffed Star Sapphire in Alchemy Lad's general direction. "This gem was the first of those made by the Zamarons. Like the Green Lantern's ring, it is the perfect combination of science and magic. You have no hope of controlling it."
Noting that this confrontation was clearly not off to a stellar start, Stardust called out, "Perhaps we'd better call Power G..."
Suddenly, two magenta colored beams shot out from the villainess' gem, creating a vice-grip around each of the two heroes' throats, slowly but surely squeezing the life out of them.
Moments ago, Stardust had been fulfilling a dream: exploring the mysterious JSA trophy room as a hero in his own right. He'd spent a lifetime coveting that experience and the validation it would offer. But here he was, only moments later, on the cusp of death while in the presence of radiant, gorgeous villainy: a being so resolutely sure her path was right; so free, so certain, so...like mother.
Through hollow breaths and fading consciousness, he thought back to his few, fragmented memories surrounding mother, the villain the rest of the world had known as "The Mist". He visualized the pictures he'd clung to as a child -- always clipped from the newspaper headlines, always showing her cruelty. Father had kept no photos, no opportunities to see her as warm, smiling, being the kind of mother he was sure she must have wanted to be. Instead, in each frozen black and white image, she had looked much like the woman standing before him now. A woman that part of him, a very small but very primal part of him, had immediately and desperately wanted to love.
You can learn a lot about yourself when confronting your own hidden darkness, and Stardust had thus learned a staggering lesson: Beneath the costume and cosmic rod, beneath the talk of honor and legacy, he was still every bit as much the son of "The Mist" as was of Jack Knight. And, in that realization, a small part of him began to die far more tragically than any fate Star Sapphire had planned for him.
The vice grip of the energy beams, now more like energy tentacles, continued to squeeze tighter as the gem's mistress looked on with sadistic pleasure. Alchemy Lad struggled to avoid blacking out.
"You see," Star Sapphire breathed greedily through her cruel grimace, "the Zamarons are from an alternate universe, parallel to this one. They chose me to be their queen many decades ago but my tactics were too aggressive and revolutionary for them."
Alchemy Lad was more interested in fighting than listening. Stardust, however, recognizing his predicament, exerted every remaining iota of consciousness toward absorbing the words of this raving yet radiant villain, all the while gasping for fleeting breath. It occurred to him now how easy it would be to use his mother's gift; revert into his vapor form and escape. But no, that was taking the easy way out, giving in to the darkness within. He'd done it of necessity in his encounter with the Ultra Humanite, and, thinking back on it now, the idea of resorting to such cowardice a second time felt even more painful than the biting, choking death closing in on him.
No, he would stand his ground. And, though he had no hope of fighting back and winning the day, he could at least redeem himself by soldiering on, listening to this villain's story and holding on to the details of her plan as tenaciously as this energy tentacle was holding on to him. Isn't that what a hero would do? Isn't that what the son of Jack Knight would do? He would learn what he could, and, should someone come to his rescue in the nick of time, he might at least have information of vital importance to share.
...and, if someone didn't?
Did he really have the guts to look death in the face? or would he ultimately give in to fear, vaporize, and take that easy, self-serving way out?
"The Zamarons banished me to the Seventh Dimension, but before things went sour between us, they had wanted me to mate with the one known on this planet as the Green Lantern."
"Alan Scott," considered Stardust. He'd never heard this part of the tale.
"His ring, like my sapphire, was a prototype built by beings known as the Guardians of the Universe. The energy from his ring combined with the energy from my sapphire would produce the perfect being to ensure order and passion throughout the multiverse."
More cackling followed, but this time it seemed forced somehow; sarcastic and harsh, perhaps hiding a wound beneath it.
"After the Zamarons banished me and I escaped, I came here to steal Green Lantern's ring and use it to help me exact revenge on the Zamarons, but my hatred of the male species got the best of me and I tried to kill all of the men on this planet."
'Man-hater' was a phrase that appeared no less than six times in the JSA's nine paragraph file on Star Sapphire. But could a being as real, beautiful, vibrant, menacing, and, yes, tortured as Star Sapphire be so two-dimensional; so simple to index and toss aside? Stardust knew in that moment, for whatever it was worth, that there was more to Star Sapphire than her simplistic sexist harangues had hinted at. A moment ago, he had loved her. Now, truly listening to her words, he felt something more akin to pity.
"...which is what lead to my clashing with the Flash."
"And now, thanks to you fools," she continued, "I have another opportunity to get my hands on that ring and bring about revenge on those Zamaron idiots who dared banish their queen!" After a brief, but uncomfortable pause she added, "Now that you know my history, let us continue with your deaths!"
Stardust fought the urge to close his eyes. He felt his left hand begin to vaporize instinctively, and gritted his teeth; forcing it back into being. Alchemy Lad was still struggling, raging to the point that he was undoubtedly no longer aware of his surroundings, but Stardust was. He was supremely aware of himself, of every limb, molecule and atom. While Star Sapphire had ceased talking and had even put her incessant cackling on hold in a final exertion of her energies against them, Stardust was enthralled with the silence occupying the room. Even in the space between stillborn gasps for air and intermittent moments of awareness, he could appreciate that interminable silence, dangling on in one final, but infinite second in which he could almost see the ghosts of father and grandfather, both in costume, smiling proudly from above. "I did it," he would soon tell them. "I passed the test."
And when that silence was interrupted by an unexpected, smooth "whoosh" from behind, Stardust dizzily wondered why death should sound like the opening of magnetically-sealed, triple-reinforced steel doors.
"Put them down!" cried Fury, as she and her winged sister zoomed overhead.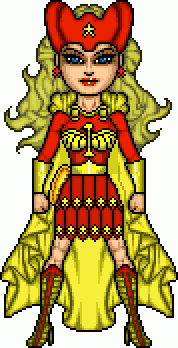 "Or don't," added Nephthys. "I like it better when they don't."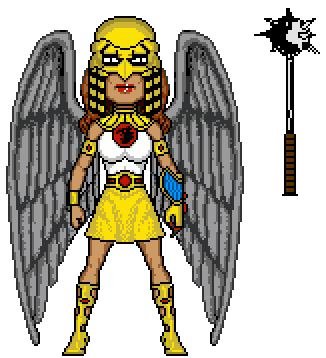 "Talk is cheap, ladies," replied Star Sapphire. "Let our actions speak louder," she offered, following with two magenta colored beams sweeping out at them.
"I like her," offered Nephthys while dodging the pursuing beam, which bent every which way to follow the two, tearing through endless rows of cascading trophies and artifacts. "This is going to be fun."
"Okay, you take her and get these things away from us. Let me try to free the other two," replied Fury.
"Watch yourself," Fury offered as final advice to her sister's back as Nephthys took off toward Star Sapphire. Though arguably the less powerful of the two sisters, Nephthys' will more than made up for it, and that concerned her sister a great deal. But there were lives to be saved, and Fury considered that the higher priority.
"Nth metal armor, please meet weird, pink, bendy-beams," quipped Nephthys as the first beam simply flopped apart and then dispersed into air on contact. "Awww, yeah! I thought so!"
She quickly zoomed through the second beam, straight for Star Sapphire.
"Fury, these things can't stand up to your bracelets!"
"On it!" And with a few strokes of Fury's arms, Alchemy Lad and Stardust were free, gasping on the ground, one furious at having been saved by another; the other confused at not having died.
"You show promise, girl, but you lower yourself associating with this rabble."
"Thanks," offered Nephthys while continually thrusting The Claw of Horus through the magenta colored energy shields that Sapphire kept throwing up. How long were they going to keep this up?
Unexpectedly, a magenta tentacle flew out from behind the shield and whopped Nephthys in the face, knocking her to the ground. The Claw slid several feet away on impact. A steady rain of collateral artifact fragments sprayed down upon her, some larger and heavier than others.
"NO!" cried Fury, zooming towards Star Sapphire, Nth Metal bracelets crossed in front of her.
"Oh, come now. How can you see when you fly like that?" offered Sapphire as she deftly moved out of the way and shot a beam at Fury's rear.
"Wugch!" cried an astonished Fury as her body hurtled through three rows of trophies and slammed against the rear wall. A force-field of magenta hued death closed in on her, tightly binding her at both the arms and neck, leaving her unable to move her bracelets and struggling to breathe.
Nepthys scrambled to her feet at what should have been too slow a speed, but no magenta beams nor tentacles pursued.
"Join me," offered the pink-clad villain. "I'm serious. You don't know a thing about me, and yet you're ready to lose your lives in the fight to steal my freedom because these men-folk convinced you to."
Star Sapphire released Fury and descended to the floor. Her arms were outstretched to Nephthys, the nearer and currently more dangerous sister.
"Look, in another moment, my gem will be charged enough to allow me to take control of you both, but I see no need to do that."
She clasped Nephthys' hand, forced her own hideous scowl into a more neutral expression, perhaps attempting to convey resolution.
"I have a war to fight against an unjust alien race that has abused their power; unchecked for ages. I have been delayed in this and require assistance. You could be generals in an army that would herald a new age for women...against the tyranny of MAN kind."
"Not likely," gasped Fury.
"Sorry, I think the dating scene would get a lot more boring and lonely," quipped Nepthys, who had slowly recovered the Claw of Horus behind her. "But I'd still like you to have this." With that, she flung the Claw directly at Sapphires face, splattering crimson everywhere and sending the villainess flying uncontrollably to the far side of the room.
"YEEAAAGGGHHH!" she exclaimed. "You whores! You vile hussies! How dare you? HOW DARE YOU!!?!!"
Magenta beams flew spontaneously in all directions. Fury and Nepthys rushed to their recovering comrades, doing their best to defend against the blasts and haphazardly flung artifacts, while Alchemy Lad attempted to transmute them all into vapor. Stardust grabbed his rod and fired towards the source, but all he could see was blinding pink light.
Then before any of them could realize it, an immense eruption of Sapphire energy pulsed outward from Sapphire's gem, knocking the heroes unconscious. Too panicked and enraged to enjoy the image of her fallen enemies, Sapphire bound past them through the whooshing doors, down the hall, up the nearest set of stairs, and slammed through a window. Sapphire energy and shattered reinforced security glass cascaded in all directions, but the way was still far from clear.
"Going somewhere?" inquired a deep male voice.
Through the torrents of blood cascading down her brow and through one squinting eye, the humiliated and enraged Star Sapphire made out an image before her that couldn't possibly be real. The costumes weren't exactly right, and neither were the faces, but Sapphire absolutely recognized a semblance of her most hated enemies, Jay Garrick and particularly Alan Scott, in the figures of their newly arrived proteges: Light Speed and the Jade Sentinel.
TO BE CONTINUED!