Post by thwhtguardian on Feb 4, 2015 16:42:59 GMT -5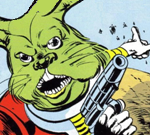 Witchfinder: Lost and Gone Forever
#1 and here are my thoughts...
So, first off, obviously John Severin's artwork here is just lovely and I totally agree with what you say about the level of detail lavished on individual townsfolk,
thwhtguardian
. The background details are stunning too. My only previous experience of reading a Severin drawn western would be on the
Desperadoes: Quiet of the Grave
mini-series, but clearly Severin knows how to draw a good wild west tale. The colouring of Dave Stewart is really excellent too, especially on the opening pages, with that strange, purplish light that you sometimes get at dusk bathing everything in an eerie and beautiful light.
As for the story in this issue, I'm not sure I would say that it's slow really, just mightily decompressed. It's an exceptionally quick read, with Severin's gorgeous artwork just about the only thing to give the reader a reason to slow down and chew on something. This is exacerbated by the dialogue, which I find strangely lightweight for some reason. Yes, it's exposition heavy, but it's also very easy and quick to read. The whole thing seems quite clearly written for the trade paperback market to me. That's not necessarily a problem, but I was reminded (perhaps inevitably) of old Bronze Age issues of
Weird Western Tales
and I couldn't help thinking that the same amount of story that we got in issue #1 of
Witchfinder: Lost and Gone Forever
would've taken up no more than about half an issue or less of an old Jonah Hex comic.
Maybe this is just the way that Mike Mignola writes though -- it's kinda hard for me to know because, as I previously mentioned,
Witchfinder: Lost and Gone Forever
is the only Hellboy related comic series that I've ever read. To be honest, I only bought this mini-series because of John Severin's art, not through any particular desire to know about the history of the Hellboy Universe. So, for me, I have no idea who this Lord Glaren character is or what has come before in the life of Sir Edward Grey. I can only read this as if it's a stand alone story and, actually, the mini-series works well from that point of view.
So yeah...a reasonably gripping start, but by far the best thing about this issue is the artwork.
If I had one critique about Mignola I think it would be his pacing; there are times when he's spot on and there are times where he alternates between super compression and decompression as we saw here...and sometimes he does both of those within the same story leading to a slump in the middle and an ending that feels like its just a hair's breath away from being a train wreck.
But yeah, although the story contains a lot of connections to the wider Hellboy universe I think it does so in a way that only serves to heightenthe story for those who are long time readers with out sacrificing any entertainment from first time readers. It's a fine line to walk but Mignola and company are usually pretty good at keeping the balance. If you're a fan of Severin's work you should also try BPRD: War on Frogs #1 as it plays on Severin's war story talents.