Post by thwhtguardian on Sept 5, 2014 19:36:49 GMT -5
And What Shall I Find There?
MySpace Dark Horse Presents #23
June 2009
Written by Mike Mignola and Joshua Dysart
Art by Patric Reynolds
Colored by Dave Stewart
Lettered by Clem Robins
Edited by Scott Allie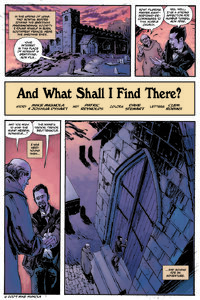 year: 1938
Preamble: This story slipped my mind until today when I went to pullout Hellboy FCBD 2008 which contains "Bishop Olek's Devil", and since "And What Shall I Find There?" predates Olek I have thus decided to go for this first. Either way, both stories work well in introducing the world as they establish both Buttenholm(Hellboy's adoptive father) and the creative team that Mignola collaborates with in the first major story arc I will be reviewing: BPRD 1946.


Synopsis: Having just graduated from Oxford Trevor Bruttenholm goes for a tour of the continent in search of a small church which according to his uncle contained an occult painting called the "Pere Pierre le Begue". As Bruttenholm relates, the painting is a portrait of a french Catholic pries named Father Pierre and although such portraits of the clergy were rare in the 1200's what made this portrait truly unique was the fact that in the top corner, positioned as if it were leering from behind Father Pierre's shoulder was a blue demon. The artist claimed that the demon sat with the priest for the whole sitting and when the artist shared his painting and his story behind both he and Father Pierre were quickly murdered by the congregation. As Bruttenholm sits admiring the portrait and imaging the glory it will bring him when he returns with it to London and presents it to the world the self same demon from the portrait (or perhaps Olek himself) lunges out of the dark at him. Some how deducing that the portrait and the demon are linked Buttenholm takes a torch to the painting and as it burns up, so does the demon.


Review: While Mike Mignola does have a serious talent for taking bits and pieces of half forgotten myths and folklore from various sources and weaving them into new and exciting tapestries within his stories his short story "And What Shall I Find There?" unfortunately isn't one of his better attempts. While the tale does provide an interesting look at Professor Bruttenholm in his youth it fails in its attempt to take elements from Oscar Wilde's The Picture of Dorian Gray(which itself re-purposed elements from Faust) and turn them into a new and exciting story in its own right. The dots from Dorian Gray were there but the story itself didn't really connect them, leaving them vague to the extent that without knowledge of The Picture of Dorian Gray you wouldn't really be able to understand the climax. Usually I'm of the opinion that less is more and that often times the longer a single story goes on the greater the chances are that the quality will begin to sag, but instead here I feel the exact opposite as I think that the length of this story was much too small to develop the ideas it contained. If it had perhaps only a few more pages we could have perhaps learned of Olek and his life style ,how Bruttenholm knew to burn the painting and together these elements would have given the story the strength to stand on its own apart from Oscar Wilde's famous novel.


Grade: C

Of Minor Note: Translated from French the portrait's name is "Father Pierre the Stutterer", while this doesn't really add anything to the story its strange and non-threatening translation makes for a slightly comical note in comparison to the moodier tone of the story which is a hallmark of Mignola's style as he often tries to balance humor and horror in his stories.