Post by coke & comics on May 17, 2015 11:31:57 GMT -5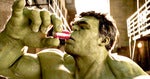 by Scott Lobdell, Gus Vazquez, and Bud LaRosa
I had not read this series since it came out 15 years ago, nor thought of in as long, until the announcement of the film. As I think it's been adapted into one of the best superhero movies of all time, figured I'd dust off the original mini.
I assumed it would be terrible, but it's not. It's just not particularly good. It does have a story with an emotional core. A child has a hero, learns his hero is dying, meets his hero and is disappointed in what he finds, but the hero redeems himself. Meanwhile, a team forms. A team of people each with some personality issues, that needs to learn to work together, become a team, and save the country.
It's got the right elements. And nothing too bad about it. Capable art and scripting.
Big Hero 6
is a team of superheroes formed by the Japanese government. It consists of two former X-Men characters,
Sunfire
and
Silver Samurai
, and introduces 4 new heroes:
Hiro
: the boy genius and star of the series
Baymax
: An artificial shape changer created by Hiro to be his valet and bodyguard
Gogo Tomago
: Able to transform her body into a projectile ball of energy (think: Cannonball)
Honey Lemon
: Possesses a purse impossibly full of useful and magical gadgets. (We'll ignore the subtle sexism of a woman whose power comes from her purse)
The film does not have the rights to X-Men characters. Fortunately the 2008 revamp of Big Hero 6 introduced various other members, including
Fredzilla
and
Wasabi
, which the film drew from.
In both comic book incarnations, Big Hero 6 is a Japanese team, consisting of entirely Japanese characters. The film wanted a multiracial team, so race-bent several characters, making Honey Lemon a blonde white girl with the appearance of a stereotypical valley girl, Wasabi an African American, and Fred a White American. (In the comics, Honey Lemon is blonde, and it is hard to tell just from the art that she isn't white).
The film bears little resemblance to the comic, probably for the best. Instead of being formed by the government, the film version is a group of science whiz college friends who band together. The character of Baymax is changed markedly, and for the better. In the film, he is a white puffy android. In the comics, he is able to shape-shift from a large humanoid with his face always in shadow into a green dragon-like creature.
The comic is overburdened by cliches, as well as its own mediocrity. Shadowy government officials being shadowy without apparent motivation. Hotheaded heroes fighting each other at all the wrong times. But, the series has heart, and introduced several new characters, characters whose potential to me was not immediately obvious, but who would grow into the stars of an Academy Award winning film.
Worth reading? Not really. Grade? I'd give it a C+.
I had no idea the recent Disney film had been adapted (however loosely) from a comic book!
I'm afraid I'm going to need you to turn in your nerd badge, sir.