Post by Confessor on Dec 28, 2014 17:41:38 GMT -5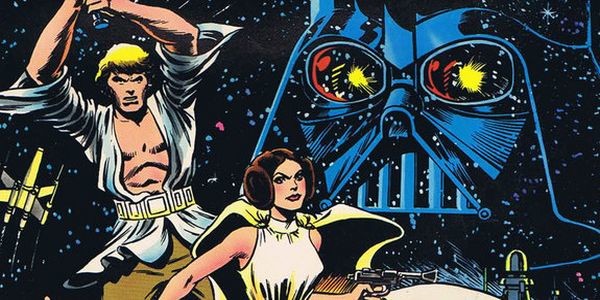 So, I've taken it upon myself to start reviewing Marvel's '70s and '80s
Star Wars
comics. It's no secret around these parts that I absolutely adore these comics and I'm also fairly knowledgeable about the series. I'm sure some of you will also be familiar with these books and I hope that you will find plenty to discuss, reminisce about and ponder during the course of these reviews.
N.B. If you're coming to this thread late, feel free to comment about any of the issues I've reviewed. I'm always happy to discuss any part of this series.

Marvel's
Star Wars
comic came to be because Roy Thomas (a former Editor-in-Chief at the company) negotiated a deal in early 1976 with director George Lucas and Lucasfilm's publicity supervisor Charles Lippincot to adapt Lucas's forthcoming sci-fi spectacular into a 6-issue comic series. If successful, the plan was to then continue the adventures of Luke Skywalker beyond the events depicted in the film for as long as it was profitable. The comic was initially conceived by Lucasfilm as a way to promote the movie to comic book readers and sci-fi fans, but in spite of this somewhat marketing-driven genesis (or maybe because of it), the comic ended up featuring some of the best, most fun and goofiest moments in what would later be termed the "expanded universe".
Although some berate the series for being childish or not entirely in keeping with Lucas's vision, I believe that at its best, Marvel's original
Star Wars
comic featured some truly excellent stories, some incredible artwork and examined some fairly mature themes and concepts. It also gave us young
Star Wars
fans of the '70s and '80s a monthly (or weekly, if you were in the UK) fix of adventures from that galaxy far, far away, while we waited for the next movie to come out. I also believe that the comic managed to capture the joyful wonder and wide-eyed spectacle of the original trilogy far better than many of the supposedly more serious
Star Wars
comics that came later.
My aim in this thread is to review every one of the 107 regular issues of the U.S. series, plus the three annuals, the
Return of the Jedi
adaptation, the
Droids
and
Ewoks
series published by Marvel's "STAR Comics" imprint, and the various comic stories published exclusively in the UK or in Marvel's
Pizzazz
magazine. I will be reviewing all of these comics chronologically by cover date and it goes without saying that you can
definitely expect spoilers
(you have been warned).
In the interest of full disclosure, my main sources for facts about the series will be the relevant articles in
Amazing Heroes
#13 (1982),
The Art of Al Williamson
(1983),
Marvel Age
#4 (1983),
Marvel Age
#10 (1984),
Amazing Heroes
#63 (1985),
Starlog
#120 (1987),
Back Issue
#9 (2005),
Star Wars Insider
#91 (2006),
Alter Ego
Vol. 3 #68 (2007), and
Back Issue
#34 (2009), as well as any information found within the comics themselves. I'll also be drawing publication data and other information from the excellent websites
Wookieepedia
,
The Grand Comics Database
and
Mike's Amazing World of Comics
.
Anyway, that's enough preamble, let's get on with the reviews and may the Force be with you!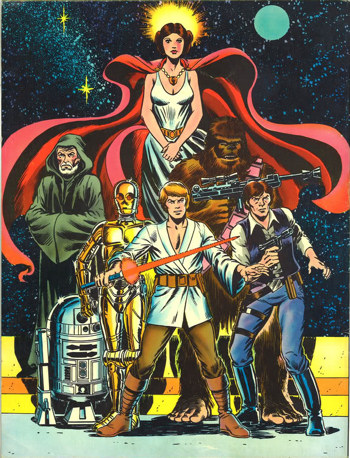 Direct links to the reviews:
1977
•
Star Wars #1
(Star Wars)
•
Star Wars #2
(Six Against the Galaxy)
•
Star Wars #3
(Death Star!)
•
Star Wars #4
(In Battle with Darth Vader)
•
Pizzazz #1
(The Keeper's World, part 1)
•
Star Wars #5
(Lo, the Moons of Yavin!)
•
Pizzazz #2
(The Keeper's World, part 2)
•
Star Wars #6
(Is This the Final Chapter?)
•
Pizzazz #3
(A Dread Discovery! - The Keeper's World, Part 3)
1978
•
Star Wars #7
(New Planets, New Perils!)
•
Pizzazz #4
(A Matter of Monsters! - The Keeper's World, Part 4)
•
Star Wars #8
(Eight for Aduba-3)
•
Pizzazz #5
(Pursuit Among the Ruins! - The Keeper's World, Part 5)
•
Star Wars #9
(Showdown on a Wasteland World!)
•
Pizzazz #6
(Do You Know What Your Children Are? - The Keeper's World, Part 6)
•
Star Wars #10
(Behemoth from the World Below)
•
Pizzazz #7
(Caverns of Mystery! - The Keeper's World, Part 7)
•
Star Wars #11
(Star Search!)
•
Pizzazz #8
(The Keeper's Secret! - The Keeper's World, Part 8)
•
Star Wars #12
(Doomworld!)
•
Pizzazz #9
(The Final Fury! - The Keeper's World, Part 9)
•
Star Wars #13
(Day of the Dragon Lords!)
•
Pizzazz #10
(The Kingdom of Ice!, part 1)
•
Star Wars #14
(The Sound of Armageddon!)
•
Pizzazz #11
(The Snow Demons! - The Kingdom of Ice!, Part 2)
•
Star Wars #15
(Star Duel!)
•
Pizzazz #12
(Treachery! - The Kingdom of Ice!, Part 3)
•
Star Wars #16
(The Hunter!)
•
Pizzazz #13
(Death Trap! - The Kingdom of Ice!, Part 4)
•
Star Wars #17
(Crucible!)
•
Pizzazz #14
(Snow Fury! - The Kingdom of Ice!, Part 5)
•
Star Wars #18
(The Empire Strikes!)
•
Pizzazz #15
(The Ice Worm Cometh! - The Kingdom of Ice!, Part 6)
1979
•
Star Wars #19
(The Ultimate Gamble!)
•
Pizzazz #16
(Showdown - The Kingdom of Ice!, Part 7)
•
Star Wars #20
(Deathgame)
•
Star Wars #21
(Shadow of a Dark Lord!)
•
Star Wars #22
(To the Last Gladiator!)
•
Star Wars Weekly #60
(Pursuit! - The Kingdom of Ice!, Part 8)
•
Star Wars #23
(Flight into Fury!)
•
Star Wars #24
(Silent Drifting)
•
Star Wars #25
(Siege at Yavin!)
•
Star Wars #26
(Doom Mission!)
•
Star Wars #27
(Return of the Hunter)
•
Star Wars #28
(What Ever Happened to Jabba the Hut?)
•
Star Wars #29
(Dark Encounter)
•
Star Wars #30
(A Princess Alone!)
•
Star Wars Annual #1
(The Long Hunt/A Duel of Eagles!)
•
Star Wars Weekly #94
(The Way of the Wookiee!, Part 1)
•
Star Wars Weekly #95
(Chewbacca Fights Alone! - The Way of the Wookiee!, Part 2)
•
Star Wars Weekly #96
(Switch! - The Way of the Wookiee!, Part 3)
1980
•
Star Wars Weekly #97
(The Day After the Death Star!, Part 1)
•
Star Wars Weekly #98
(Space Duel! - The Day After the Death Star!, Part 2)
•
Star Wars Weekly #99
(Empire Kills! - The Day After the Death Star!, Part 3)
•
Star Wars #31
(Return to Tatooine!)
•
Star Wars #32
(The Jawa Express)
•
Star Wars Weekly #104
(The Weapons Master!, Part 1)
•
Star Wars Weekly #105
(Day of the Assassins! - The Weapons Master!, Part 2)
•
Star Wars Weekly #106
(My Enemies Surround Me! - The Weapons Master!, Part 3)
•
Star Wars #33
(Saber Clash!)
•
Star Wars Weekly #107
(World of Fire!, Part 1)
•
Star Wars Weekly #108
(Star Terror! - World of Fire!, Part 2)
•
Star Wars Weekly #109
(Molten Doom! - World of Fire!, Part 3)
•
Star Wars #34
(Thunder in the Stars!)
•
Star Wars Weekly #110
(The Word for World is Death! - World of Fire!, Part 4)
•
Star Wars Weekly #111
(Unholy Alliance! - World of Fire!, Part 5)
•
Star Wars Weekly #112
(A Creature in the Stars! - World of Fire!, Part 6)
•
Star Wars Weekly #113
(The Guardian of Forever! - World of Fire!, Part 7)
•
Star Wars Weekly #114
(Betrayal! - World of Fire!, Part 8)
•
The Marvel Comics Illustrated Version of The Empire Strikes Back
•
Star Wars #35
(Dark Lord's Gambit)
•
Star Wars Weekly #115
(The Monster's Secret! - World of Fire!, Part 9)
•
Star Wars #36
(Red Queen Rising!)
•
Star Wars #37
(In Mortal Combat!)
•
Star Wars #38
(Riders in the Void!)
•
Star Wars #39
(no title)
•
Star Wars #40
(Battleground Hoth!)
•
Star Wars #41
(Imperial Pursuit!)
•
Star Wars #42
(To Be a Jedi!)
1981
•
Star Wars #43
(Betrayal at Bespin)
•
Star Wars #44
(Duel a Dark Lord!)
•
Star Wars #45
(Death Probe)
•
Star Wars #46
(The Dreams of Cody Sunn-Childe!)
•
Star Wars #47
(Droid World!)
•
Star Wars #48
(The Third Law)
•
Star Wars #49
(The Last Jedi!)
•
Star Wars #50
(The Crimson Forever!)
•
Star Wars #51
(Resurrection of Evil)
•
Star Wars: The Empire Strikes Back Monthly #149
(Death-Masque!)
•
Star Wars #52
(To Take The Tarkin)
•
Star Wars #53
(The Last Gift from Alderaan!)
•
Star Wars: The Empire Strikes Back Monthly #151
(The Pandora Effect)
•
Star Wars #54
(Starfire Rising!)
1982
•
Star Wars #55
(Plif!)
•
Star Wars: The Empire Strikes Back Monthly #153
(Dark Knight's Devilry)
•
Star Wars #56
(Coffin in the Clouds)
•
Star Wars: The Empire Strikes Back Monthly #154
(Tilotny Throws a Shape)
•
Star Wars #57
(Hello, Bespin, Good-bye!)
•
Star Wars #58
(Sundown!)
•
Star Wars: The Empire Strikes Back Monthly #155
(Dark Lord's Conscience)
•
Star Wars #59
(Bazarre)
•
Star Wars: The Empire Strikes Back Monthly #156
(Rust Never Sleeps)
•
Star Wars #60
(Shira's Story)
•
Star Wars: The Empire Strikes Back Monthly #157
(The Flight of the Falcon)
•
Star Wars #61
(Screams in the Void)
•
Star Wars Monthly #159
(Blind Fury!)
•
Star Wars #62
(Pariah!)
•
Star Wars Annual #2
(Shadeshine!)
•
Star Wars #63
(The Mind Spider!)
•
Star Wars #64
(Serphidian Eyes)
•
Star Wars #65
(Golrath Never Forgets!)
•
Star Wars #66
(The Water Bandits!)
1983
•
Star Wars #67
(The Darker)
•
Star Wars #68
(The Search Begins)
•
Star Wars #69
(Death in the City of Bone!)
•
Star Wars #70
(The Stenax Shuffle)
•
Star Wars #71
(Return to Stenos)
•
Star Wars #72
(Fool's Bounty)
•
Star Wars #73
(Lahsbane)
•
Star Wars #74
(The Iskalon Effect)
•
Star Wars Annual #3
(The Apprentice)
•
Star Wars #75
(Tidal)
•
Star Wars #76
(Artoo-Detoo to the Rescue)
•
Star Wars: Return of the Jedi #1
(In the Hands of Jabba the Hutt!)
•
Star Wars #77
(Chanteuse of the Stars...)
•
Star Wars: Return of the Jedi #2
(The Emperor Commands!)
•
Star Wars #78
(Hoth Stuff!)
•
Star Wars: Return of the Jedi #3
(Mission to Endor!)
1984
•
Star Wars #79
(The Big Con)
•
Star Wars: Return of the Jedi #4
(The Final Duel!)
•
Star Wars #80
(Ellie)
•
Star Wars #81
(Jawas of Doom)
•
Star Wars #82
(Diplomacy)
•
Star Wars #83
(Sweetheart Contract)
•
Star Wars #84
(Seoul Searching)
•
Star Wars #85
(The Hero)
•
Star Wars #86
(The Alderaan Factor!)
•
Star Wars #87
("Still Active After All These Years")
•
Star Wars #88
(Figurehead)
•
Star Wars #89
(I'll See You in the Throne Room!)
•
Star Wars #90
(The Choice!)
1985
•
Star Wars #91
(Wookiee World)
•
Star Wars #92
(The Dream)
•
Star Wars #93
(Catspaw)
•
Star Wars #94
(Small Wars)
•
Star Wars #95
(No Zeltrons)
•
Star Wars #96
(Duel with a Dark Lady!)
•
Star Wars #97
(Escape)
•
Star Wars #98
(Supply and Demand)
•
Star Wars #99
(Touch of the Goddess)
•
Star Wars #100
(First Strike)
•
Star Wars #101
(Far, Far Away)
•
Star Wars #102
(School Spirit!)
1986
•
Star Wars #103
(Tai)
•
Star Wars #104
(Nagais and Dolls)
•
Star Wars #105
(The Party's Over)
•
Star Wars #106
(My Hiromi)
•
Star Wars #107
(All Together Now)
Supplementary Reviews
:
•
Ewoks #1–14
[published May 1985 – July 1987]
•
Star Wars: Droids #1–8
[published April 1986 – July 1987]
•
Star Wars #108
[published May 2019]