Post by Earth 2 Flash on Dec 28, 2014 21:05:06 GMT -5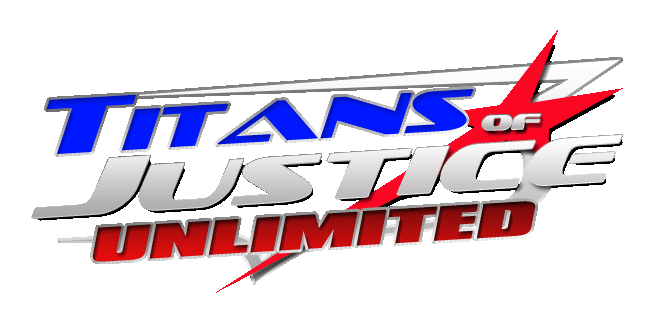 Titans of Justice #4 - "Paving the Road to Conquest"
Written & Maxi-micros by: Power Guy
Edited by: Earth 2 Flash


An Alien Planet…
Within a tightly guarded stronghold, one of the universe's most deadly beings boldly approached the terrifying presence of the Faceless Hunter.
"I appreciate you responding to my summons so quickly as I do not have time to waste," said the being with an urgent intensity. "I have summoned you to enlist you in the most difficult and complicated hit of your career."
"I served as the herald for Starro the Conqueror for years, helping him decimate and take control of dozens of planets throughout the universe, so I cannot imagine that this mission would be of any greater consequence," gloated the Faceless Hunter.
"Silence!" ordered the powerful figure. "I did not call you here to hear you brag. I have a mission for you to accomplish without delay."
"As you wish," replied the Faceless Hunter, bowing before the alien despot.
"I want you to kill the Justice League."
"Really? Aren't they all retired," questioned the being with no face.
"Just barely," countered the ruler of the planet the assassin was standing on. "I want them all eliminated as soon as possible."
"I assume you mean the seven founding members of the team?" asked the Faceless Hunter.
"No, everyone who has ever been a member of the team."
The Faceless Hunter paused for a second then asked, "And what reward do you have to offer me once I accomplish this task?"
The powerful figure replied frankly, "The lump sum of one million blean."
"One million blean?" replied the being without a face in genuine surprise. "I've haven't made that much money between all of my previous hits combined!"
"Get busy and once you're done, the payment is yours," replied the ruler of the planet.
***

The Hall of Justice, Earth 1…
Descending from the sky with the grace of Mercury, a red and gold-clad young man landed near the fountain in front of the iconic building. He was carrying a golden hammer which he placed in a holder on his belt before making his way inside of the vast structure before him. Once he made his way inside, he noticed a large crowd of heroes gathered. Virtually, every being who had ever been a member of the various teams of the Justice League throughout history were present.
"Who are you?" questioned Zatanna curiously as she received a cup of coffee from a girl who appeared to be her twin, albeit decades younger.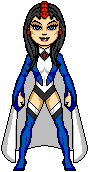 "I'd say that's Captain Marvel's son," deduced the Batman quickly.
"That's correct, sir," acknowledged the young man. "I go by the name of Corporal Marvel. As many of you know, my father was captured by the dark wizard known as Oggar years ago. Recently, I have decided to honor my father by taking up his mantle. My dad's old Justice League signal device has been ringing like crazy for the past hour, so I thought I'd come here to see what was up."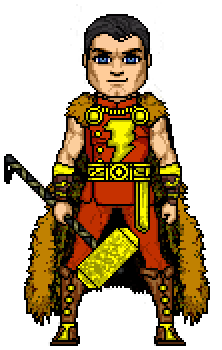 Wonder Woman put her arm around the lad and said compassionately, "Young man, I know it must have been difficult growing up without your father, but today might be a day that you are thankful that he is still within Oggar's grasp. Several of our members have been viciously murdered within the last twenty-four hours and we think the killer won't stop until every single one of us is dead."
"Holy Moly! That's horrible. Who's behind this?"
"We're not sure yet, but those confirmed dead so far are Blue Jay, Faith, Starman, Congorilla, and the entire Justice League Elite," revealed Hal Jordan. "...and there may be more we are not yet aware of."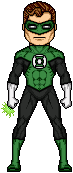 A younger man wearing a Green Lantern uniform then spoke up, "Dad, it sounds like this killer is taking out the less prolific members of the Justice League first."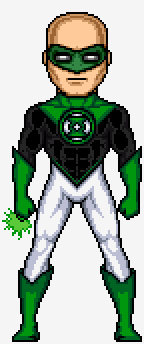 "Your son makes a good point, Jordan," agreed the Batman.
"So then, you should be safe for at least a little while longer, dad," said a younger man wearing a Flash uniform to the legendary Barry Allen.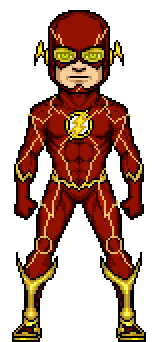 "Eric, just because I'm safe for now doesn't mean that this killer doesn't require immediate attention," countered the first hero of Central City.
"I know, but...I just can't bear the thought of anything happening to you," replied the younger Flash.
Hawkwoman then spoke up, "Let's start analyzing the evidence so we can nail this sucker before he or she nails any more of us!"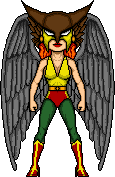 "Batman and I have already begun scouring the evidence and we'll keep doing so until we find a lead," advised the Atom.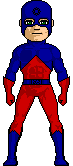 As the elder heroes continued discussing the grievous situation, Corporal Marvel made his way over to the corner where the younger Flash and Green Lantern were talking with one another. After the three heroes exchanged greetings, the Corporal noted, "The situation looks pretty bleak for our mentors. I'm worried that any action they might take will lead them straight into this wacko's trap."
"I was thinking the same thing," remarked the current Flash. This killer knew where to find all of his victims even after several years of retirement. He slaughtered each one of them mercilessly, leaving a trail of blood and gore behind him."
"Well, I'm not about to let the same thing happen to my father," the newest Green Lantern stated firmly.
"Nor will I let anyone do the same to my mother," interrupted a confident female voice. Each of the three male heroes privately noted the beauty of the younger version of Zatanna standing before them.
"Esmeralda, is that you?" asked the Flash.
"Yes, Eric...it's been a while since that party we were both at a few years ago to celebrate my parents tenth anniversary," replied the daughter of Zatanna and Sargon the Sorcerer with a smile. "By the way, when I'm in uniform you can call me Sargona, and I want in on whatever plan you three are devising."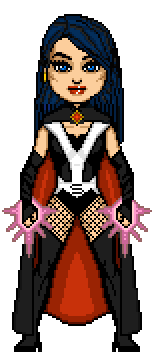 "I think our first priority is getting all of them out of here," insisted Green Lantern. "Having nearly the entire Justice League here makes it too easy for the murderer to strike them off his list in one shot, even with the Hall of Justice having one of the best defense systems in the galaxy."
"I have an idea..." revealed Corporal Marvel. He then took to the air and announced to the crowd, "Justice Leaguers, may I have your attention please?" After the crowd quieted down, the red & gold clad hero continued. "As of right now, there is no trail to follow. Having you all under the same roof leaves you vulnerable and a very attractive target for this madman. The rest of the younger heroes and I would like to suggest you go to your homes. We will monitor the Trouble Alert for any new information and pass it along to you according to League protocol."
"I'm not sure I like the sounds of this," Hal Jordan said, speaking up.
"Come on, dad, it's just monitor duty," countered the younger Green Lantern. "You guys used to leave Zan and Jayna on monitor duty all of the time when you were still active."
"I suppose he's right," agreed Hawkman. "We're all just basically a bunch of sitting ducks hanging around here."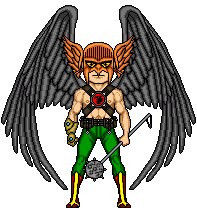 "For once, bird-brain, I agree with you," added Green Arrow. "Everyone keep your signal devices close by in case the kids need to get a hold of us."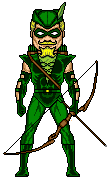 A few minutes later as the legendary heroes were making their way out of the building, Black Canary turned to her husband and said, "Those four kids remind me a little bit of us when we were their age. Do you think our…."

Just then, Hal Jordan interrupted the couple, "How would you two like a power-bubble ride back to Star City for old times' sake?"
"Thanks buddy but we brought the Arrow-plane," declined Green Arrow.
"My bubble can carry that too and save you some fuel," winked Hal Jordan as his ring began creating a construct."
Superman escorted Wonder Woman to her Invisible Jet on the roof of the building. She climbed the invisible stairway to her aircraft as the Man of Steel shouted, "Say hello to Steve for me, and good luck with your contest to select a new champion!"
"Thank you, my friend. Tell Lois I'll be e-mailing her that baklava recipe after I get home tonight," said the Amazing Amazon with her unique and special smile as she boarded her plane.
***

About five hours later…
"This is starting to get boring..." grumbled Green Lantern. "Perhaps we should get some take-out?"
"Does anyone know what type of places are nearby?" asked Corporal Marvel.
Suddenly, Corporal Marvel, Green Lantern, and Sargona felt a light breeze as the Flash sped out of the building and came back within the blink of an eye announcing, "There's pizza, subs, Chinese, shwarma, and a halfway decent hot dog place within the next couple of blocks."
"I don't do hot dogs," replied Sargona with a slight look of disgust on her face.
"Anything without cheese is fine with me," added Corporal Marvel.
"Are you lactose intolerant?" asked Green Lantern.
"No, I just simply refuse to have anything to do with cheese," smirked the champion of Shazam.
Just then, the Trouble Alert sounded. The Flash raced over to the monitor and shouted, "Great wings of Mercury! Firestorm is being attacked in his home! It must be the killer!"
"Should we contact the League?" proposed Green Lantern.
"And give the killer exactly what he wants?" asked Sargona with a sharp, but non-offensive tone.
"I say we go to Firestorm's place and give this jerk some opponents that he's not expecting," suggested Corporal Marvel.
"Good idea," agreed the Flash. "Maybe we can take him down without putting any more of our parents in harm's way."
"Okay, but don't go racing ahead of us, Eric," request the Green Lantern. "We're all kind of new to this game, so our best bet is to stick together and play off one another's abilities. I'll create a jet with my ring. We can explain our powers to each other on the way to Pittsburgh."
The heroes arrived at the home of Ronnie Raymond a short while later. As they descended, they each watched out the windows of Green Lantern's jet as Firestorm's flew helplessly through a wall of his home and landed on his front lawn. Though bloody and bruised, he bravely pushed through the pain to continue the fight. Flames emanated from his fingertips to an unseen opponent. The fire was so intense that the newly arrived young heroes couldn't make out who Firestorm was battling with. The attacker pressed closer to his prey in spite of the flames. Then a teen-aged girl burst out of the house screaming, "Dad! You've got to get out of here! Please!!" She ran up behind Firestorm and started pulling him backwards, urging him to flee.
"No Danna! This guy has killed enough of my teammates. Someone has to stop him and I may be the only one powerful enough to do it!"

"But his weapon is countering your transmutation powers!" screamed Danna Raymond as she continued to pull her father away from the scene. "You've got to run while you still can!"
"No, I just have to come up with..."
Suddenly, an eerie blast of energy hit Firestorm, blowing a hole in his chest. His daughter began screaming hysterically as her father began to slip from life.
The younger heroes exited Green Lantern's jet in horror and raced toward the assassin. Sargona was the first to notice, "He has no face!"
"Great Guardians!" exclaimed Green Lantern. "I've read about you in the Corps' most wanted files. You're the Faceless Hunter!"
"You're going to pay for what you just did," Corporal Marvel said as he raised his hammer.
Before the young man could act, Danna Raymond started screaming again. The young heroes turned to see a massive amount of energy was shooting out of the hole in Firestorm's chest. Danna was still clutching her father's body as the energy enveloped her. "Oh my...what's happening?!?!?!" Instantly, a chain reaction occurred and bluish sparks shot out in every direction. While the brutal actions of the Faceless Hunter had successfully ended one Firestorm, they had inadvertently given birth to a new one in the process!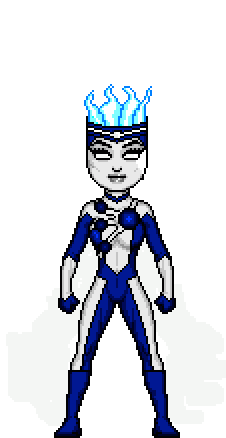 TO BE CONTINUED!
just re-posting this on page 2 for easy viewing pleasure...